ASUS has had very good success with its Zenfone series of smartphones with the likes of Zenfone 5 and Zenfone 2 series, thanks to the very good specifications coming in phones with a decent build and highly competitive pricing. The Zenfone 2 series offered lots of phones with different specialities and this catered to a wide range of users. Thanks to the fact that some of the models are easily available in the offline stores as well, coupled with a decent post-sales service, the phones offered a good end-to-end purchase model.
Leveraging the success of the previous generation, Asus recently launched the Zenfone 3 line of phones in India. While most of the specifications and models were known from the global launch earlier, the pricing was the key factor and that is where Asus baffled us. While most of us expected competitive pricing but seems Asus is now taking on the likes of Samsung and Apple with its pricing. We took a ride on the Zenfone 3 base model (ZE552KL) for around 2 weeks now and are very curious to find out if it's worth the asking price of Rs. 27,999? Let's find out as we present to you our findings: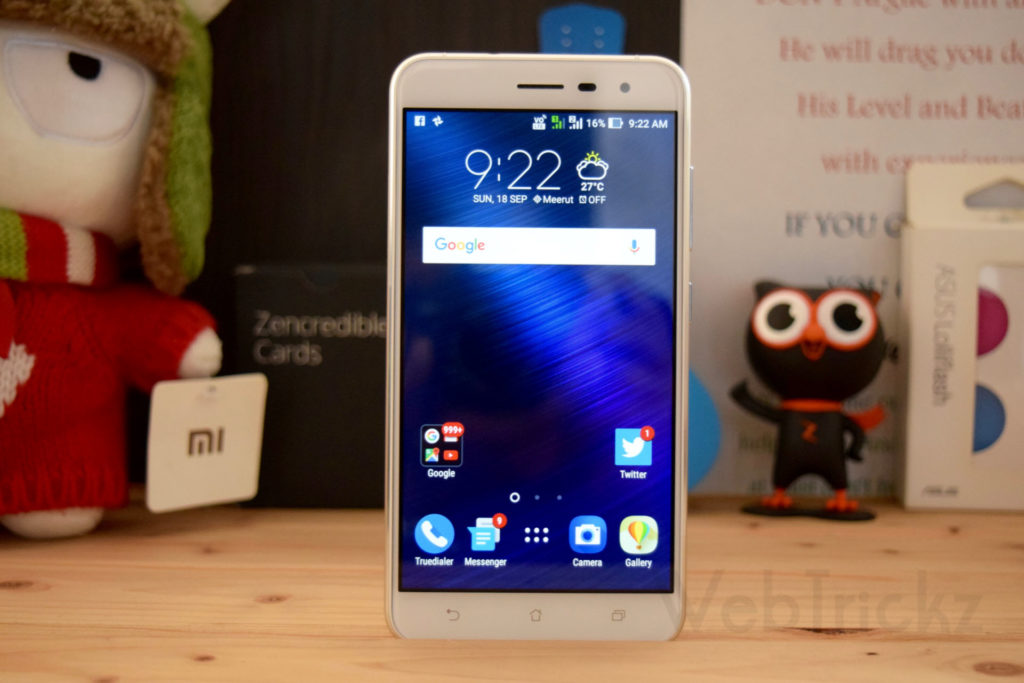 Inside the box – Phone, USB Type-C cable, Earphones, Adaptor, User Manual & Warranty Card
The Design: Shiny, Glossy, Sturdy, and Slippery!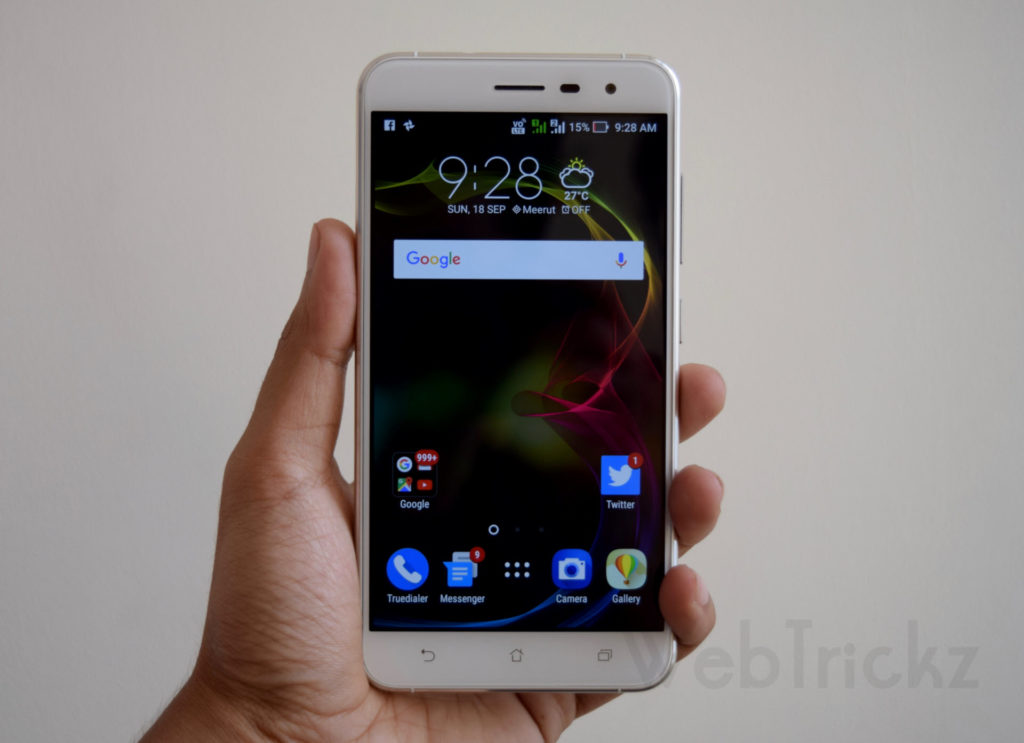 Zenfone 2 packed decent specs for its price but where it lacked is the not-so-good looks. There was nothing that a user could feel good or take pride in with its mediocre design and plastic all around it no matter what model you purchased. Things change drastically with the Zenfone 3 with a very premium design with lots of metal and glass in it. The design of course is nothing new and looks have a striking resemblance to the Samsung Galaxy flagship series. The unibody design comes at a thickness of 7.7mm, and in a run to make the phone slim the camera at the back oozes out. But not to worry as it has Sapphire glass on it to protect it from any kind of damage or scratches. The only bummer is that the phone wobbles when you place it on a surface and try to operate. The phone feels very good in the hand with rounded corners and a finely sandblasted rim that goes all around the phone with chamfered edges, thus giving the phone some good premium looks! But be on guard as the phone is very slippery! Any surface that has even 1 degree of slope, the phone starts its motion.
The back of the phone sports a 2.5D Corning Gorilla Glass 3 protected glass build with the iconic concentric circles design from ASUS which we've always loved. These circles are more evident in the gold and blue variants but a little less in the white variant which we have. That subtle gold lining across the camera and the rear fingerprint sensor gives it a rich appeal. The concentric circle pattern extends to the power and volume rockers on the side as well which are a tad wobbly but provide good tactile feedback. We loved the fact that Asus has chosen to move the buttons from the back of the phone to the sides which are more conventional. The other side has a dual hybrid SIM tray (Micro SIM + Nano SIM or microSD card up to 2TB) while the bottom portion sports a USB Type-C port, mic, and speaker grille. Comes in 3 colors: Sapphire Black, Moonlight White, and Shimmer Gold.
The Display: Gorgeous, bright, 2.5D, and well protected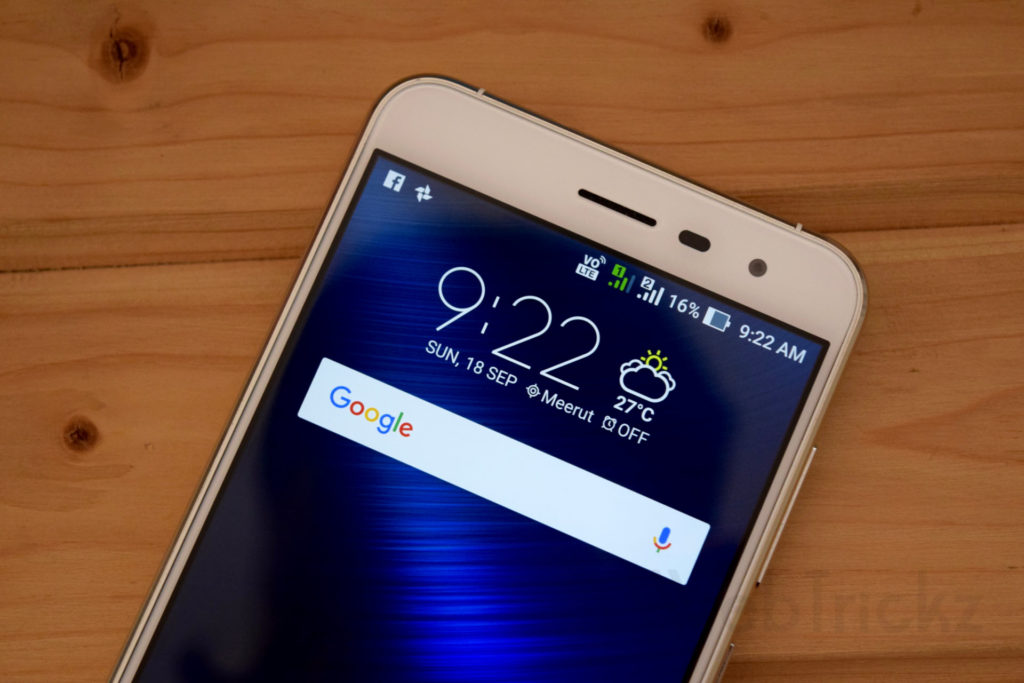 The front of the phone sports a 5.5" Super IPS LCD Full HD display with a brightness of 600 nits. The display is 2.5D in nature at the edges that make for a smooth experience while operating the screen especially while moving those icons from one screen to another. ASUS claimed that this is one of the brightest screens they've made and we agree with them. The phone has very good viewing angles, as wide as 178 degrees. The overall experience of the touch too is commendable but the only issue we faced is that the screen is a tad too reflective in the outdoors and you might find yourself clasping your hands to read the content. The bezel width is just 2.1mm and thus looks great from the front with a 77.3% screen-to-body ratio. A LED notification light is there on the front and all of this again has a Gorilla Glass 3 protection.
Software: A heavy Zen that can do endless tricks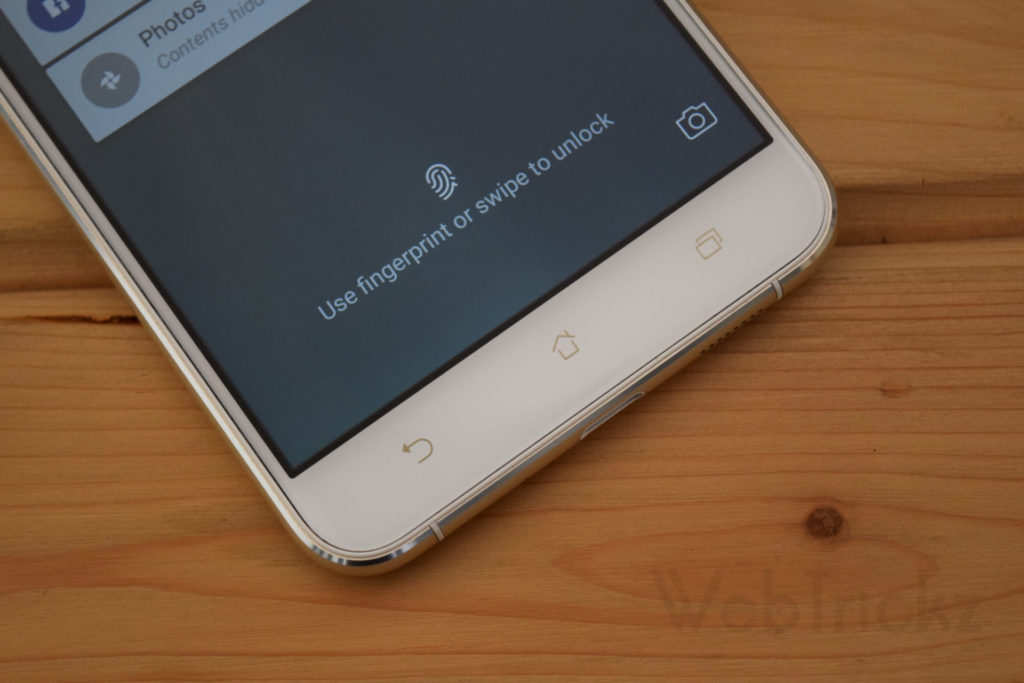 Colourful imagery and content pop off the 5.5" screen via the Zen UI 3.0 that is built off Android 6.0.1 Marshmallow. We hope ASUS will bring the Android Nougat update sooner as they've been rather sluggish when it comes to software updates for the Zenfone 2. The overall UI follows the earlier Zen UI though now that the toggle menu looks stone age. We truly wish ASUS gives a new, slim, and lean look to this in the coming updates. There are tons of pre-installed apps like Trip Advisor, Puffin, and ASUS's own services apps, that occupy some good space but thankfully they can be uninstalled or disabled. The theme store now comes with tons and tons of new themes which actually look good compared to earlier. And the customization aspect takes a bump up as you now get more options to choose specific UI components as well. The Zen UI comes with an app drawer and the apps themselves are laid out with a translucent background rather than black or white – and boy did we love this! And talking about things we love, take yourself to the home screen and tilt it on either side and you'd see the 3D effect as you see on Apple's devices. It's as if the app icons were on a different layer and the home background moved beneath it as you make those tilts – lovely experience this!
Let's look at some of the cool features of the ZenUI that we loved and found very useful:
Resizable Keyboard: This is something that we love from LG phones that allow for keyboard resizing. Zen UI lets you do the same and is very handy as different users have different preferences
Locking apps: Zen UI lets you lock apps to prevent access when not desired. However, the only way you can do it is via assigning a passcode to it and the fingerprint lock for apps won't work. I hope ASUS brings in an OTA update that can add this feature
Game Genie: One of the things most of the users do while gaming is show off their results and maybe hunt down for some codes they can use or just record the happenings. This is what the all-new Game Genie does every time you launch a game. And in case you feel its intruding you can turn it off
Manage Home: Swipe up from the home screen to bring this up that has a list of options ranging from changing icons, play around with their alignment, to adding widgets and wallpapers. It also has the gateway to DIY Theme where you can make your own theme and maybe show it off too!
UI Modes: Zen UI offers a Kids Mode and an Easy mode in case you have toddlers and elderly folks who may want to use the phone and everything changes elegantly accordingly.
Battery Saving Modes: From just preventing app syncing to data usage to completely going into a super saving mode that lets you use basic features only, the Zen UI's battery saving modes are very handy
There are also some gestures that are really handy, especially in a single-handed mode – a long tap on the apps capacitive button and it takes a screenshot. Double-tap on the home button and it moves the screen contents into a single hands mode, which by the way is not as handy as the one we've seen on MIUI but it's there nonetheless. Then, of course, the good old double-tap on the screen to either wake up the phone or put it to sleep still remains as one of our favourites.
Performance: A new lean, mean battery efficient mid-ranger champ
Having said all this, the overall performance of the UI and the OS comes with occasional jerks and stutters especially when you are multitasking heavily and though the phone has 4GB of RAM, its management could be improved though. When all the apps are closed, there is little more than 2GB available which is not bad. And given the fact that Zen UI is so thick-skinned and customised, we never expected it to do a Nexus-like performance to start with. Delivering all the power required is Qualcomm's Snapdragon 625 SoC that comes with 8 Cortex A53 cores clocked at 2GHz with Adreno 506 GPU. There are two highlights worth mentioning here. One is that it's manufactured based on the latest 14-nanometer process which is brilliant and Zenfone 3 series will be the first to make use of this. Qualcomm has claimed that this chip consumes as much as 35% lesser battery as compared to its rather infamous predecessor – Snapdragon 617. All this is brilliant on paper but how is the performance in real life? Just two words – Commendable and Reliable!
This brings us to the next area which is how does the Zenfone 3 game? Let's cut to the chase to give you the result and we rate the phone 8 out of 10 in there. We never faced any major issues including overheating with the phone no matter what game we threw at it. Of course, there is that occasional frame drop and stutter during elongated periods of gaming which was expected given the fact that the processor wasn't the flagship sort. But more often than not you'd be OK with the gaming. The loudspeaker too surprised us with its output, thanks to the 5-Magnet, NXP Amp powered speakers which are loud, crisp, and clear.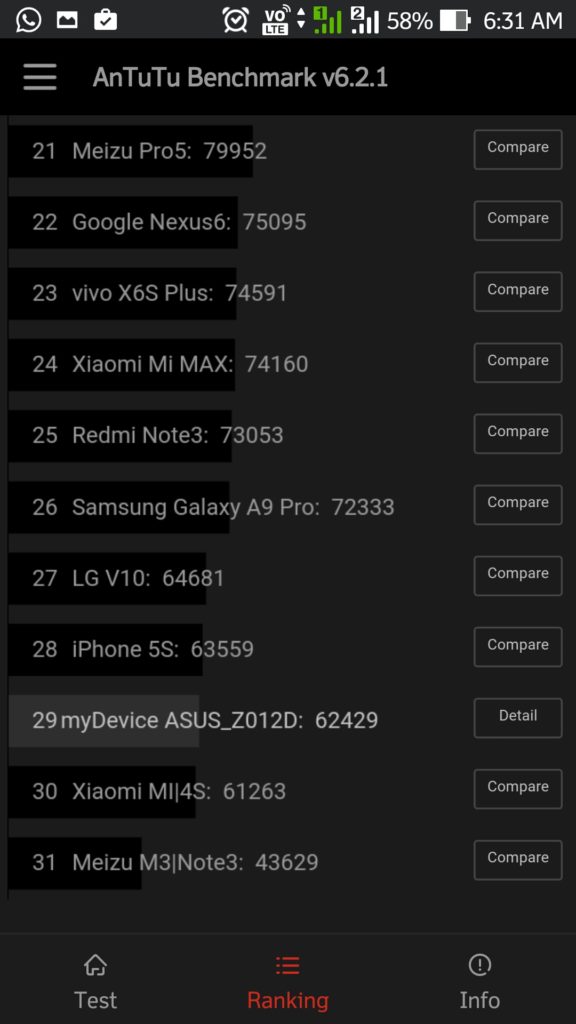 Battery: I will take you thru the day, any day
Zenfone 3 5.5″ variant we have comes with a 3000mAh battery and to start off with we did not expect more than an average performance but thanks to the fact that it runs on Snapdragon 625, on any given day we could hit the end of the day with 10% battery still remaining. Our usage pattern varied during the testing from light to medium to seriously heavy usage with lots of intense games like Asphalt 8, Nova 3, and such thrown in but no matter what, we could see ourselves get AT LEAST 4 hours of screen-on time which is commendable for a battery of that capacity. Even on days when we stayed on 4G LTE ALL DAY long, the battery simply stood up to the tests. So Qualcomm's claims did prove to be true here around efficient battery consumption. So a good processor with an efficient battery means that you can put the phone thru some heavy tasks and gaming without having to worry much about the drain outs.
Though ASUS has provided a 5V 2A charger and claims fast charging ability, in our tests the device took anywhere between 1 hour 45 minutes to close to 2 hours from 5-10% to 100%. This is rather slow if one claims fast charging. This is something that Asus should address to justify the claims. We did try with other fast chargers but it did not make much of a difference.
Camera: Super loaded arsenal shooting for vividness

Pick a tub of popcorn as you go thru this as there is so much to the Zenfone 3's camera! The primary camera uses a Sony IMX298 sensor which is a 16MP 6-piece lens set with an f/2.0 aperture size. It also comes with laser autofocus, phase detection autofocus, continuous autofocus, 4-axis optical image stabilization for still photography, 3-axis electronic image stabilization for videos, and a dual-LED flash. Hang on, we are not done yet! It also shoots images in 1.12um pixel size which means better low light photography and has a field of view spanning to a healthy 77 degrees. OK, now we are done! All of this technology packed inside a Sapphire lens is what ASUS calls the PixelMaster 3.0, a combination of software and hardware that makes it possible for some stunning pictures. Add to the fact that there is also deep-trench isolation that prevents inter-pixel color bleeding and other features like 32-second long exposure shots ability and super-resolution mode that can take pictures up to 64MP. The entire camera hardware and software package on ZF3 sounds as if it's on nitro/turbo mode. So how is the performance? Read on as you munch the popcorn.
For a mid-range phone, the output is nothing short of amazing in any given condition. But there is an issue – the colors are off as Asus is trying to make the pictures look punchy and in this attempt takes some portion of the truth off the pictures. On some occasions, one can hardly tell the difference between the normal/auto and the HDR modes as both are punchy and vivid. The laser autofocus does a commendable job in locking focus and one can get pretty close to the subject. But thanks to the rather slow shutter speed it's frustrating at times especially in low light conditions. There is a dedicated 'Depth Of Field' mode that tries to shallow out the background but on closer inspection it just picks the center portion of the image and then blurs out the rest, thus giving it some awkward look if some portion of the subject gets into the blurry zone. The low light mode too has its advantages. Asus claims that the mode increases the light coming into the sensor to as much as 400% for every pixel on the frame thus lightening up the entire frame. At times there is over digital sharpening and exposures going on, making the overall output look a tad artificial but appealing nonetheless.
Saving the day for ASUS on that front is a very good OIS and EIS system which is much better than what we've come to see on the OnePlus 3 and even the Mi 5 so kudos to Asus on this. 4K videos come fine too and audio quality in videos is very much acceptable.
The camera app is full of options but taking the glory with it is the Pro mode and the Super Resolution mode that work so well. There are other options such as HDR Pro, Real-Time HDR, night mode, macro mode, time rewind, depth of field, and so on for the ones who want to play around with the camera. The 8MP front camera comes with a wide-angle of 84 degrees, f/2.0 aperture, and is above average in its performance.
Zenfone 3 Camera Samples –
You can view the above camera samples in their full size on Google Drive
Other performances: Smooth operator with minor hassles
Zenfone 3 has a rather strange implementation of the fingerprint scanner when it comes to the shape and barring that, it works like charm. It is fast, accurate, and unlocks the screen as well which is good. The positioning of the module at the back too is the right fit and there were no struggles and we did configure as many as 5 fingerprints and there were no hassles. There is good feedback too as the screen unlocks. Another area where the Zenfone 3 never struggled is the connectivity. 4G data and VoLTE worked super fine and calls had plenty of crisp, clear voice being exchanged to the other side. The only downside if we were to point out is the hybrid tray which prevents you from using two SIMs in case you were to bring in additional memory. The model we had comes with 52GB of usable memory out of 64GB and this for most users should be enough. We've come from using phones like OnePlus One and Nexus 6P with 64GB and never felt the need for more but this again depends on one's usage patterns! Wi-Fi too worked fine and so did Bluetooth when we paired it with headphones and other phones as well.
The Verdict: No surprises here
The Zenfone 3 does a very good job in all departments. Of course, there are minor slacks in the UI / OS but that is expected of a thick UI and if you wanted tons of features, it's a trade-off one has to make. The camera output is off true colors but with such strong hardware, if ASUS can make tweaks via software updates it can take things up a notch. With a classy design and build, "reliable" battery life, and overall performance, there is very little to complain about the phone itself. But there is a major issue and this is with its pricing – 27,999 INR. This means it's going to take on the OnePlus 3 directly which comes with far more superior hardware, super-smooth UI performance, and does very well in the camera department as well. In the recent past, OnePlus has stepped up on post-sales servicing as well. ASUS tasted lots of success mainly because of the aggressive pricing in the previous generations and the expectations were totally proved wrong with the pricing of the latest series. But if you're looking for a feature-packed phone, offline availability, and good post-sales service, you will walk away happy. And we truly hope ASUS will step up on the software updates and not repeat what they did for Zenfone 2.
Meanwhile, there is another variant of Zenfone 3 – 'ZE520KL' that comes with a 5.2″ display, 3GB RAM, 32GB storage, and 2650mAh battery. The rest of the specs and design remain the same but this one comes at a reduced price tag of 21,999 INR. What is your choice? Do let us know in the comments.
The Good
Build and design
Screen
Battery life
Overall performance
Camera
Audio output
64GB storage
The Bad
Pricey when compared to the competition
No fast charger supplied in the box
UI components look outdated
RAM management
Non-backlit buttons