Taiwanese smartphone maker Asus recently announced that it has sold 3 million Zenfone phones so far in India and has partnered with Foxconn to make smartphones in India. A while back, the company took the wraps off the Zenfone Zoom in India at a grand launch event in Agra. As the name depicts, the Zenfone ZOOM focuses on a powerful camera with advanced zooming capabilities besides boasting an elegant design and solid hardware. The Zoom is Asus's effort towards trying out something fresh and innovative that can help them stand out from the stiff competition. We've been using the Zenfone Zoom for around 2 weeks now and will try to find out if Asus has really managed to make a dent with this phone in our detailed review.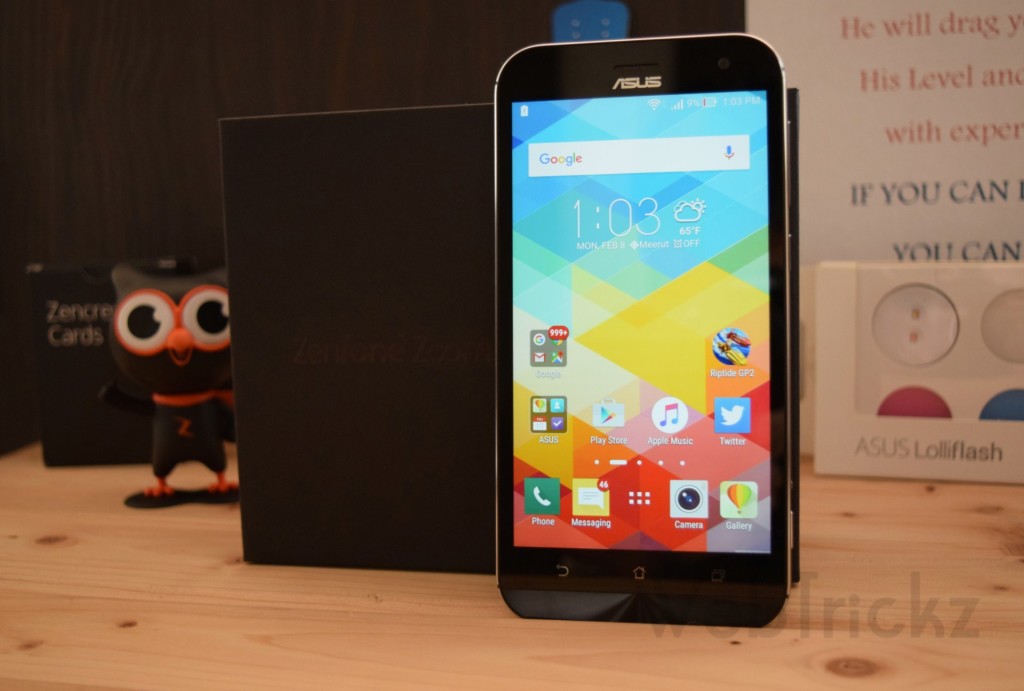 What's inside the box –
The phone comes in a compact black box with a hinge design. Inside the box, you get a Zenfone Zoom, a lanyard with an adjustable ring, a 2A fast charger, a micro USB cable, and a pair of in-ear headphones from Asus.
Build and Design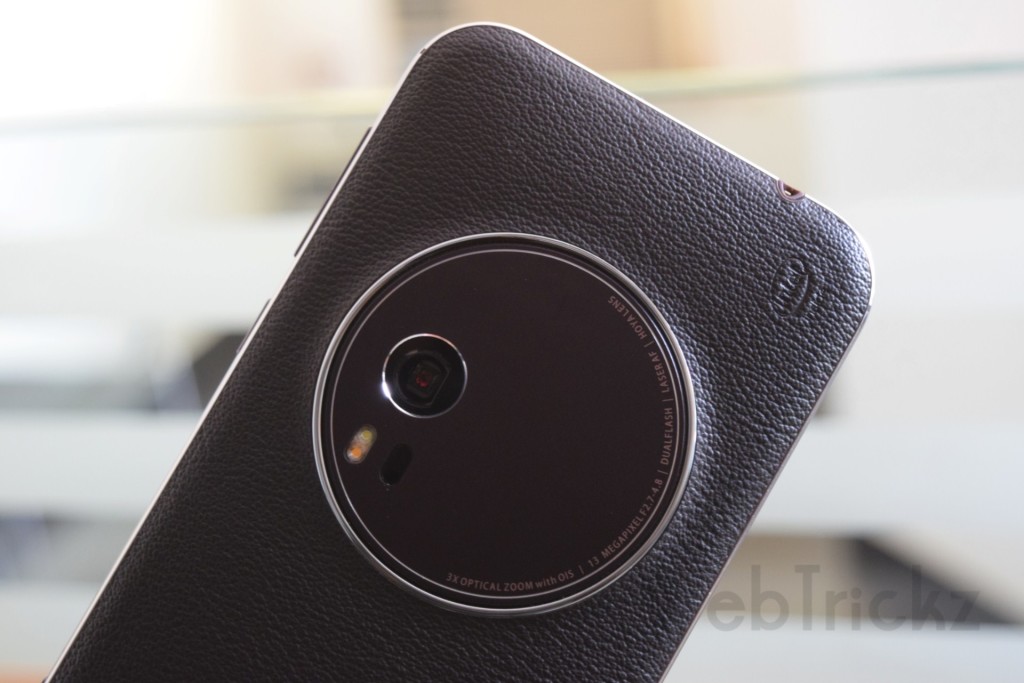 A glimpse of the phone's back and you can easily spot the ZOOM from a distance because of its distinct design and leatherback. The design language of Zoom is relatively different from the Zenfone series as here you won't find the power button and volume rocker at the back. Zenfone Zoom has significantly improved in terms of design and build quality – The phone is secured by an aluminum unibody frame with diamond cut chamfered edges and antenna bands that looks premium and feels smooth. The metal frame with beautifully rounded corners makes it really comfortable to hold.
Coming to the front, on the top, it has a notification light, earpiece, sensors, and front camera. On the bottom are 3 capacitive buttons that sadly aren't backlit like other Zenfone phones and right below them is a metallic strip with a reflective concentric circles pattern. The phone has thick bezels with a 72% screen-to-body ratio that we wish Asus could've improved. Meanwhile, the White color variant of Zenfone Zoom features a different look on the front side – Here the Asus logo can be seen at the bottom in place of the strip which is absent in white color but it looks equally good.
The right side of the phone houses the volume rocker and power key plus hardware buttons for video recording and camera, which makes complete sense on a camera-focused phone. The metal buttons look nice and offer good tactile feedback. There is nothing on the left side. The top side has a 3.5mm audio jack while the micro USB port is at the bottom. There is a loop on the bottom left corner to attach a lanyard (comes in the box) that helps in taking photos securely with one hand.
Moving to the back that packs the most appealing feature of the phone i.e. the textured leather back and a big camera module. The leather cover with Asus and Intel Inside branding looks standard in quality and offers a good grip to hold. What's noteworthy in Zoom is the giant disc at the back that holds the camera, dual-tone LED flash, laser autofocus, and much more under the hood. The camera with 3X Optical Zoom is arranged in such a manner that there are no external moving parts and it isn't protruding as well. Moreover, the camera lens sits a bit deeper than the actual disc surface to prevent any scratches. All this brilliant technology comes packed in an 11.95mm slim profile and the phone is just 5.5mm thick at the edges. Kudos to Asus on this feat!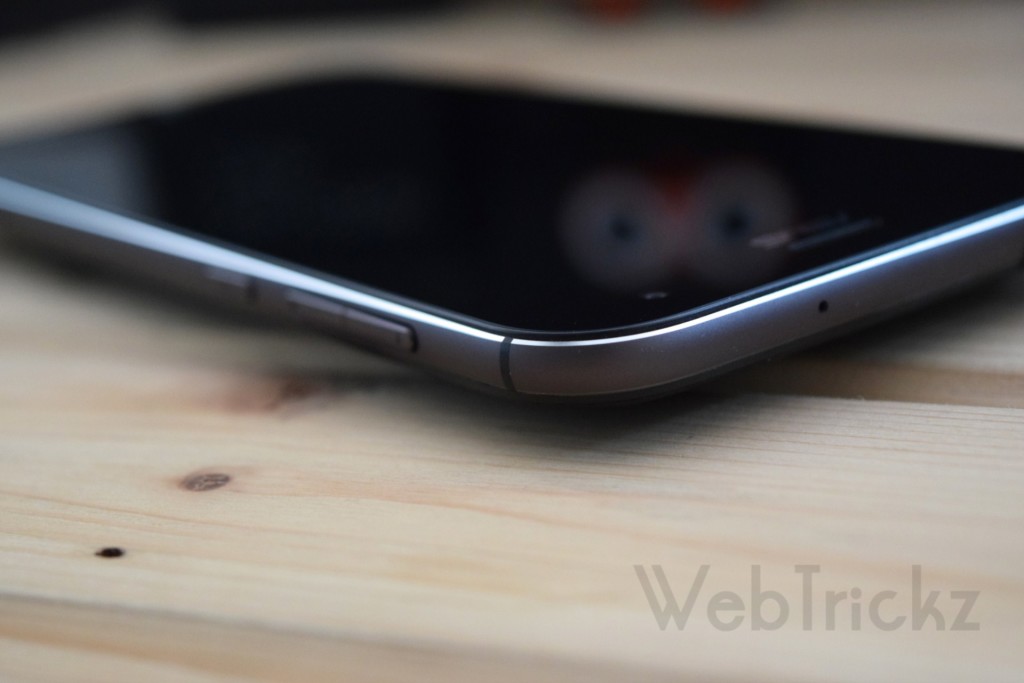 At the back, there is a grill for a loudspeaker with a ridge next to it that prevents the sound from getting muffled and keeps the phone in a uniform shape when kept on a flat surface. The back cover is easily removable underneath which you'll find a Single micro SIM card slot, micro SD card slot and a non-removable 3000mAh battery.
The chrome accents around the camera circle, leatherback, polished edges and smooth metal frame add to the overall look of the phone. One won't even complain about fingerprints and smudges on this phone. Despite weighing a hefty 185 grams, the handset doesn't feel bulky or heavy due to its compact form factor.
Tl;dr: The premium design, elegant finish, and sturdy build quality of Zenfone Zoom left us impressed.
Zenfone Zoom Photo Gallery – 
Display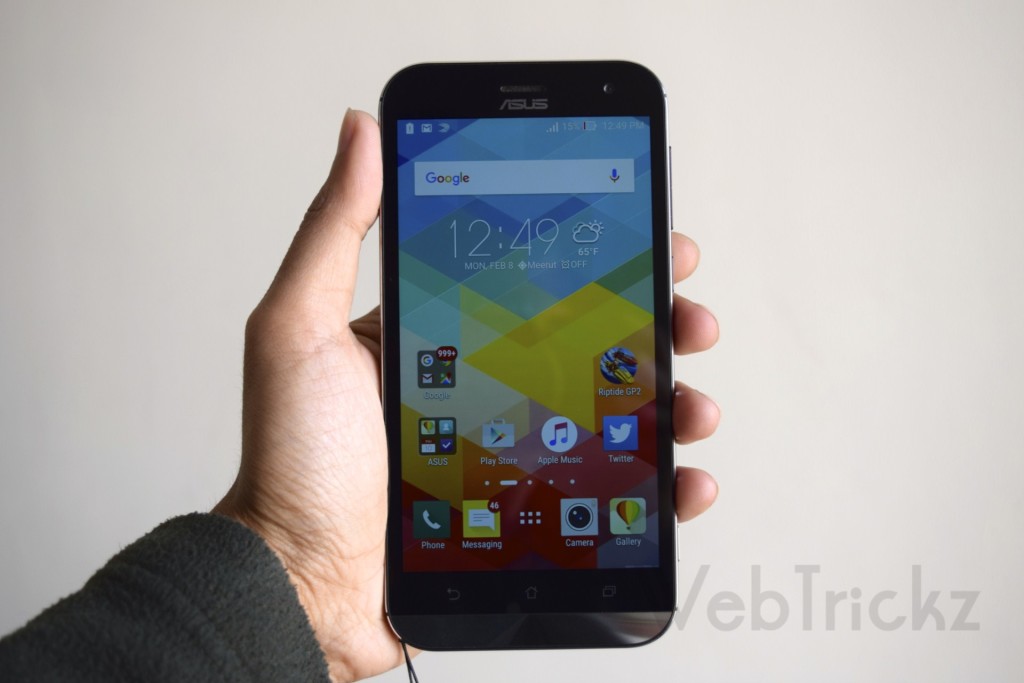 Zenfone Zoom sports a 5.5-inch Full HD IPS display with 1920 x 1080 resolution at 403ppi, which is the norm these days. The display is protected by Corning Gorilla Glass 4 that's scratch-resistant and has an anti-fingerprint coating. One thing I noticed is that the display doesn't look bright enough at medium brightness unlike other phones though Asus claims it has 400cd/m2 of brightness level. Due to low brightness, I often had to manually adjust and raise up the brightness for proper visibility. We had no luck with the Splendid app too that helps in adjusting screen color balance. This could be due to a software bug that we hope gets fixed in future OTA updates.
The color saturation and viewing angles are good but visibility under direct sunlight isn't promising unless you tone up the brightness and the screen appears reflective too. There's a 'Bluelight Filter' option accessible from quick settings that reduce blue light from the screen and thus reduce the strain on your eyes during nighttime. The touch response is good and there is a Glove mode that comes in handy when operating the phone with gloves. Overall, the display is sharp and quite vivid but not impressive.
Software & User Interface
Just like other Asus Zenfone phones, the Zenfone Zoom runs on the company's proprietary Zen UI based on Android 5.0 Lollipop. ASUS ZenUI 2.0 reportedly comes with over 1000+ software enhancements that power the Zoom. The software is deeply enhanced with custom user interfaces, pre-loaded apps, tons of settings, tweaks, and options that you can spot in every corner of the OS. The phone comes with a lot of pre-installed apps from Asus which could hinder the user experience especially if you're coming from a stock Android or Nexus phone. Few of the pre-loaded apps can be uninstalled but the rest can't though you can disable them if needed. The UI is intuitive and functional but looks overdone at times. I like the fact that Zen UI has a distinctive identity of its own and it doesn't resemble any of the UI's loaded on every other phone from Chinese brands.
Here's a quick breakdown of Zen UI 2.0 Features –
Quickly access apps from lock screen (Customizable)
Kids Mode – Set parental control by setting a PIN, thereby allowing your kids access to the specific app(s) only and you can block incoming calls too
Easy Mode – Enables an intuitive interface with simple layout and core functions
One-Hand Operation Mode – Resize screen size by double-tapping the home button
Ability to customize Recent apps key function and Quick settings panel
Do Not Disturb mode
Splendid / Screen color mode – Customize the color balance and saturation level of the display
ZenMotion – Double tap to unlock, Customizable gestures to launch apps when the screen is off
5 Power saving modes
Auto-Start Manager – Deny/Allow specific apps from launching at startup to save memory and extend battery life
Apps are movable to SD card, option to choose external storage as default installation directory
Deleted photos are moved to Trash (Option to delete permanently as well)
Asus Mobile Manager – Boosts the system operations by freeing up RAM
AudioWizard – Setup sound profiles for movie, music, gaming, and vocal
Allow/Deny App Notifications – Block all or specific apps from showing any notifications
Security – Hide Folders, Hide apps, and Lock specific apps/ gallery with a pattern password
Call Recording – Ability to record all calls or specific ones in high audio quality
Besides some of the interesting options above, there are a couple of apps like Mini Movie, Photo Collage (Photo effects, Sticker shop) for those who like tinkering with their photos and make them memorable. These are well integrated with the system Gallery app such that you can easily create collages and mini clips right from the gallery in a few taps. There's a Themes store as well with a collection of Free and Paid themes that you can instantly apply to freshen up the look of your phone.
The Zen UI has numerous options and tweaks that it's almost impossible to list each one of them. The inclusion of these many options eliminates the need to download third-party apps. Despite packing a heavily customized OS, Zen UI 2.0 on Zenfone Zoom doesn't fail to impress. The operations are smooth and multitasking is a breeze with 4GB of RAM and we didn't encounter any app crashes or major lags while switching between recent apps. Overall, the UI is colourful, efficient and system updates are provided on time.
Hardware & Performance
Zenfone Zoom is powered by an Intel Atom Z3590 64-bit Quad-core processor clocked at 2.5GHz accompanied by PowerVR 6430 GPU clocked at 640MHz. The device has 4GB of LPDDR3 RAM up its sleeve that is capable of heavy multitasking and smooth operations. The heavily skinned Zen UI 2.0 based on Lollipop is well optimized resulting in a lag-free performance but we feel it affects the battery life. The gaming performance is impressive as we had no issues playing graphic-intensive games like Asphalt 8 and Riptide GP2. It could turn a bit warm though under prolonged usage but that's normal. In case the device feels short on performance, you can always switch to "Performance Mode" which delivers the highest CPU performance and makes a noticeable difference during resource-hungry tasks.
In the Antutu benchmark test, the device knocked a score of 63766 which isn't so good considering the pricing and scores of other high-end phones in the market. With several apps running in the background there was 1.6GB of Free RAM available on average and after a quick reboot, free RAM amounted to 2.2GB. Summing up, we're impressed with the fluid experience on Zoom in terms of system performance, web browsing, video playback, and gaming.
Battery Life
The phone comes with a 3000mAh non-removable battery with 'Boost Master technology'. It supports fast charging and took 75 minutes to charge fully with the supplied 2A fast charger. It's worth noticing that there was no battery drain overnight and we tested this couple of times. However, the battery life isn't great is disappointing on this phone. The battery conked out after 6-7hrs of continuous usage with a screen-on time of 4.5hrs. In another test, the battery lasted for 18.5hrs under moderate usage (includes 8hrs of nighttime) with a SOT of just 3hrs 20min. The high battery drain is perhaps due to the 5.5″ FHD display, Intel processor and the optical camera mechanism seems to be power-hungry.
Asus has included several power-saving modes that help in reducing battery consumption up to a certain extent. In 'Power saving' mode the networks are disabled partially whereas 'Super saving' mode completely disables the network and there is a Customized mode too that one can configure. The Smart switch option lets you auto-switch to super-saving mode at a selected battery level or as per defined schedule.
Fortunately, it has incredibly fast charging that offers 45% of charge within 20 minutes.
Camera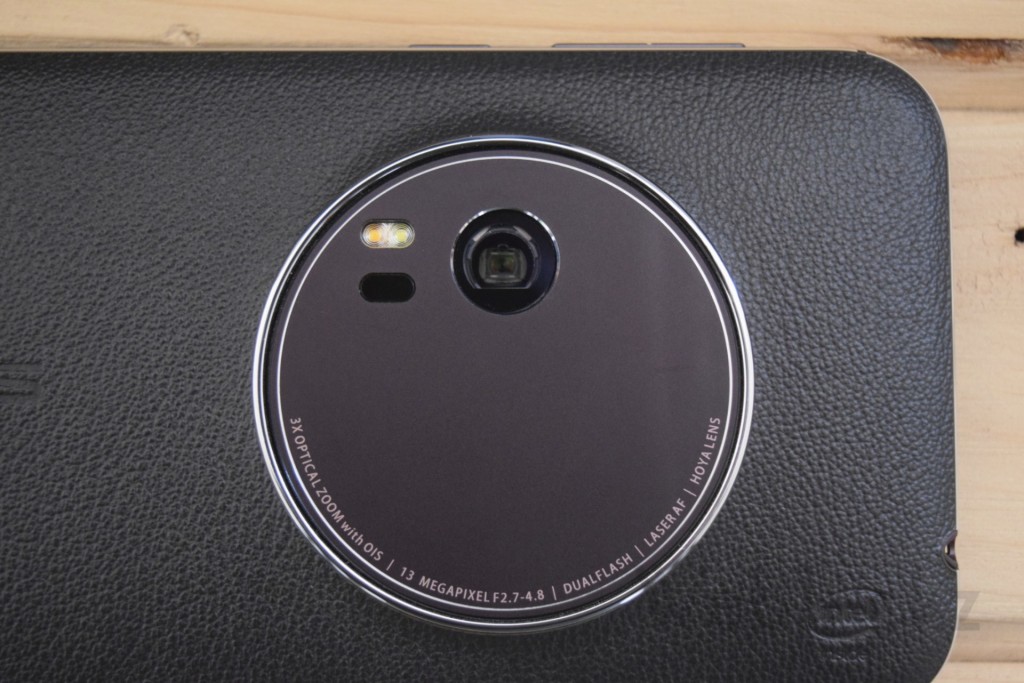 We've reserved the best aspect for last, i.e. the Camera which is the main highlight of this phone. The Zenfone Zoom is the world's first smartphone to feature a professional-grade 3X Optical Zoom in such a compact form factor. Zoom packs a 13MP primary camera with Panasonic Smart FSI image sensor, 4 stops OIS, dual-tone LED flash, laser autofocus with phase detection (PDAF), and an f/2.7-4.8 aperture. The 10-element HOYA lens involves periscopic-lens arrangement such that the optical zoom mechanism works internally. On the front is a 5MP camera with an f/2.0 aperture.
The phone comes with a dedicated 2 stage shutter key for camera and video recording that powers up the camera when the screen is turned on/off. The physical camera key is a nifty addition and works very well. A light press lets you focus and long-press captures the shot. Users can disable the physical keys functionality if required. The volume rocker doubles up as a controller for zooming in/out that comes real handy when taking zoomed shots in landscape mode.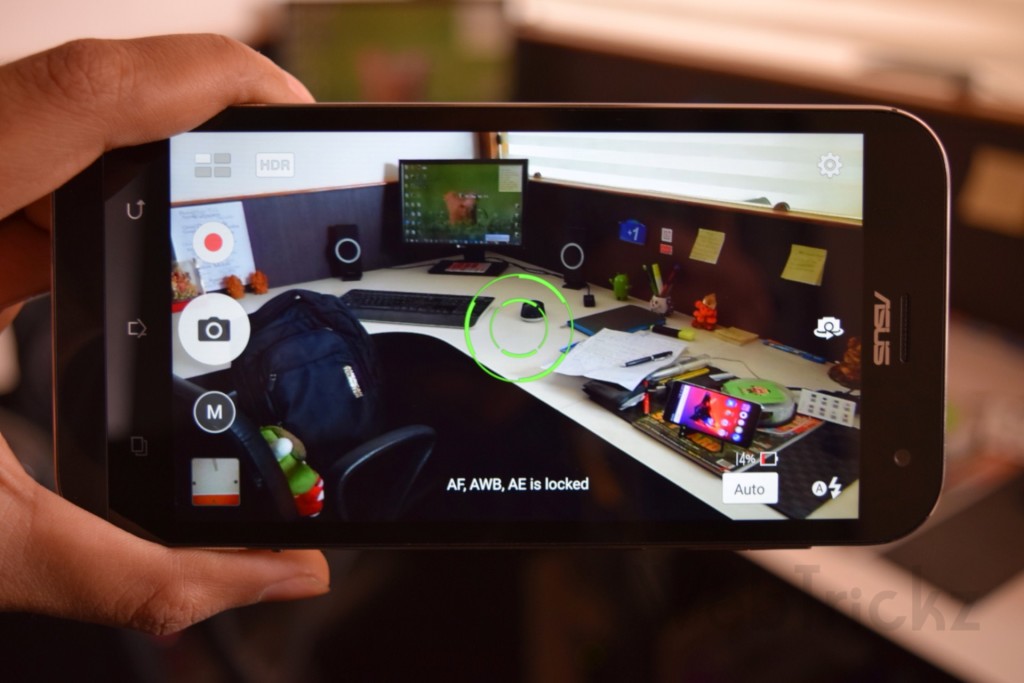 The camera-equipped with laser autofocus focuses blazing fast (in .03 sec as per Asus) and you can tap on the screen or light press the shutter key to focus manually. The camera user interface is intuitive and loaded with a variety of modes and options. Quick breakdown:
Switch between Auto and Manual mode with a click
In Auto Mode, the camera shows HDR or Low light mode icons at the bottom right by sensing the environment
3x Optical Zoom is enabled by default (Option to switch to 12x Digital zoom)
Customize Auto mode settings (White Balance, ISO, Exposure)
Manual optimization lets you set desired levels for Saturation, Contrast, Sharpness, Noise Reduction, Backlight, Detail enhancement
Anti-shake enhancement
Turbo Burst mode
A few of the Camera modes include Super-resolution, Low light, Depth of field, Slow motion, Panosphere, and Timelapse. The Super-resolution mode combines 4 photos into one 52MP photo with high details but requires very stable hands. There is a Manual mode for advanced photographers offering control over parameters like White balance (2500k-6500k), EV, ISO (50-3200), Shutter speed (32 sec to 1/16000), and manual focus. You can view the EXIF data of photos in case you're interested.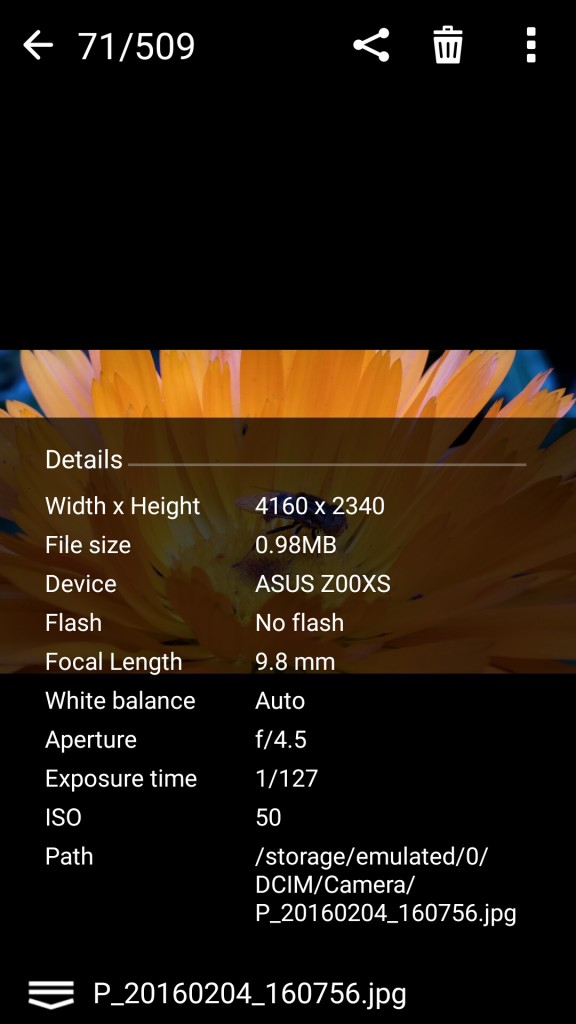 The phone doesn't support 4K video recording and video stabilization is not available when shooting in 1080p which is a big downside considering it's a camera-centric phone. There is no support for RAW format too but that isn't a concern.
Camera Quality – I personally loved the 3X optical zoom on Zenfone Zoom and it works as advertised. The shots captured at 3x zoom were very clear with a high level of detail and possessed natural colors. The advanced zooming capabilities of Zoom really help in taking macro and close-up shots without any blur from a good distance. This comes useful when we want to shoot very small moving subjects like a bee or fly but can't go too close which otherwise is impractical. I tend to use the camera in Auto mode and the results were promising (See samples). The powerful combination of optical zoom, laser focus, and 4-stops OIS makes capturing close-up shots with the finest details and clarity; a piece of cake.
Normal shots taken with the phone are impressive too with decent details, contrast levels, and right colors, especially in daylight. Bokeh shots with a soft background were good but not as impressive as on Galaxy Note 5. Photos taken in low-light and night conditions turned out fairly good with slight noise which is accepted. I tested the camera in various environments and found the results satisfactory. Overall, the camera performance on Zoom is close to perfect but not brilliant considering the fact that smartphones like Galaxy Note 5, Nexus 6P, and iPhone 6S have a slight edge over Zoom in terms of photo quality. However, we won't complain as Zenfone ZOOM is all about the optical zoom and does a remarkable job in that specific department. Not to forget, it also costs lesser than the above-stated devices.
Tip: I recommend using 3x optical zoom instead of 12x digital zoom and then crop the zoomed shots for superior quality and detailing. Makes a big difference!
Camera Samples
Zoomed Shots (typically at 3X) –
Macro & Close up shots –
The 5MP front camera is just fine for taking selfies in daylight but it fails in indoors and low-light conditions as the selfies exhibit a lot of noise. The results look a bit oversaturated too, blame the beautification mode that is enabled by default and there is no option to turn it off. Beauty mode has several skin-toning effects and swiping up the shutter button triggers a 1-5 sec timer.
Storage, Connectivity, Calls, and Audio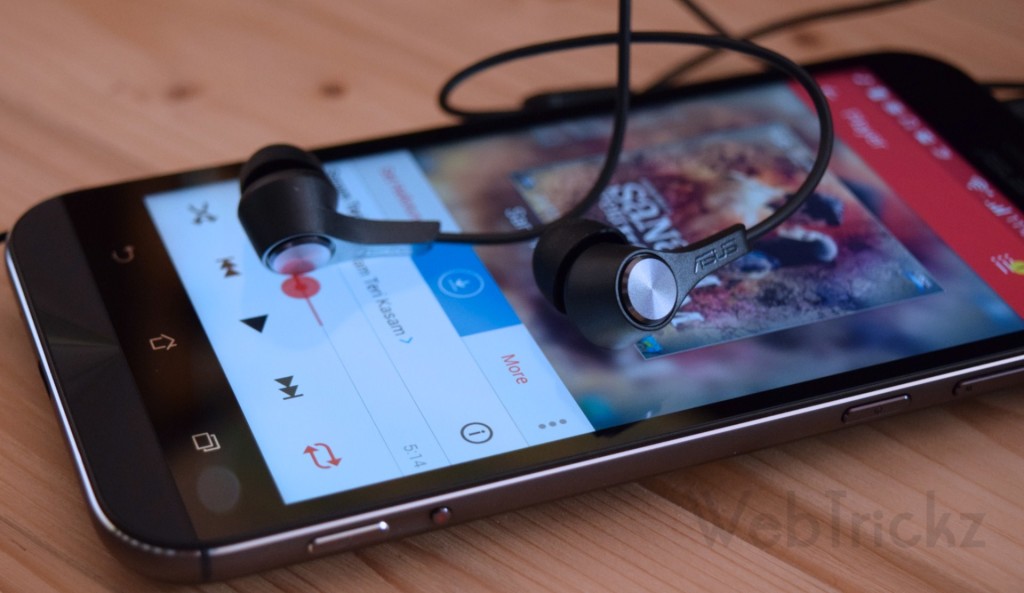 Storage – Asus has shipped Zenfone Zoom with plenty of storage – Yes, it comes with a massive 128GB of storage onboard out of which 112GB is available to the user. And those who aren't satisfied yet would be pleased to know that you can further expand the storage by up to 128GB using a microSD card. That's makes it 256GB! Asus has also included the option to install apps on external storage by default provided the SD card is inserted. One can also move only the desired apps and games to an SD card to clear space in case it runs out. Users can save camera photos directly to external storage by enabling the option in the camera settings. The phone also supports USB OTG functionality.
It supports Dual-band Wi-Fi 802.11 a/b/g/n/ac, Bluetooth V4.0+EDR, NFC, Single micro-SIM (2G/3G/4G), GPS with GLONASS and FM Radio.
The voice call quality is quite good and we didn't encounter any call drops or network issues. I must say the Wi-Fi reception is pretty good on this phone. The loudspeaker at the back is crisp and loud enough. And the in-ear headphones that come along are of good quality plus there's an 'AudioWizard' app to tweak the sound quality for better output.
Verdict
The Zenfone Zoom comes at a premium of 37,999 INR in India which ain't easy on the pocket. The phone is certainly pricey if we compare it with other offerings in the market that offer powerful specs despite being reasonably priced. But Zenfone Zoom is not just about specs – it's about innovation! We can't deny the fact that it's the first smartphone with optical zoom capability in a compact profile which is a feat in itself. Asus has done a great job with the design, build quality, overall performance, and software optimization on this phone. Above all, we loved the Optical zoom which is a peach to use.
At the same time, we can't ignore the fact that Zenfone Zoom feels short in a couple of aspects. The device was announced a year back at CES 2015 and is launched now in India. Obviously, a lot has evolved since then in the smartphone industry. However, if you're willing to spend 38k mainly for the optics, performance, and appealing design then Zenfone Zoom will surely NOT disappoint you.
PROS –
Good design and build
Impressive camera performance with 3X Optical Zoom
128GB On-board storage (Expandable up to 128GB)
Dedicated shutter key for camera
Fast Charging
CONS –
No Fingerprint sensor
No 4K video recording
Average display quality
Average battery life