Just like any other browser, Mozilla Firefox stores all the significant stuff on your computer that is required for its functioning. If you're a power Firefox user with lots of data and information stored over time, then it would become a nightmare for you to manually input all the browsing information, add-ons, passwords and other data, in case you decide to format your Windows, make some critical changes to Firefox settings, or just wish to move Firefox to a new computer.
Similar to MozBackup, Firefox Backup Tool is a simple and efficient tool for Windows that lets you completely backup your Firefox browser. It can easily backup all the important Firefox configuration, including user preferences, bookmarks, extensions, browsing history, form history, saved passwords, cookies, etc. as a single backup file on your system. You can also add a password to the backup file to secure it. The Firefox backup created can be restored anytime using the same tool and you need to input the correct password if added while taking a backup.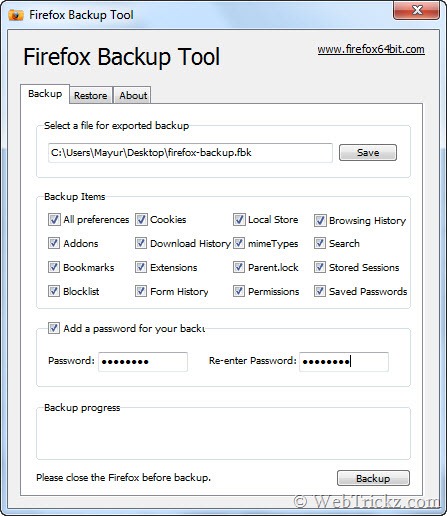 It's advisable NOT to restore a 32-bit backup file to a 64-bit version of Firefox, as some of the 32-bit add-ons might not be compatible with a 64-bit build. Firefox Backup Tool is a freeware, currently supports Windows (both x86 and x64 versions).