Are you an Airtel Broadband customer looking to check your Internet usage? Then here's a really simple way to quickly find the Airtel broadband data usage for your account. Smartbytes, a service recently introduced by Airtel allows broadband users to buy additional data packages to Retain High Speed Bandwidth after crossing FUP limit and acts as your internet usage manager as well.
To view Airtel Internet data usage, visit www.airtel.in/smartbyte-s/page.html from your Airtel broadband connection. The webpage will instantly show the internet usage details of your account for the current bill cycle without requiring any type of registration or login. The page lists your DSL ID (phone no.), monthly high-speed data limit as per your plan (including Top-up and myHome data), remaining high-speed data (non-FUP), and days left in your current billing cycle (calculated month wise).

Using Smartbytes, you can also retain high data speeds by opting for one of the listed add-on data packs. This comes handy in case your high-speed data limit is over and you don't wish to continue browsing at low-bandwidth, i.e. 256Kbps, 512Kbps or 1Mbps depending on your plan. It should be noted that additional GBs purchased are available for use in the current billing cycle only. The relevant charges for the add-on data will be added to your billing cycle.
Note: You can even check data usage of other Airtel users if you've access to their network. This is something that Airtel needs to fix.
Also Read: How to Check your Airtel Broadband Unused Carry Over Data
Update: Alternatively, Airtel broadband users can view their monthly data usage from Airtel Selfcare portal. Make sure to register your account to manage it and view its detailed information. To view current data usage, select your account from Accounts tab in the sidebar. Click on "History details" to view day-by-day usage and hover over the graph to see the time interval along with the amount of downloaded and uploaded data. Optionally, users can export the usage details in Excel file format.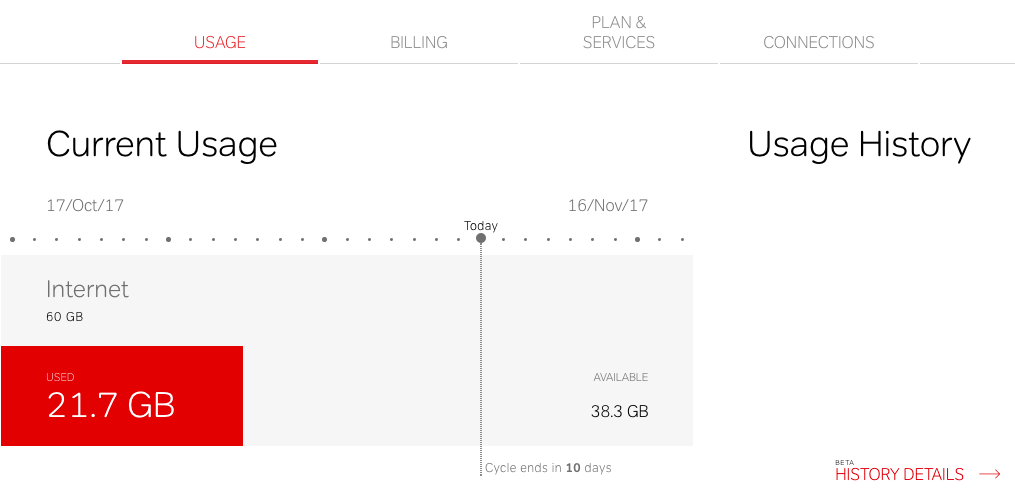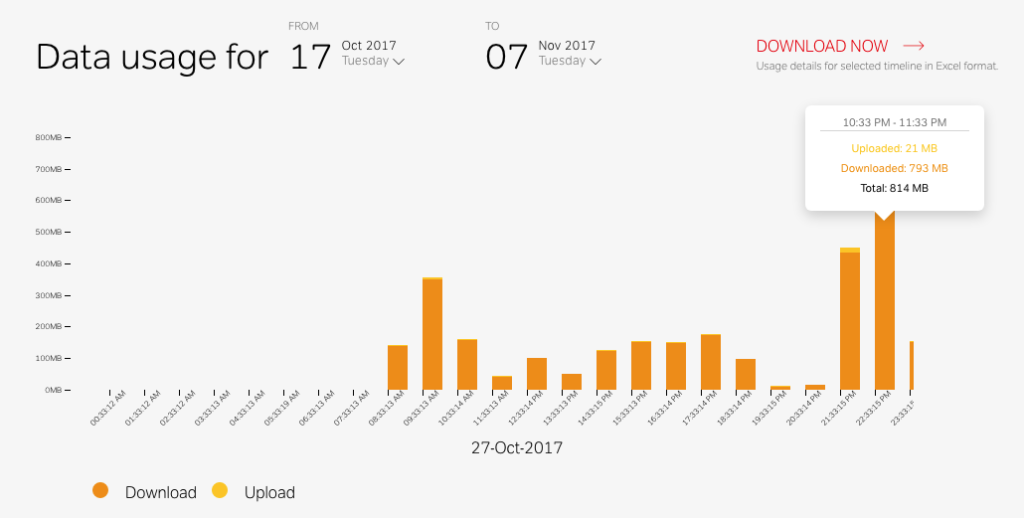 For mobile users – Airtel users can also track their broadband data usage right from their Android or iOS device. To do so, simply install "My Airtel" app from Google Play or App Store. Now open the app and select the desired account from My Accounts section. Then select "Data Balance" to view the remaining data as shown below. Home broadband usage is another nifty Android app with a minimalistic interface, letting you check data usage without the need to log into your Airtel account.