Just a day back, Google introduced another cool change to its design by redesigning the substantially used Google bar. The new Google bar replaces the horizontal black bar at the top of the page, allowing you to navigate quickly between Google services, as well as offers the ability to check your Google+ notifications and quickly share stuff with desired people on Google Plus. The latest new Google bar is not launched publicly yet but has been rolled out randomly for some users at the moment.

Fortunately, a Google+ user 'Maximilian Majewski' has discovered a 100% working hack to enable the new Google bar right now. The hack can easily be applied on Google Chrome browser to edit a certain value and thus access the awesome new Google menu bar. Switching to the New Google bar is real easy, just follow the steps below:
1. Install the 'Edit This Cookie' extension to change cookies on Chrome.
2. Load Google.com, right-click on webpage and select 'Edit cookies'.
3. Move to the "PREF" section and change its value to this: (exact code)
ID=03fd476a699d6487:U=88e8716486ff1e5d:FF=0:LD=en:CR=2:TM=1322688084:
LM=13226880­85:S=McEsyvcXKMiVfGds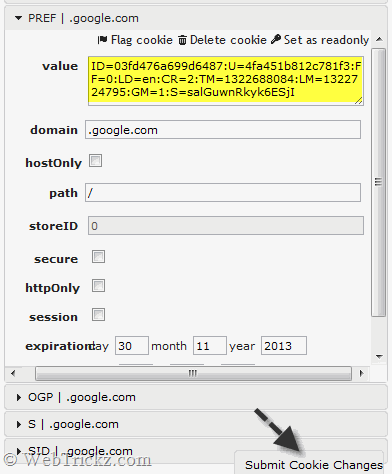 4. Click on 'Submit cookie changes' at the bottom.
5. Reload Google and you have the new Google bar.
You will now find links to the most accessed services in a new drop-down Google menu nested under the Google logo. You can access additional services by hovering over the "More" link at the bottom of the list. Just click on your choice and you're over to it!
Hope you liked this trick. Don't forget to share it with your friends. 🙂