Recently, I was looking for a case bag for my MacBook Pro 13" but after searching online for a long while, I couldn't find one which can fit best to my requirement. Of course, there are lots of sleeve notebook case available at eBay and other online stores but I really don't prefer them. That's because neoprene cases are made of soft padding and are just meant to give extra protection to your MacBook when carrying it in a backpack or a suitcase. Furthermore, they don't have handles to carry and aren't so impressive.
Luckily, I got hold of an amazing case from Case Logic which was exactly something I had been looking for. So, I'm here to share my views about the product along with some pictures, so as to help those who are seeking to get a quality laptop case.
Case Logic QNS-113 13.3-Inch EVA Molded Laptop Macbook Air/Pro Sleeve
Case Logic QNS-113 is a perfect, stylish, rigid, and highly compact case to hold laptops with up to 13.3" display, including Apple MacBook Pro 13-inch and MacBook Air 13-inch. This case is incredibly light, slim, and acts as an intermediary between a laptop sleeve and a laptop briefcase. It features a smart and appealing design packed with several interesting features. Available in 3 gorgeous colours – Black, Blue and Magenta.
Photos of Case Logic QNS-113 MacBook Pro 13 Case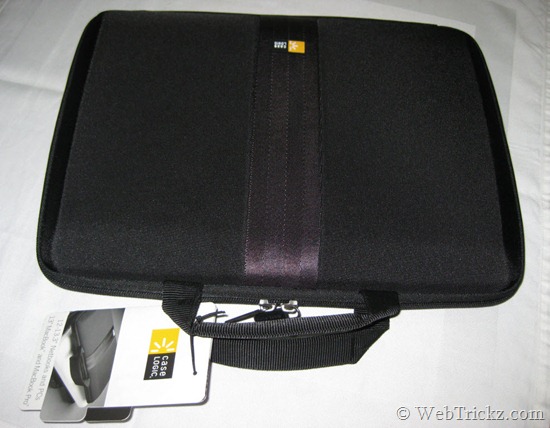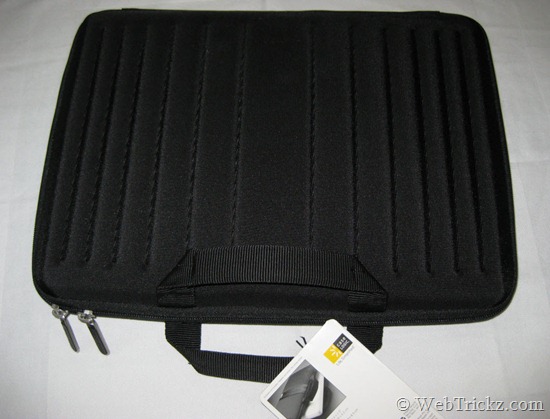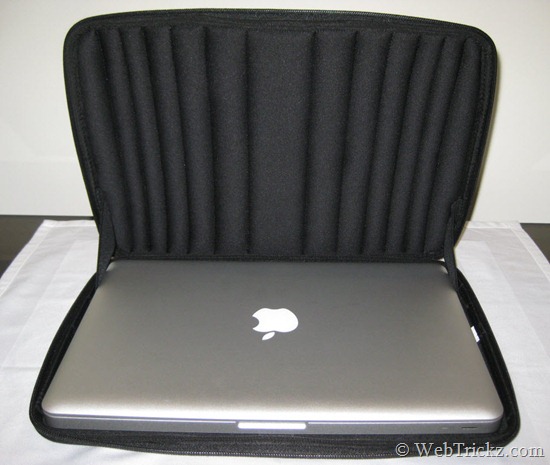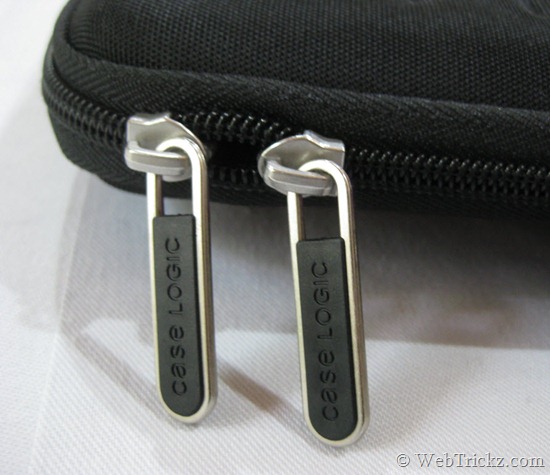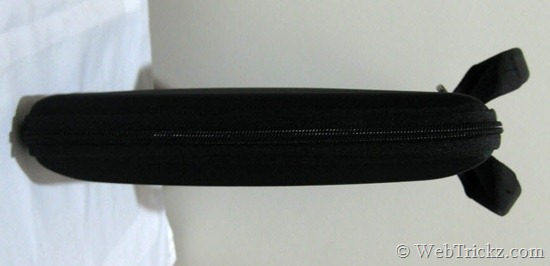 Design –
The QNS-113 attaché offers a premium, lightweight, sleek design; features a hard shell and moulded EVA sleeve that protects your netbook or laptop on the go. The external shell is textured, has a zipper enclosure and the well-padded pair of soft handles makes it comfortable to carry. The base aka interior of bottom shell has no padding but is made of a stiff material, carries a clamshell design and its integrated airflow channels stands apart from other cases. The case is highly portable, durable and the overall stitching is pretty strong and neat, which all makes it appear beautiful.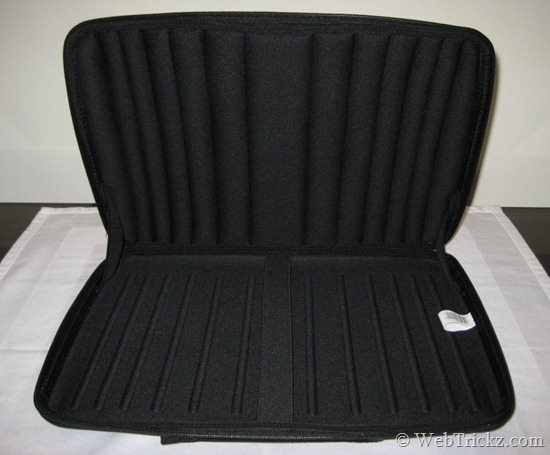 The interior of the upper casing has a thick quilted surface that acts as a cushion and protects the MacBook. Moreover, there is an elastic band on the bottom shell to keep your device securely in place as shown below.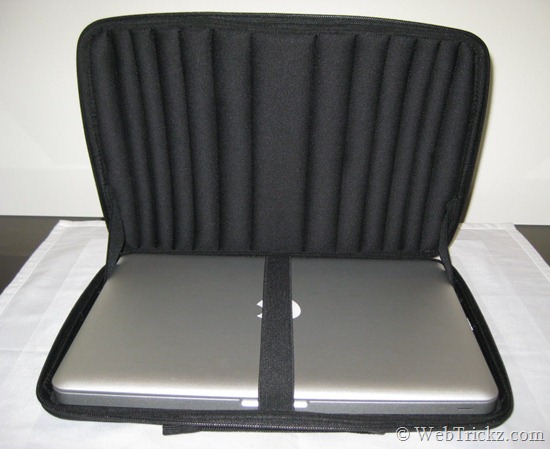 There are two elastic bands on both the sides that firmly opens the case to a 90+ degree angle. This comes handy in case you want to work without taking the laptop out of the case, for instance, while working on a train, plane, or from a coffee shop.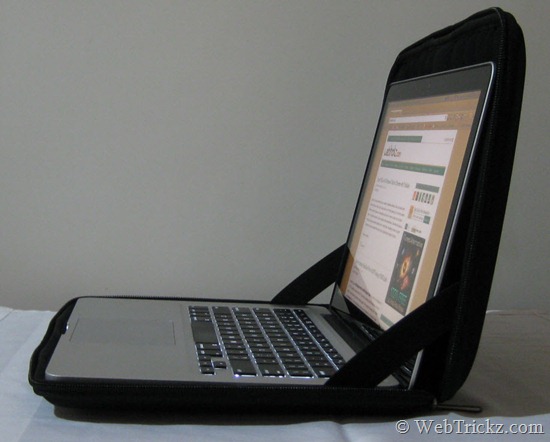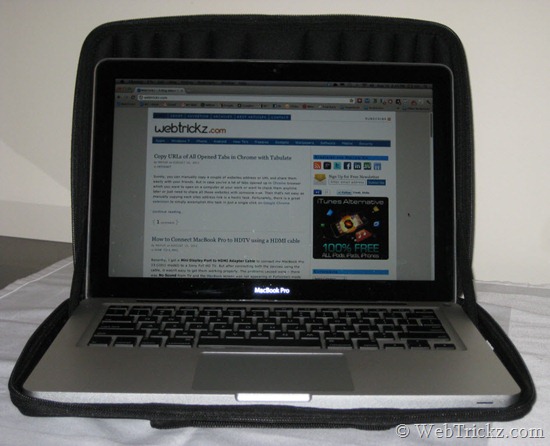 Features –
The elegant ultra-slim design looks attractive and easy to handle
Moulded EVA sleeve holds a laptop with up to a 13.3" display
Unique seatbelt style keep you looking good while on the move
Thick, quilted padding keeps your laptop protected and snugly in place to prevent it from sliding around
Clamshell design and integrated airflow channels allow you to use your netbook while still in the sleeve without the risk of overheating
Padded carry handles for comfortable transportation
Product Dimensions –
Fabric: Molded EVA
Size: 14.2″ x 11″ x 1.8″
Fits devices: 13″ x 9.4″ x 1.5″
Weight: 1 lb
Price: The MRP of Case Logic QNS-113 (13.3″ Laptop Sleeve) is $29.99 (excluding shipping & taxes) but I got it from Amazon for just $20.84 (shipping was free as I opted for a free trial of Amazon Prime). 🙂 [Buy online from Amazon]
Verdict: This MacBook Pro/Air 13 case is a great buy and I'd recommend it for people who frequently need to carry just their laptop to the office or at a friends place. This bag is really very small, convenient to carry around and grips well in hands. It has a fair price considering it is meant to carry and protect your $1000+ MacBook Pro. However, there is no space to carry the Power adapter but that should not be an issue for everyone because MacBook Pro battery may last up to 7hrs on Wi-Fi.
P.S. This is Not a sponsored or paid review.