Recently, I got a Mini Display Port to HDMI Adapter Cable to connect my MacBook Pro 13 (2011 model) to a Sony Full HD TV. But after connecting both the devices using the cable, it wasn't easy to get them working properly. The problems caused were – there was No Sound from TV and the MacBook screen was not appearing in Fullscreen mode on the TV (there were black edges on the TV screen even at 1080p resolution).
Seriously, this was driving me crazy as my MacBook Pro with an Intel HD Graphics 3000 (supports up to 2560 by 1600 pixels on an external display) couldn't display 1080p on HDTV (Full HD) correctly. Fortunately, I figured out a way and was able to get it working perfectly. So, this article is for all those people who are experiencing a similar problem.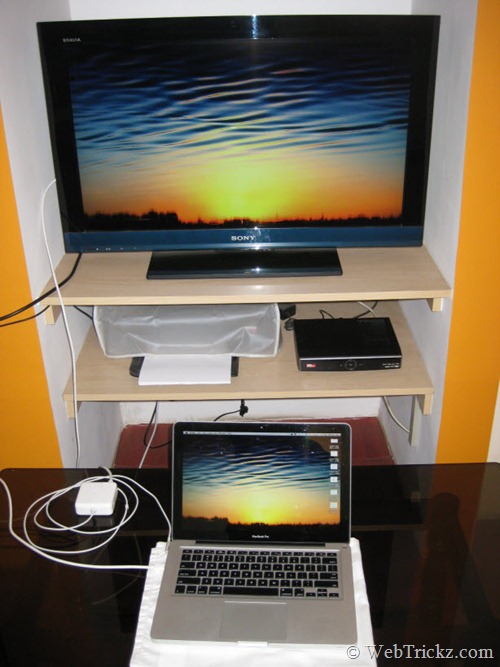 >> To get all the things working, you must have a compatible cable. Your MacBook Pro should support Full HD (1080p or more) resolution on an external display and should support Audio Out via the Mini Display Port (MiniDP or mDP).
Note: Only MacBook Pros April 2010 and later support audio, but if you want to check to know for sure, click the Apple logo in the top left corner. Click "About This Mac" and then "More Info…", click System Report. Under Hardware, click "Audio (Built In)". If you see "HDMI/ DisplayPort Output", then your MacBook Pro does support HDMI audio out.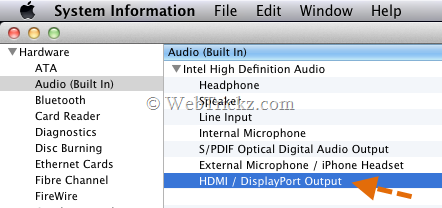 Connecting Apple MacBook Pro to a High-Definition Television:
1. Connect both the devices using a quality Mini Display Port to HDMI Adapter Cable. We used the below one which is a single 6 feet cable that supports both audio and video, you can buy it from Amazon for $11.69 only.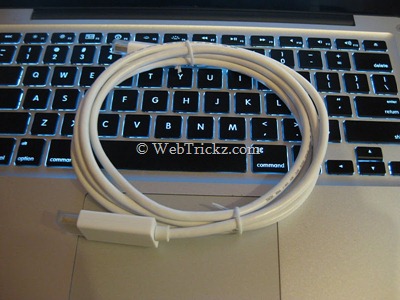 2. Use the TV remote to switch to the Input device. Select the HDMI port to which you've connected your MacBook Pro. For example: HDMI 2 in our case
3. To enable Audio from TV's speakers and NOT from MacBook Internal speakers – Open System Preferences > Sound, tap the Output tab and select your TV as a device for sound output. Now sound would just come from your Television set.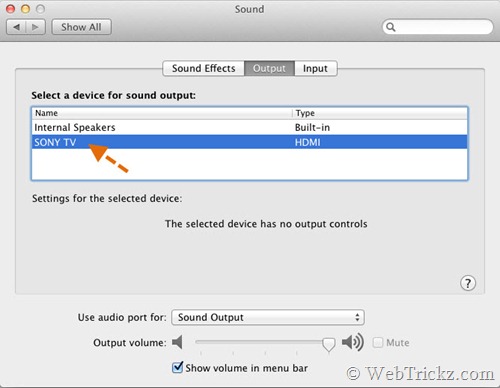 4. Displaying 1080p (1920×1080) resolution in full-screen mode when connecting MacBook Pro with HDTV using a HDMI cable –
Open System Preferences > Display. You can enable 'Show displays in menu bar'. Current resolution of your MacBook Pro would be listed. Do Not change it.

In 'Color LCD' window, open the Arrangement tab and Uncheck Mirror Displays option. (Full-screen mode on TV doesn't seems to work when Mirror displays is enabled).

Click on the 'Gather Windows' button.

TV window will show up (for e.g. Sony TV). Select resolution as 1080p for your TV. You can select a higher resolution if it's supported by your external device.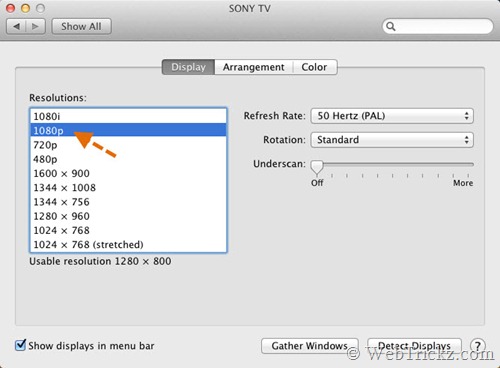 Now open the Color LCD window and select the Arrangement tab. It will list two displays (left side one is MacBook display while right side one is your HDTV display) as show in image below: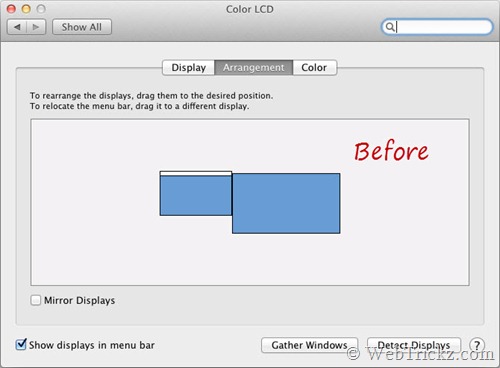 Important – Rearrange the display and relocate the menu bar. To do so, Drag the right side display to left. Then drag the menu bar from right display (MacBook) to left display (HDTV). You will now see the entire MacBook desktop on your TV screen.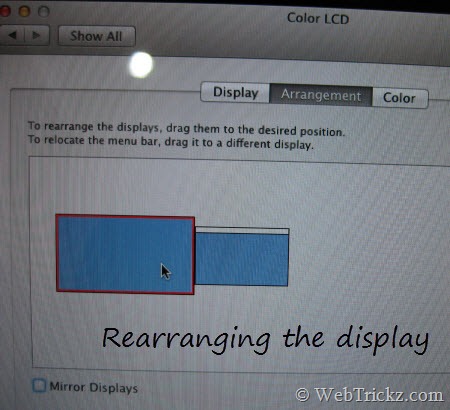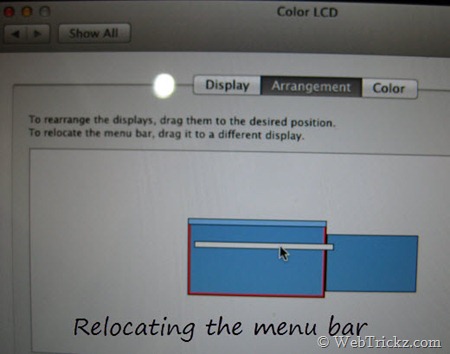 The Displays Arrangement should now look like as shown in image below: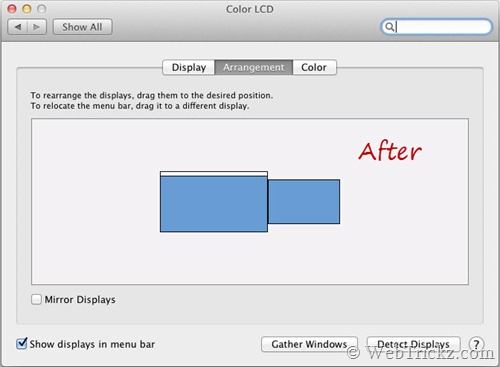 Move the cursor to left side on MacBook Pro screen to move it onto your TV screen. That's it! Now you're ready to use your HDTV as an external display to watch movies, photo slideshow, etc. For controls, you need to use MacBook or you can attach a wireless keyboard and mouse for more comfort.
MacBook Pro display in Full-screen on HDTV –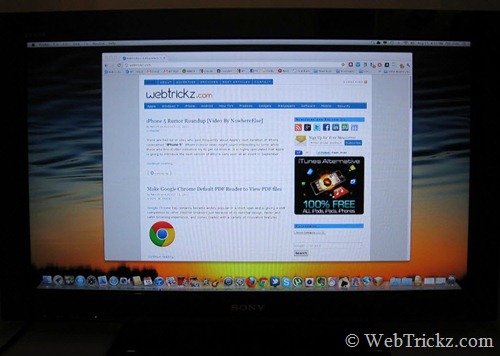 Tip: If you're controlling the external display using MacBook only, then it's recommended to turn its screen brightness and backlit keyboard light down to 0% to save the battery. (At this time, MacBook just displays the desktop wallpaper).
To confirm the screen resolution on external display (HDTV), I just took a screenshot of entire desktop (Shift+Command+3). See the dimensions: 1920 x 1080 😀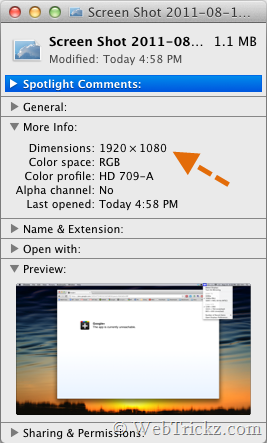 To Turn off external display and get back to MacBook Pro, just turn off your TV and remove the cable from MacBook. You will see the complete desktop back on your MBP.
The above procedure has been tried with Mac OS X Lion. Please post your views below if you liked this article. Also, don't forget to share it with your friends. 🙂