Starting with iOS 11, photos captured on iPhone are saved by default in HEIC or HEIF format. As compared to JPG, the HEIC format possess better image quality despite having a much smaller file size.
HEIC files are great for people who work around Apple's ecosystem such as on iPhone and Mac. That said, there can be incompatibility when sharing and most software including Photoshop does not support HEIC yet.
To avoid compatibility issues with Windows and older versions of macOS, one can easily convert HEIC files to JPG. While several programs and online services let you change photos from HEIC to JPG for free. At the same time, Mac users can conveniently save HEIC as JPG without using third-party tools.
Surprisingly, macOS Monterey 12 offers the ability to quickly convert HEIC to JPG directly from Finder and without using Preview. A built-in 'Convert Image' Quick Action makes this possible.
With Monterey, you can also convert multiple HEIC to JPG at once on Mac. This is certainly the easiest and fastest way to batch convert HEIC to JPG I've come across. Whereas on macOS Big Sur or earlier, users had to manually set up a Quick Action using Automator to perform the same task.
Now let's see how you can change multiple photos from HEIC to JPG on your Mac.
How to batch convert HEIC to JPG on macOS Monterey
Follow the below steps to convert HEIC to JPG on Mac using Quick Action.
Go to Finder or desktop and right-click the HEIC file you want to convert. For bulk conversion, hold down the Command key and select multiple HEIC files.
In the right-click menu, go to 'Quick Actions' and select 'Convert Image'.
Choose 'JPEG' as the output format. Or select PNG to convert HEIC to PNG instead.
Choose the Image Size – Small, Medium, Large, or Actual Size. Select Actual Size to export the image in its original resolution and without losing quality. It also shows the approx size of the output file.
Keep 'Preserve Metadata' enabled if you want to retain the EXIF Metadata.
Click the 'Convert to JPEG' button.
That's it. The exported image(s) will be saved as a new file in the same directory or folder.
NOTE: Follow the below methods if you are on macOS Big Sur or older versions of macOS.
How to change multiple HEIC photos to JPG using Preview on Mac
Select a group of HEIC files in Finder. Then right-click the file, select 'Open With', and choose 'Preview'.
When all the images open in Preview, go to Edit > Select All in the menu bar. Or use Command+A to select all the images.
Open the File menu and select "Export Selected Images".
Navigate to the directory when you want to save the converted images.
Important – Click the 'Options' button. Select format as JPEG and choose the desired quality.
Click 'Choose' to start the conversion.
To convert a single HEIC file to JPG using Preview,
Double-click the HEIC or HEIF image to open it in the Preview app. If Preview isn't the default app, then right-click the file and open it with Preview.
Go to File > Export in the menu bar.
Select the format as JPEG.
Move the slider to set the output image quality. The approx file size will be shown underneath.
Click 'Save' to convert.
How to convert HEIC to JPG on Mac without Preview
Those who can't upgrade their Mac to macOS Monterey or facing an error with Preview can instead install a HEIC to JPG converter.
In comparison to online tools, a converter prevents the need to first upload and then download the converted file. It is also a feasible solution when you're dealing with a lot of HEIC images.
Below are two 100% free and easy-to-use programs that will let you batch convert iOS photos from HEIC to JPG or PNG.
iMazing HEIC Converter
This tool offers a simple, fast and effective way to bulk convert HEIC images in one go. You can download it either from the App Store or its DMG installer for Mac. It offers Drag & Drop support, the option to choose JPEG or PNG format, adjust output quality, and keep EXIF data.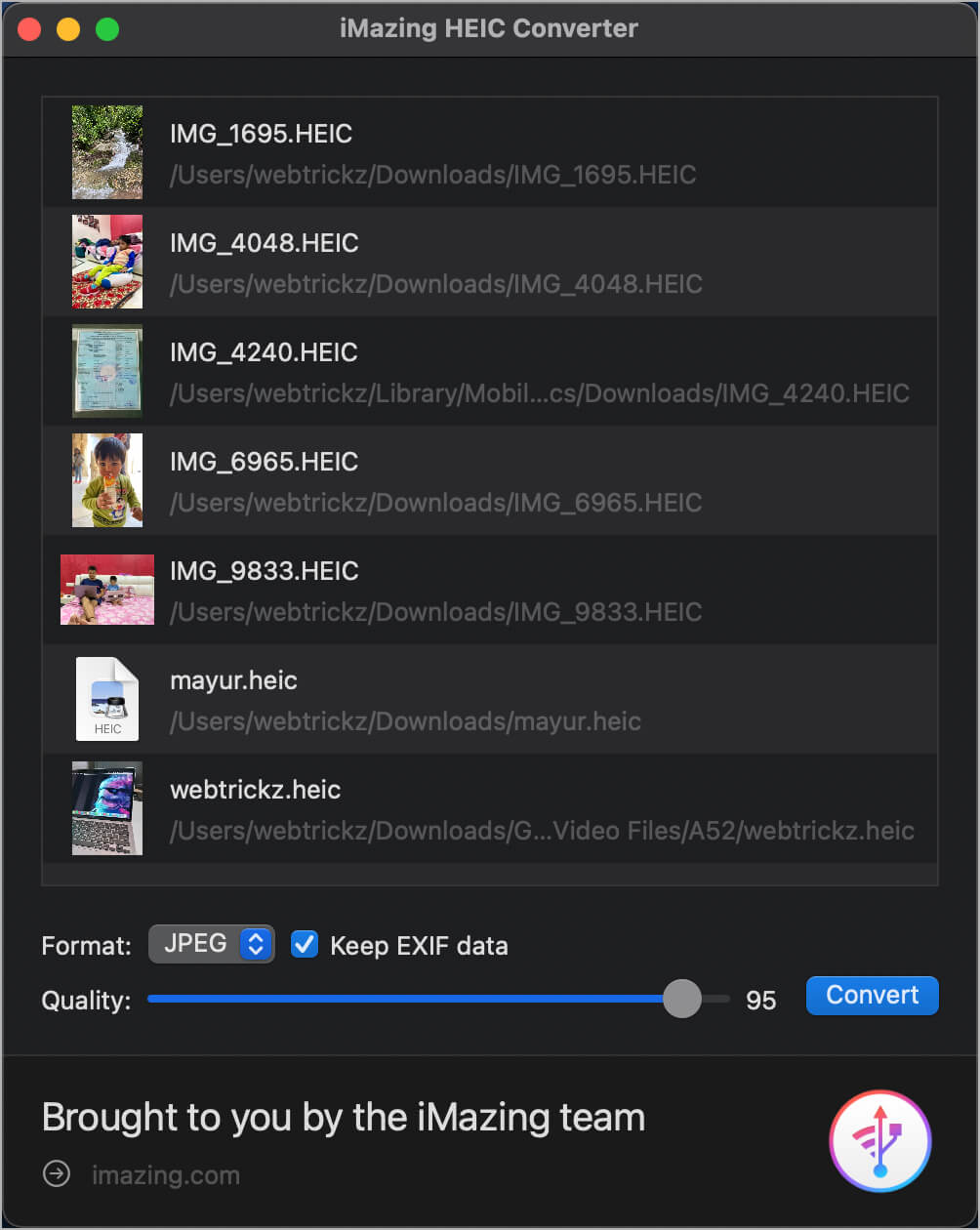 Download here (Compatible with macOS 10.10 or higher)
iMobie HEIC Converter
Besides offering an online tool, iMobie offers a dedicated program to effortlessly convert HEIC files in a more stable and quicker way. It's 100% free, without any ads, and allows unlimited conversion.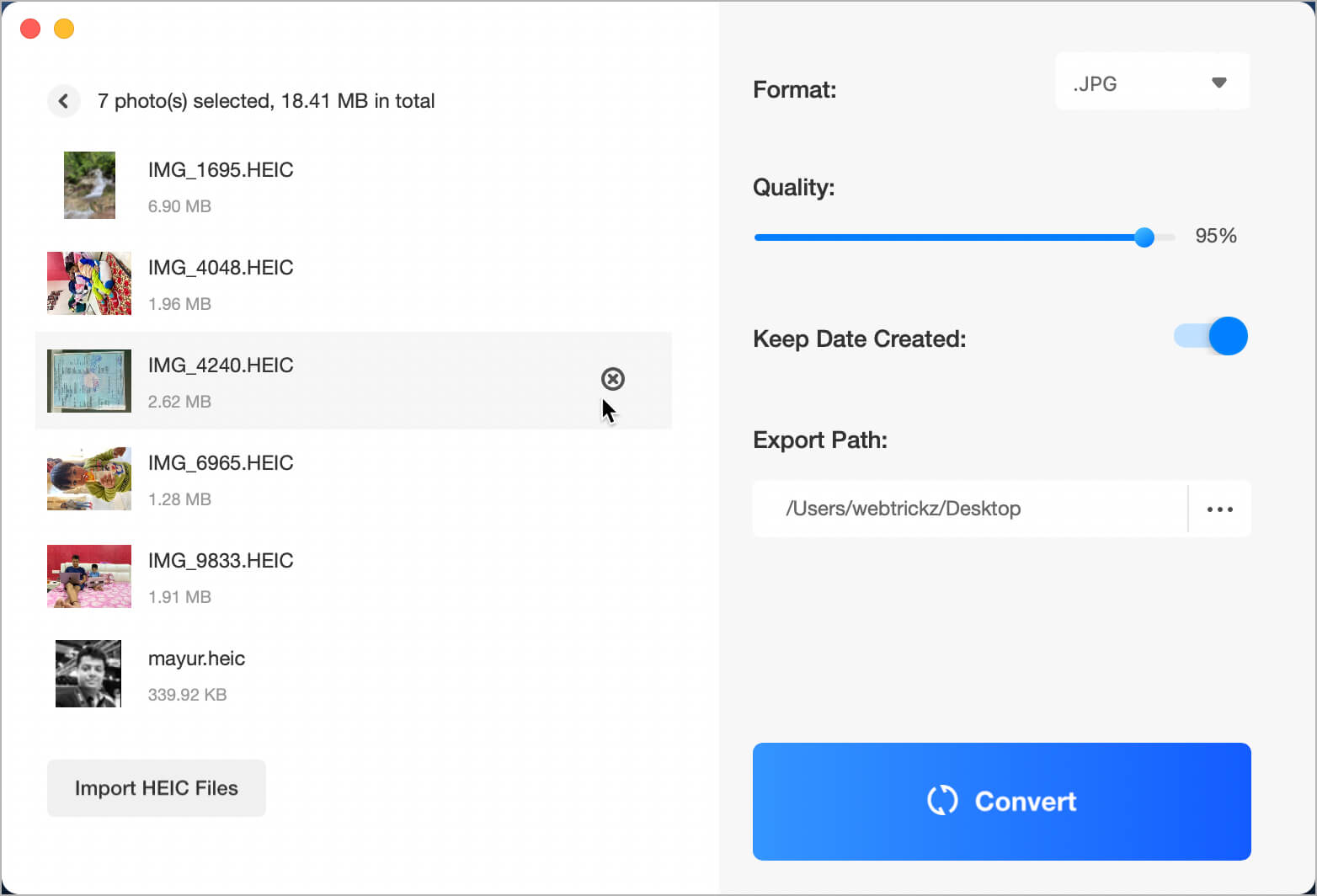 Tenorshare iCareFone
Those on a Windows computer can try the Tenorshare iCareFone trial version that can convert HEIC photos to JPG at once (up to 10 photos). Whereas with the paid version of Tenorshare iCareFone, you can select up to 1000 photos at once and convert them to JPG. It is quicker to batch convert HEIC to JPG on PC than you think!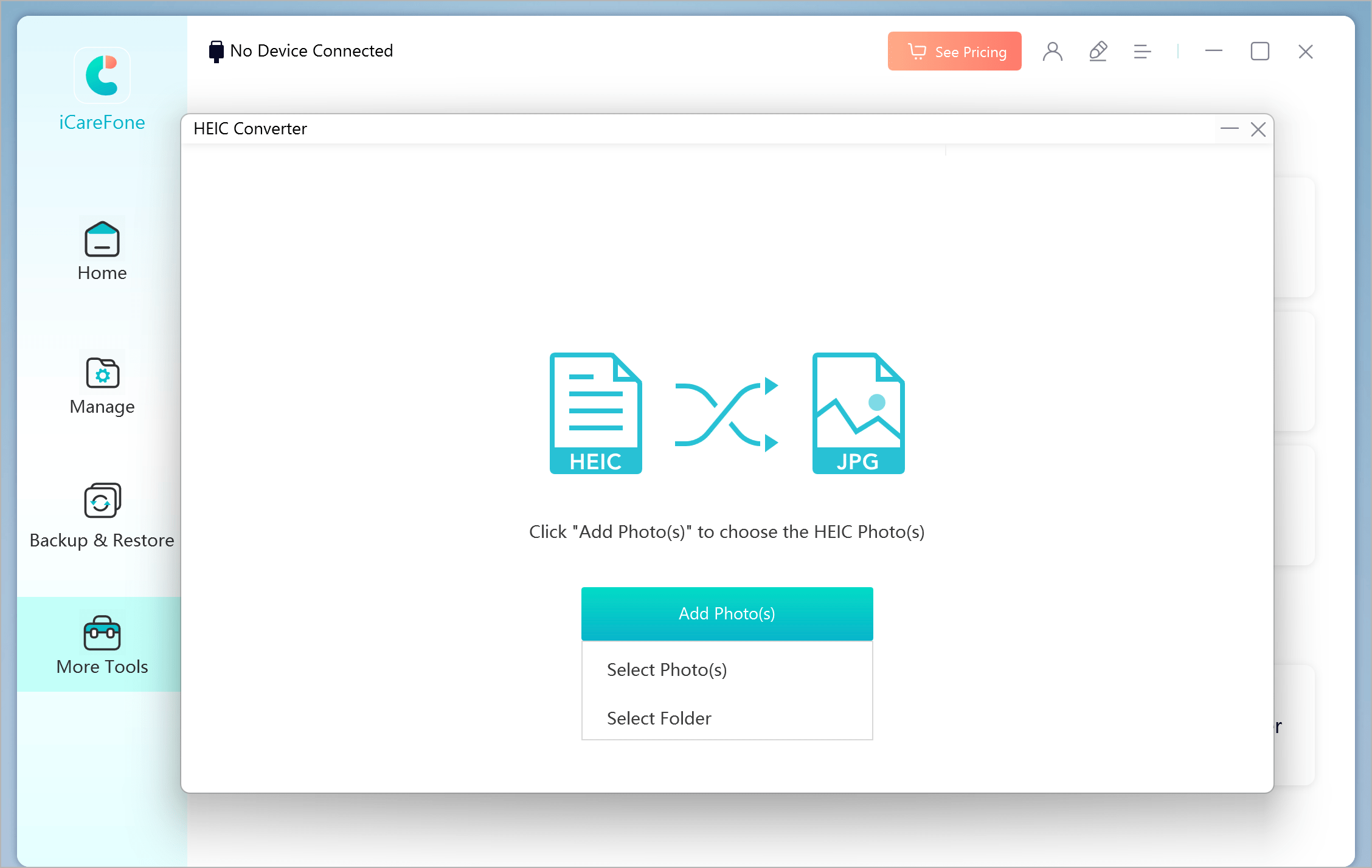 MORE TIPS for Mac: