For the past 2 days, WebTrickz was experiencing major technical issues and several long downtimes occurred in short intervals. Though, our site is running perfectly now as we moved from Hostgator's Shared hosting to their VPS. We got to learn some new things while getting our issue sorted. A simple tip is shared below which may come in handy to bloggers and webmasters using WordPress.
Certainly, our Comments section is bloated with a lot of Spam comments listed under the Spam section and similarly, there are Pending comments. If you want to get rid of all the Spam or Pending comments, then you can easily remove all of them at once in just a few clicks without the need to use the uneasy phpMyAdmin method.
Just install the WP-Optimize plugin directly from your WordPress Dashboard and activate it. To access it, just open the Dashboard drop-down menu and click on the "WP-Optimize" option. Now tick mark the desired option 'Clean marked Spam comments' or 'Clean Unapproved comments' (Pending comments). Click on the Process button.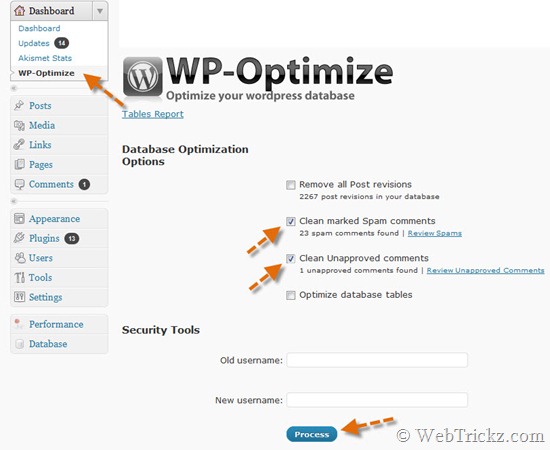 Voila! All the Spam or Pending/Unapproved comments will get deleted instantly. You can deactivate this plugin later if you don't want to use it frequently.
Update – I just noticed that we can easily bulk delete all the Spam comments in WordPress without using any plugin. To do so, go to Comments > Spam and click on the "Empty Spam" button. All the spam comments will get deleted.