It's a good idea to clean your Facebook timeline by deleting posts that you feel aren't necessary anymore. While you can always delete a post but what if you want to delete Facebook posts in bulk. Well, Facebook for Android includes an option to delete multiple posts simultaneously from your timeline. However, the setting isn't prominent and hence most users aren't familiar about it. In case you do not want to delete, you can simply hide multiple posts from your Facebook timeline in one go.
Delete multiple posts from your Facebook timeline at once on Android
Make sure you have the latest version of Facebook.
Open the Facebook app and tap the hamburger icon.
Tap your profile at the top.
Scroll down a bit until you see the Timeline tab.
Tap the gear icon next to the timeline.
Then tap to select the posts you wish to hide or delete.
Now tap Next from the top right and select the "Delete posts" option.
The selected posts will be deleted permanently and can't be recovered.
Alternatively, you can tap the floating button at the bottom to make your selection. The button also shows the actions you can take when you select a certain post.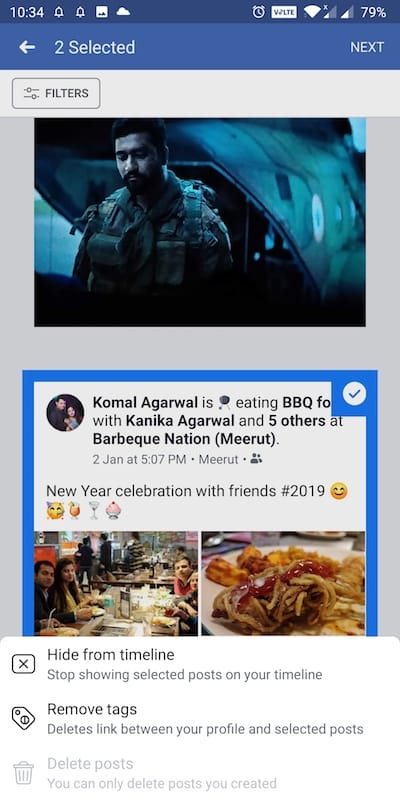 Note: You can only delete posts that you created and not the ones you're tagged in. However, it's possible to remove tags from posts you are tagged in. Doing so deletes the link between your profile and selected posts.
READ: How to become a Top Fan on Facebook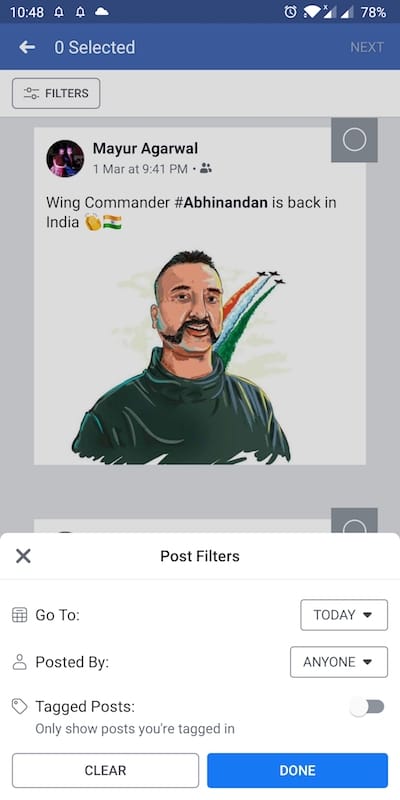 It is worth mentioning that you can only select up to 50 posts at a time. There is also a "Filters" option to filter and see posts made on a particular day. That said, the built-in option to bulk delete many posts at once is indeed useful. Now you can quickly get rid of unwanted posts on Facebook.