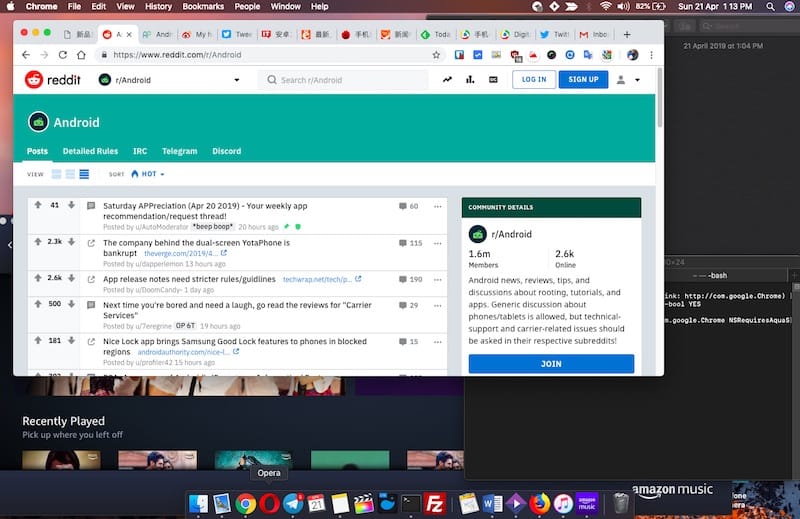 Apple introduced a system-wide dark mode in macOS Mojave and since several third-party apps including Google Chrome have adopted it. A dark colour scheme helps in reducing eye strain and improving the overall battery life. The issue with dark mode on Mac is that it forces you to use a dark theme across all the apps that support it. For example, if you've dark mode enabled in Mac OS then it will be automatically enabled for Chrome too. This can be bothering if you like to use macOS dark mode but don't find the dark mode on Chrome appealing. Perhaps, if you prefer using the default light theme in Chrome while still using dark mode appearance in Mojave then that's possible.
RELATED: How to Turn Off Dark Mode for Specific Apps in macOS Mojave
While there is no setting or flag in Chrome 73 for Mac to manually switch between the white and dark theme. However, running a simple command in Terminal will allow you to completely disable the dark mode on Chrome. The below method is actually a hidden trick that lets you turn off the dark mode for specific apps on macOS Mojave. Without further ado, follow the steps below.
How to Disable Dark mode in Chrome on Mac
Use Spotlight Search to open Terminal.
Paste the following command in the terminal and hit enter.

defaults write com.google.Chrome NSRequiresAquaSystemAppearance -bool YES

Restart Chrome (Cmd+Q) for the changes to take effect.

To restart Chrome, right-click the Chrome app in the dock and select Quit. Alternatively, you can click "Chrome" from the top left of the menu bar while it's opened and select "Quit Google Chrome".
You should now see a light theme in Chrome while your macOS continues to stay in the dark mode.
If you wish to re-enable the dark mode in Chrome, then use the following command.
defaults delete com.google.Chrome NSRequiresAquaSystemAppearance
Tip: Are you using custom themes or designs in Chrome and are facing issues while switching to the default theme? In that case, go to Chrome > Settings > Appearance > Themes and select "Reset to default".

Meanwhile, if you are running Chrome Canary (an experimental version of Chrome) then use the below command instead.
defaults write com.google.Chrome.canary NSRequiresAquaSystemAppearance -bool Yes
Hope you found this tip useful.
Via [Reddit]