We can always use the 'Save image as' option to save an image, but it becomes difficult when there are a lot of Images/Photos/Pictures which we want to download quickly.
Here is an easy way that lets you extract all the images from a web page, in Chrome and Firefox browser, without using any add-on or extension. Follow the steps below:
1. Open the desired webpage and let it load completely.
2. Right-click on the web page and select Save As (in chrome) or Save Page as (in Firefox).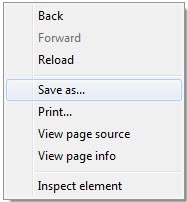 3. Save the page to your desktop. Make sure to select "Web Page, Complete" in Save as type column.

4. Browser will now download and save, all the images from that web page to a folder on your desktop. Just open that folder to see the images.
You can also use the 'Save Images' add-on but it is available for Firefox only.
I used this method to save all the Holi 2010 images compiled by The Big Picture.