We all use gadgets and are rather overloaded with them. While the main worry is to keep the juice going for long on the battery, there is another big problem we all face – performance. Over a period of time be it smartphones or PCs or Laptops, the performance levels start dropping down and this could be for multiple factors. Most of us do have PCs or Laptops and it's a common issue that we all face repeatedly thanks to all the different things we do – downloading, uploading, gaming, designing, etc to name a few. All of these are resource-intensive jobs in their own right. While the first reaction when things slow down is to instantly think of upgrading the hardware, if we move with a little caution and spend some time tweaking things a bit, clearing the dust off a bit we can get a lot more out of our PCs and Laptops for a little more period of time before we go overboard.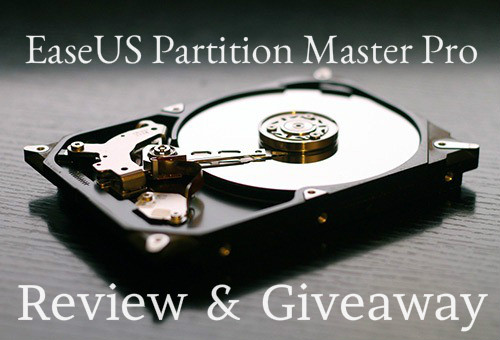 Just like we service our automobiles, it is vital that we service and put our PCs and Laptops under regular maintenance. Wow! great idea, but how do we do it? What are the best practices? What are the risks involved? What are the timelines? What is the cost involved? Oooo! that's a lot of questions here. But what if we were to propose a one-point solution that can cater to all such needs and help you get the best out of your systems? We love to introduce to you something called "Partition Master Pro" by Easeus.
Simply put, EaseUS Partition Master Professional is one of the best solutions to create, delete, resize/move, merge, split partitions, etc. to make better use of hard drive capacity. To start with, let's give you the list of the key features of this tool before we dive into greater details:
Key Features:
Resize/Move partitions without data loss, like extending NTFS system partition without reboot to maximize PC performance
Safely merge two adjacent partitions into a bigger one without data loss
Convert dynamic disk to basic disk and convert FAT to NTFS file system
Convert primary partition to logical partition and vice versa: convert a primary volume to logical to create a fifth volume on a disk with 4 existed primary volumes.
Convert MBR to GPT disk, and convert GPT to MBR disk without data loss
Wipe disk or wipe partition to permanently wipe sensitive data on disk
Support up to 16TB GPT disk
Create WinPE rescue disk for booting sickly computer
Requirements:
CPU: at least with X86 or compatible CPU with main frequency 500 MHz.
RAM: equal or larger than 512MB.
Disk space: Hard disk drive with 100 MB of available space.
A standard PC system with mouse, keyboard, and color monitor
OS: Windows XP and above
File System: EXT3,EXT2,NTFS,FAT32,FAT16,FAT12
Device Type: All popular and latest, All levels of SCSI, IDE, and SATA RAID controllers
User Interface:
The key to any tool is a good, intuitive, and simple interface and this is exactly what the Partition Master will present itself as. The simple color theme in blue, all of the options neatly laid out for you, and absolutely no hassles for any action or job that you'd want it to do. Most of them are just a click away. The best part of the tool is that the complete set of options are placed in a column onto the left and even neatly prioritized based on EaseUS's expertise in the field, knowledge on user behavior over the last few years this tool has been on. The column is split into two parts – Operations, the actions that you'd want to do, and Tools, something that you'd want to create for yourself for future use, and Pending Operations that tell you about any ongoing jobs.
Onto the top, you can see the quick actions that you can perform with the many different partitions you have on your system, which are displayed right beneath it. Selecting one or more of the partitions will let you choose an action and go about it. Having selected a partition, the tool displays more information under the partition list that will tell you how it fits into the overall set of partitions made. This is more of a pictorial representation of the space giving you a better idea of how much space each of those partitions occupies and a further split up of how much is USED vs how much is FREE. And all of this information is also available in the columns view too.
It is all too amazing how simple the interface is, though the actions that will be performed are so critical and important and have to be done with so much caution. Having a simple interface with the right color theme will help one ease and calm the mind – might sound real rudimentary but we really know and appreciate how much of a difference the UI can make. You'd agree too!
Key Operations:
1. Rename a partition – this we reckon is the simplest of things you can/will do! Use the Change Label option to give your partition a new name and save it – as simple as that!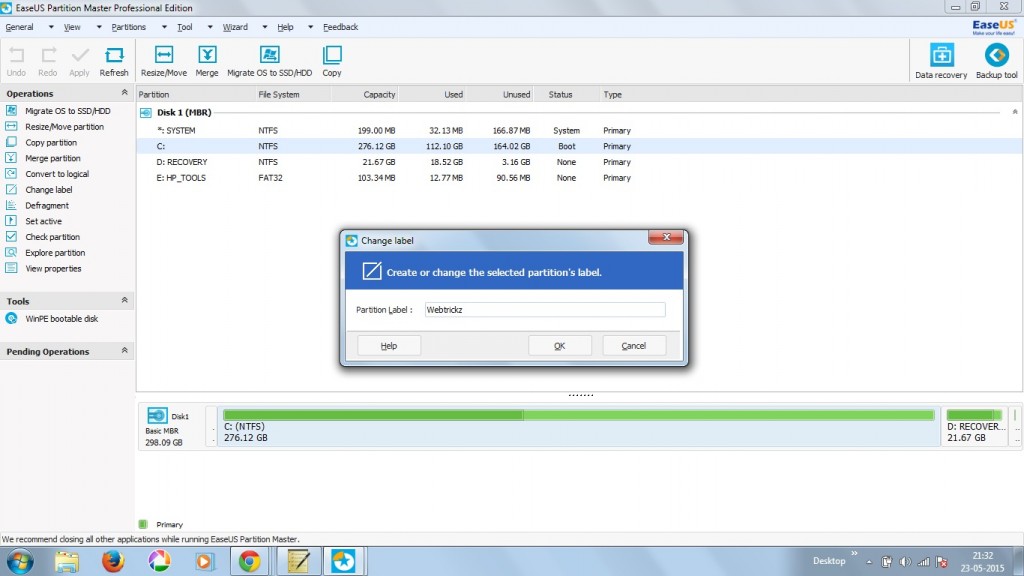 2. Combine two or more partitions – At times you may wanna change your plans in combining two or more partitions for ease of use and navigation purposes and also towards overall re-organization of your data and its structures. This can be done with just a few simple clicks using the Merge Partition option. Clicking on it will bring up the window where you can select two or more partitions and then also choose which of the partitions that are a part of the merging will be the primary, i.e to which partitions should all the remaining ones be merged.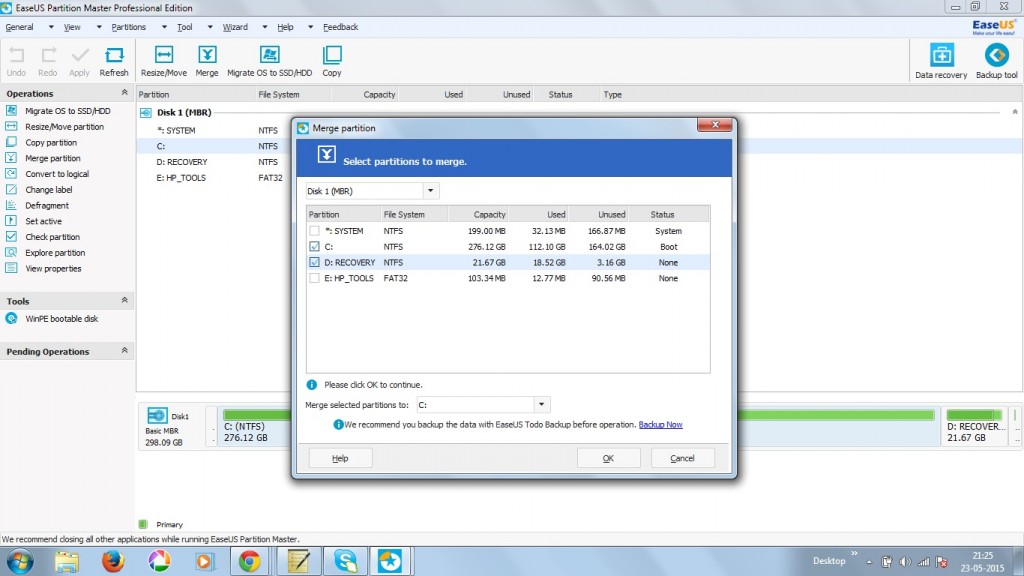 3. Health Check – while there are no glaring issues with the partitions, it is always wise to check the health of the partitions! This can be done easily with the Check Partition option. Just select a partition and hit this button and the tool will perform checks in the various properties of the partition, invoke the standard Checkdisk (chkdks.exe) from the OS to fix any errors if found, and also perform a surface test! All of this in just one single click. It also gives you an option to choose which of the three tests you'd want it to take the partition through. As the surface test may take more time, you can choose to do it with a much lesser frequency if you do not observe any slowing down of the system or any issues.
4. Resizing partitions – this again speaks to the decision of changing the partition sizes for re-organizing data and such. Hit the Resize/Move Partition and you'd be presented with a simple screen where you can key in the details for the split. This comes real handy in case your system or c drive is running out of space and you want to extend the drive.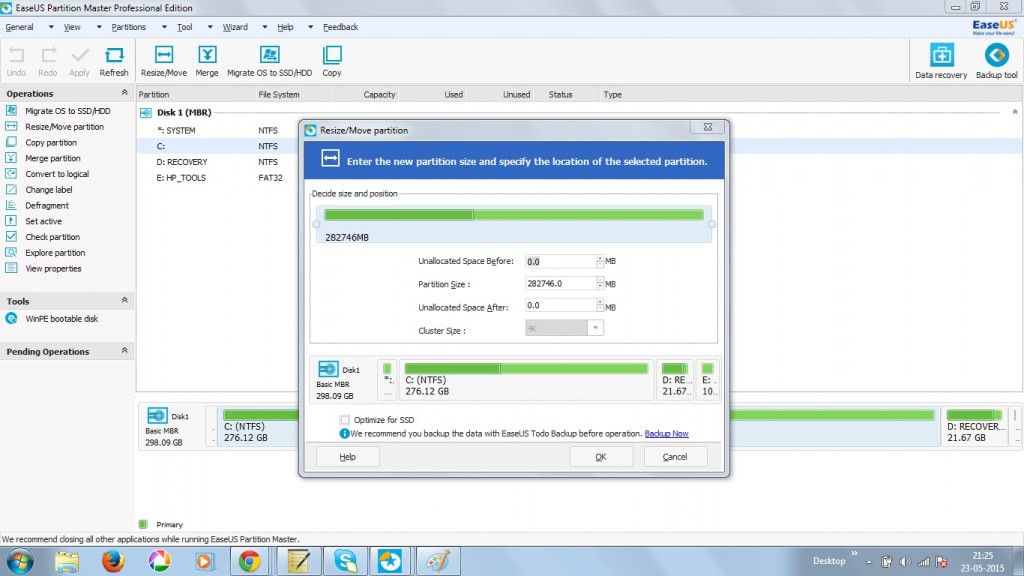 5. Moving the OS – many a time you'd want to move the operating system to an HDD or an SSD. It's as simple as clicking the Migrate OS to SSD/HDD option and select the drive and presto!
6. Copying – this is a very handy option that lets you copy/move data from one partition to another. This is the same as doing it outside of the tool in Windows Explorer but it's just an option here.
7. Defragment – over a period of time the system becomes slow and one of the main reasons is the fragmentation in the partitions. Periodic defragmentation is very vital to have your PC or Laptop perform at good speeds. Clicking on the Defragment option will perform the necessary actions and then later give you a confirmation once it is done with the results. This takes a while to a lot of hours depending on how much defragmentation needs to be done so as to ensure files and folders occupy a single contiguous space that helps in the speedy processing of data and actions.
8. Bootable Disk – many a time system crashes and it's always handy to have a bootable disk or an externally enforced boot. The WinPE bootable disk option will help you create one and you can have this on a CD or a DVD or a USB flash drive even.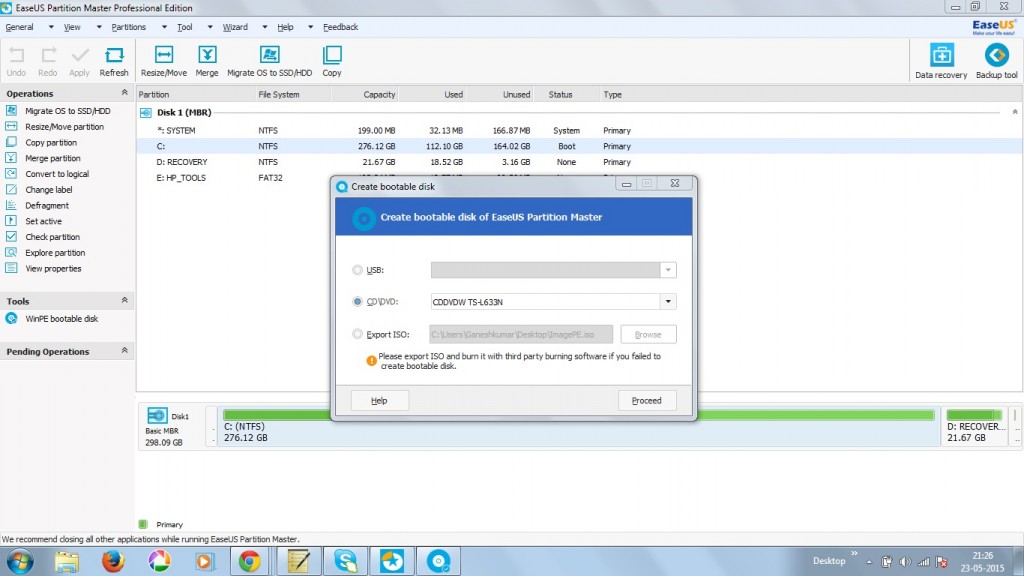 9. Other options – so apart from the key operations that are listed above, there are options like Convert to Logical, Set Active, Explore and View properties that are rather quick operations or something that will bring up more information. These are again a breeze to use and one should have no issues at all.
The Good:
Simple UI
All operations are 2-3 clicks away
Speedy in performance
Good result and message-oriented, being informed of what is going on
Has almost all the options that one would need to manage their partitions
Has a highly informative user manual and FAQ section for the user's quick reference
One can even contact the Product Manager directly for feedback/query/suggestions via multiple social media options
Undo and Redo options come in real handy if some action was performed by oversight / unintendedly
Supports up to 16TB disks
The Bad:
Only email and chat support – no support on calls even on the Pro version
UI has options repeated across sections but this is just a nitpick
Data recovery and Backup Tool are not a part of the Pro version – need to purchase separately
The free version shows an addition screen during the launch that has lots of ads
Not available for Mac
Verdict:
Simple UI, Easy to use (gosh they are EaseUS and this is a namesake tool!), goo coverage of options and most of them already available in the free version too. Can you ask for more? Hell no! With the v10.5 bringing in support for larger disks that supports up to 16TB, conversion between GPT and MBR disks this tool runs on highly optimized algorithms that ensure error-free processing of tasks and has the users layback while it does the assigned task to the chequered flag WITHOUT hampering or damaging your data. We cannot stop ourselves from RECOMMENDING this tool to you, and why not as it has been highly popular, successful, and trusted since its last few versions over the last few years. Go ahead and try the free version and if you did like it, you can purchase the pro version for 39.95 USD.
Giveaway! Win 5 licenses of PRO edition
Alright, we loved the EaseUS Partition Master Professional edition so much that we're offering 5 PRO licenses of Partition Master Pro worth $39.95 each for FREE! Follow the rules below to participate in the giveaway:
Follow us on Twitter @webtrickz
Tweet about this giveaway. "EaseUS Partition Master Professional – Review & Giveaway by @web_trickz Participate now! http://t.co/wpX1zL9w35" Tweet
Tell us why you'd want to have a free PRO license – Comment below with your answers.
Winners will be announced on the 29th of May. All the best! 🙂
Update: Giveaway ended! The 5 lucky winners are Bala Budugu, Aakash Bansal, MJ Nunag, Spy, and Karan
P.S. This giveaway is sponsored by Easeus.