Smartwatches for most are either a luxury gadget or something that a gadget freak would want to possess and try many different things out just for the kick. Even companies like Apple have taken a while to release it and we have seen others like Moto 360, LG Watch, and Huawei going the luxurious way, all of them trying to experiment in their own way and tasting some success in their right.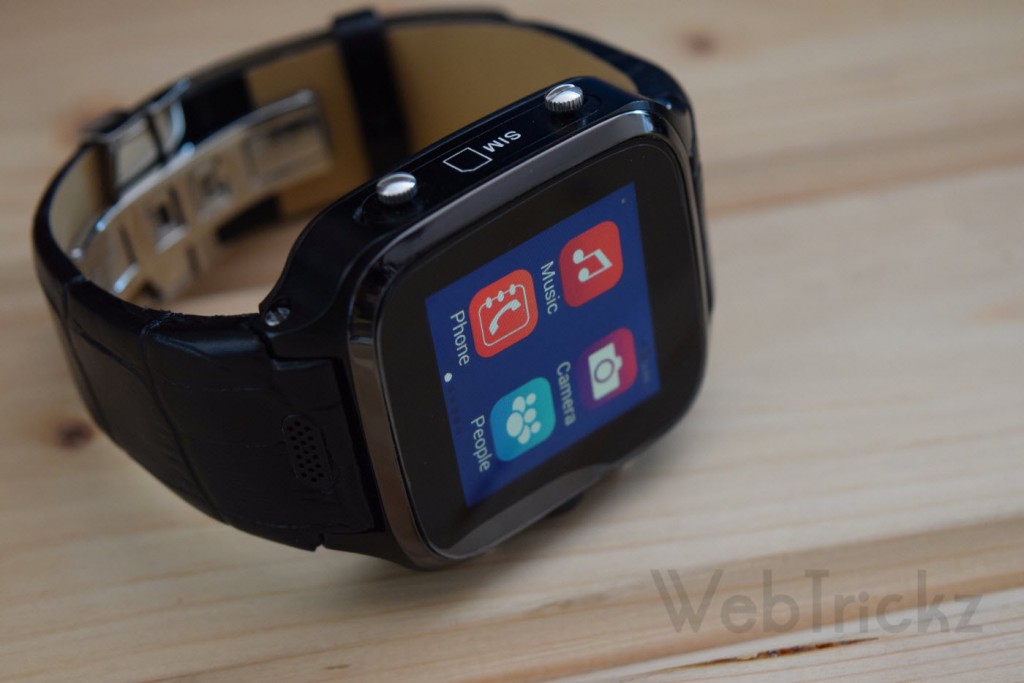 While this above is the case, there are certain Chinese (of course!) companies that offer smartwatches with some really cool features at very affordable prices. One such is FIFINE, a company that has been doing decently well when it comes to this kinda gadget and is sold across many different eCommerce websites and the best part is they are shipped worldwide. The Smartwatch Phone that we are about to introduce to you is called the FiFine W9 and is quite a package!
In The Box:
Speaking of package, the following is what you will get in the box: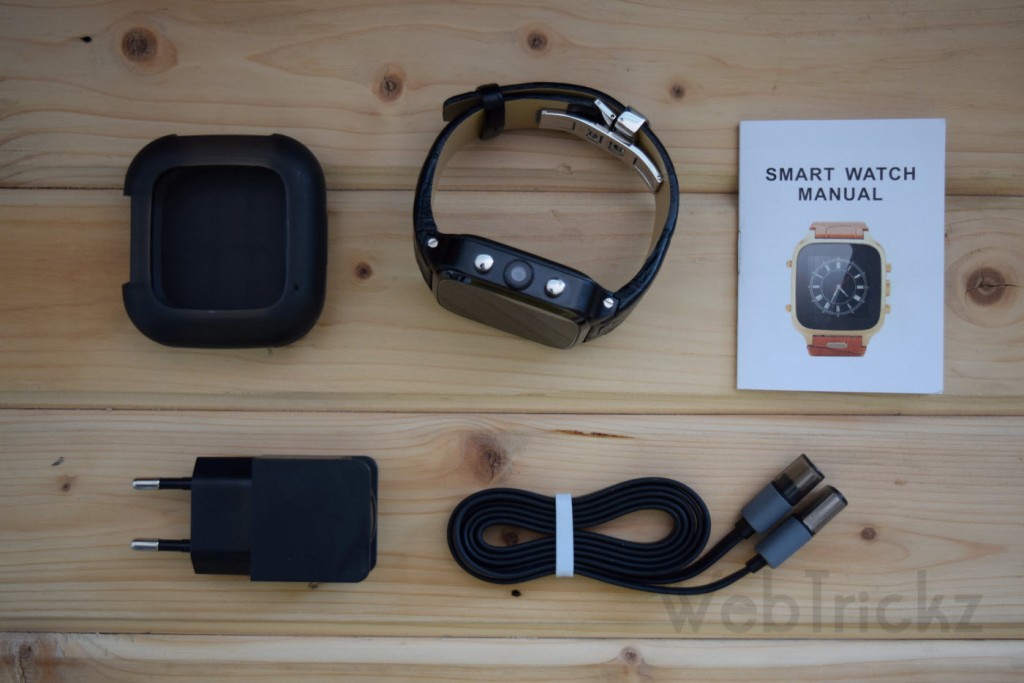 Design and Display: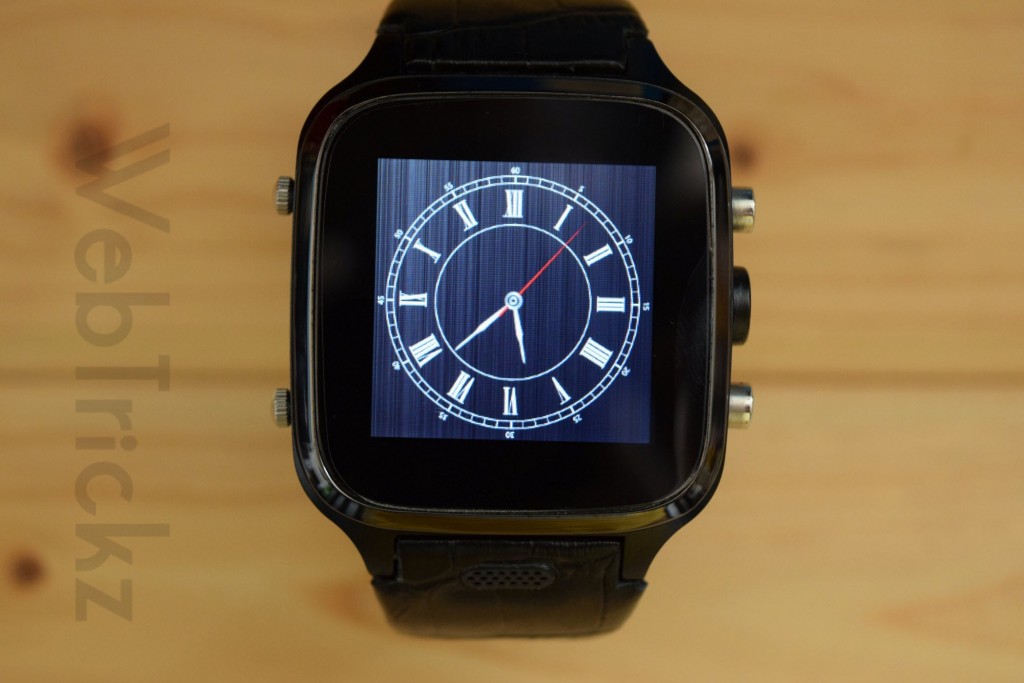 Bulky, thick, and heavy – yes this is what the W9 is when it comes to the way it is built and shaped. A square contour with curved edges houses a 1.54″ IPS screen packing a bunch of 240*240 pixels within it. It is also a multi-point capacitive screen that supports multi-touch.
Onto the right of the screen are the following 3 things:
Metallic button (big fat one!) that allows for one to put the device into stand by and also wake it up. Clicking it does take some effort!
5 MP camera
Metallic button (same as the first one) that acts as a "back" button
Onto the left of the are a pair of seriously protruding screws that need to be unwound to take off a tiny plate that will reveal a slot for one to add a micro SIM – yes! this is a Smartwatch PHONE that can be used to make and receive calls. More on this down the line. A little below the screen is the speaker grille for loudspeaker on calls and this is a good one we must admit.
This bulky screen is fit into a genuine leather belt that comes in various colors. The one that we got is a black one. The color of the fat box that houses the screen will match the color of the leather strap. Even the buttons too! The textured leather strap accommodates a butterfly design latch that can be used to adjust the size for different sizes of hands. It is rather really cumbersome to use this mechanism and will take a long while each and every time you want to wear the W9. It would have been better with a simple pin and hole design.
W9 Photo Gallery – 
The Power Within: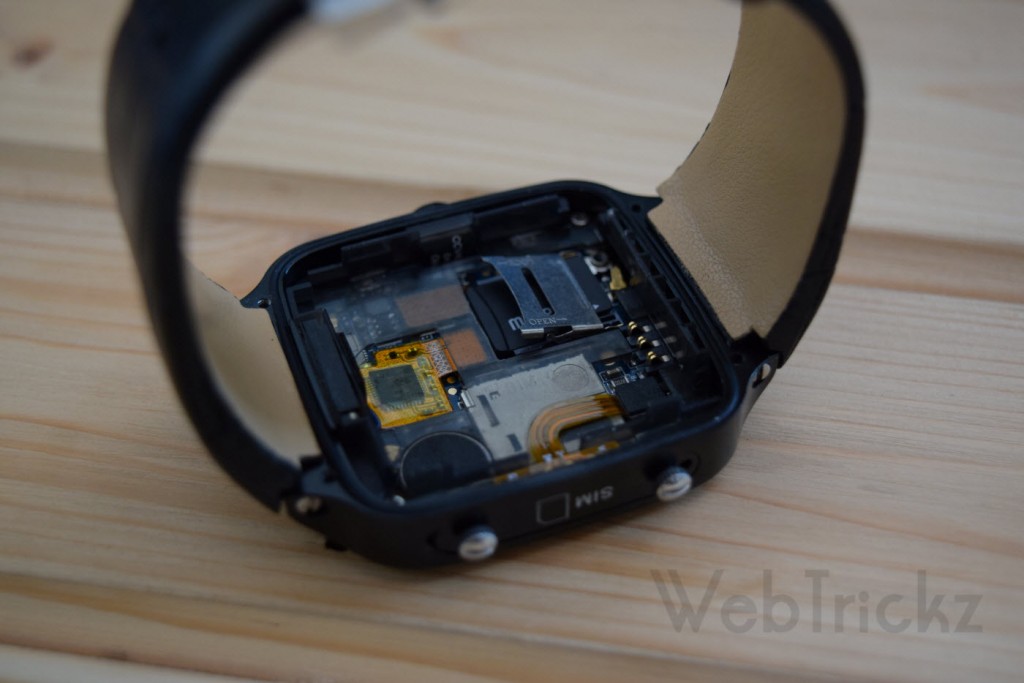 An MTK6572 Mediatek Processor accompanied by 1GB of RAM power up the device that has an inbuilt storage of 8GB and can be expanded up to 32GB via a microSD card. This is rather a good power pack for a smartwatch! All of this will power up the Android OS running on the device.
W9 runs on Android 4.4 KitKat and is pretty stock at that. There are no major optimizations of the OS for the size of a screen on the smartwatch and this is really sad. It becomes so challenging to use it given the fact that it is a small screen. Merely resizing the pages to fit the screen simply won't cut the job. However, the set of icons are laid out in multiple pages and any app that you download from the Play Store keeps getting added to the last. The keyboard is rather clumsy to use and you will make mis-taps 50% of the time. The lock screen has some neat analog design clock screens that add to the touch of the waterproof leatherwork.
But the overall performance of the UI is decent with occasional stutters exposing the lack of optimization for the screen size and hardware within.
A 600 mAh battery will provide power to the W9 and we are impressed by the battery life! It can easily run up to 2 weeks with some basic usage that will include 30 mins of calls, 30 mins of browsing, and full-time health tracking.
Speaking of health tracking, the W9 comes with a default set of apps that track your footsteps. Taking this it calculates the calories burnt over a period of time and also calculates the total distance walked in KMs. All of this is really neat but the accuracy was rather shaky at times. The steps jumped by a couple of counts when the wrist was twisted! It is perhaps got to do with the quality of the sensors.
Calling:
W9 supports GSM 850/900/1800/1900, WCDMA 2100 bands, and phone calling was just average. The reception was not up to mark as the calls took a while to connect. But there was no case of calls drops once the connection was established. But the UI of the dialer and the contacts is rather squished and this is going to be the case in any smartwatch
Camera and Video: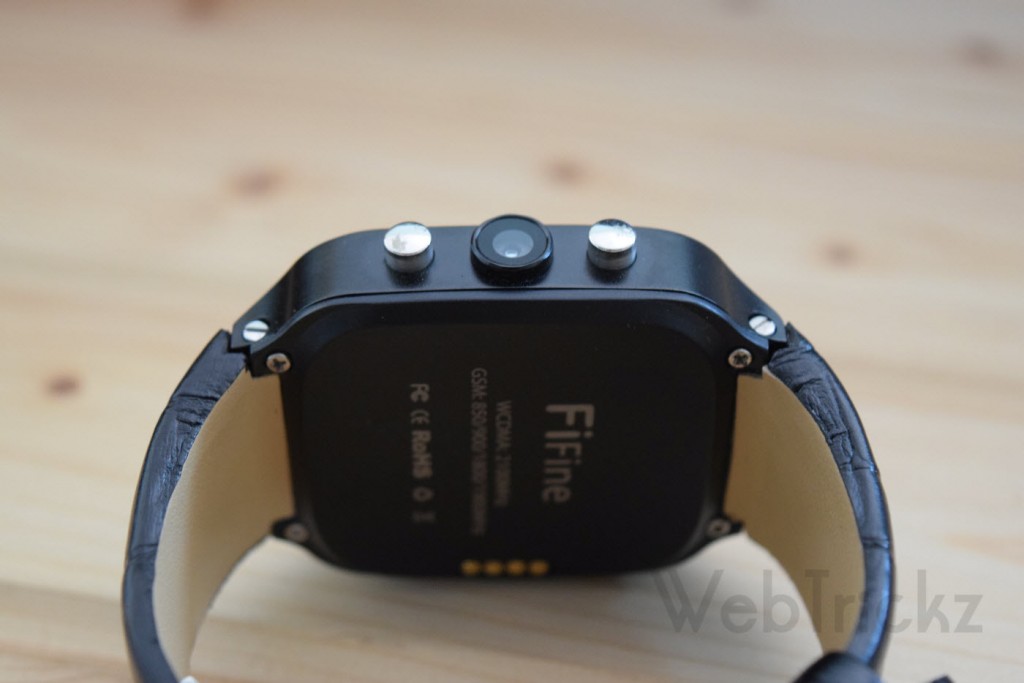 Looks like the number of things one can do with the W9 is a long list! The 5MP camera is positioned on the right side and is probably right anywhere you will place it. We still do not know where the camera is the best fit but it does take some decent pictures. That is after a while you getting used to taking pictures twisting and positioning your hand to get the frame into focus. Low light performance is a washout, so do not even think of it!
Video too is possible and one can stream it onto the smartphone which can be paired via Bluetooth and comes in handy.
Multimedia:
Not sure who will listen to music on a smartwatch phone but W9 allows one to do it. Maybe when you are bored lazing out on the lawn and want to soothe your ears, go ahead and play a track! And what more, you can add up to 32GB of memory if you wanted to bring in lots of songs. The quality of the loudspeaker is rather good.
What's Good:
High-quality leather
Calls and messages sync with any Android Phone
Superfast in pairing with phones via Bluetooth
Solid battery life
Option to add memory
Phone Anti-theft feature
Good multimedia experience
Support for apps like Facebook, Twitter, and browser
What's Bad:
Bulky and heavy
Dull screen
Non-optimized UI for the screen size
Cumbersome buckle
GPS too very slow and unusable at times
A very bad design approach for SIM tray
Cumbersome charging procedure with box housing
No post-sales service outside of China
Coming at around 140-160$ with the range of options that the W9 provides, if one is OK with the bulkiness in nature of the design it is a worthy try as most of the things work well. W9 has an almost equal number of things against it as the number of things going for it and is a rather tricky decision to make.
But a little more bucks into the bag will fetch one the Moto 360 First Gen which may not have so many options but has a well-knit and optimized software and hence a far better and cleaner user experience.
If in case you're interested, you can order the FiFine W9 at a discounted price of $140 on Gearbest. Worldwide shipping is available without any additional fee.