UPDATE (Nov 7, 2010) – This promotion has expired. Please use the latest and working one instead: Get Free 1 year license key of Kaspersky Internet Security 2011/2010 [Chinese & English]

I've found an amazing promotion, which can get you a Free 180 days license key/activation code of Kaspersky Antivirus 2010. I personally recommend everyone to use Kaspersky security software because it provides best protection methods, advanced security and is light weight.
Kaspersky Anti-Virus 2010 – your personal computer security system, the backbone of defense to provide protection to a range of IT threats.
Now you can easily grab a FREE Kaspersky Antivirus 2010 license key which is vaild for 6 months. This is due to a promotion by MSN and Kaba.
To get your license key,
1. Visit this promotion page.
2. Click the Orange colour button as shown below:

3. After clicking, you need to enter your Windows Live or Hotmail ID. That's it, you can now see the activation code.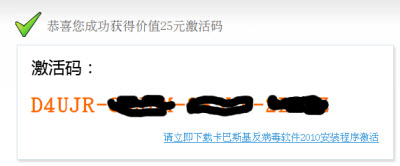 4. Activation your kaspersky license with the serial code received.
UPDATE – This activation code works only with Simplified Chinese version of Kaspersky Anti-Virus 2010, which you can Download Here.
Direct Download Link – http://ftp-dg.pconline.com.cn/pub/download/201003/kav9.0.0.736sch.zip
UPDATE 2 – Changing Kaspersky Chinese version to English language:
1. Open Kaspersky > Settings > Options and unckeck 'Enable Self Defense' option (Refer this image to find these steps in Chinese version).
2. Click Ok and then Exit Kaspersky.
3. Now open C:\Program Files\Kaspersky Lab\Kaspersky Anti-Virus 2010\Skin\loc
4. There you'll find two folders named 'en' and 'sch'. Just rename en to sch & sch to en and Restart.
5. That's it! Now run kaspersky and it should be in English language.
Note – You must apply this license key on chinese version and then change its language to English.
Also see:
How to use Kaspersky Free after end of 30 days trial period ?
How to activate Kaspersky 2010 license using a key file ?
How to Activate Kaspersky Products Offline ?
Enjoy you Free kaspersky security 😀
UPDATE 3 – Please follow the above described process very carefully to achieve success.
Note – Comments asking for license codes & license keys will not be approved.
via [Avinashtech]