Midi files are audio files that are mostly played on mobile phones. But there are problems like we cant write these Midi files on MP3 CDs or they are not supported by a certain music player.

Solution – You can convert these Midi files to MP3 file format which is supported nearly by any music player. Also, the sound quality of the Mp3 file is very high as compared to the sound of any midi file.
Free Midi Converter online is a fast midi conversion software that allows you to convert MIDI files to WAV, MP3, OGG, or WMA audio files. You can convert all your midi, mid, rmi, kar, karaoke files in the required format with one click. Simply Press Browse button and select any of your midi file (max size 50KB) then press Convert button.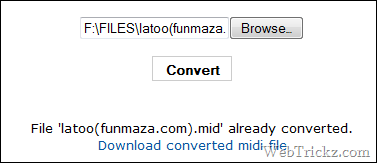 You can also embed the output file produced in any of your websites or blog. Below is an example of an embedded music file that has great sound quality as compared to a midi file. You can choose from 3 available sound fonts to enhance the quality of your output audio file.
Just Listen! and determine yourself.
If you want to make enhancements to your output audio file, then below is another Online MIDI to MP3/WAV Converter. It offers a large variety of functions which you can implement easily.

Online MIDI to MP3/WAV Converter