It seems that this time the biggest Internet company Google, has hurried up the Payments process which are provided to Adsense Publishers as there earnings. They have messed up many things which I would like to mention below:
1) This time the payment was issued early on FEB 18,2009 which previously used to be issued by 26th of every month.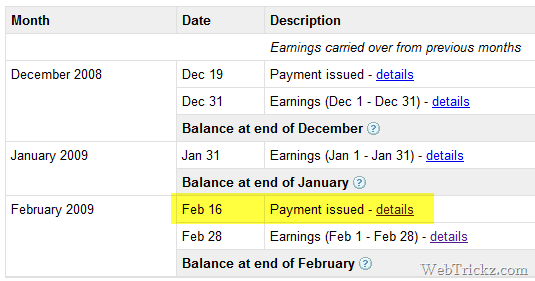 2)  Previously, Google used to send cheques to Indian Adsense publishers via local government postal service but this time they sent it via BlueDart courier service. I also received an e-mail from Google regarding this saying:
As you may know, you're scheduled to receive an AdSense payment this month. Today, I'm writing to let you know that although you've selected Standard Delivery for this payment, we'll actually be able to send it to you via the Blue Dart courier service, at no additional cost to you.
3)  No tracking code assigned as said by them in their e-mail
By early next week, you'll also be able to see a tracking number in the payment details of this payment which you can track at www.bluedart.com.
4)  This time the Adsense cheque I received was from Google Hyderabad Office and not from the previous Singapore location.
5) My check arrived on March 5,2009 via Bluedart as said by Google. I was shocked to see my Adsense check because some important details were missing on it like:
No MICR CODE printed on the cheque.
No "A/C PAYEE only" mentioned on the check. (making it Bearer one)
Some entries names also seemed to be changed.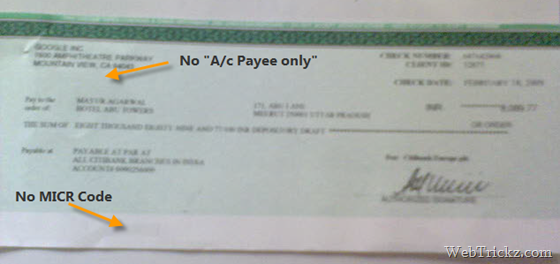 These mistakes are not too small to be avoided. Without the line "A/C PAYEE Only" the cheque has become bearer and can be encashed by anyone who receives it.
I contacted Google about this issue but there seems no one to answer up my mails. I've even posted about this issue on Adsense Help Forum but again no luck for me there.
Note: This problem can also be because the offering of checks via BlueDart is under "Beta Test" as said by google.
If you are also having certain issues related to Google Adsense, then use the comments section to share your problems with us. Hope this issue goes off to google and they will help me out.