In Windows many programs include their entry in startup programs, which slows down your Windows startup. In order to prevent this issue we must manage our startup programs. This can be easily done by disabling all the unneeded programs from being loaded at startup of Windows.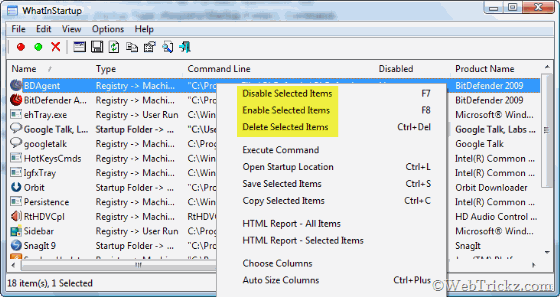 WhatInStartup is one free and portable utility, which displays the list of all applications that are loaded automatically when Windows starts up. For each application, the following information is displayed: Startup Type (Registry/Startup Folder), Command-Line String, Product Name, File Version, Company Name, Location in the Registry or file system, and more.
It allows you to easily disable, enable or delete unwanted programs that runs in your Windows startup. You can select and disable multiple programs at one time. WhatInStartup also supports a special "Permanent Disabling" feature.
This tool is an easy to use, portable, small and 100% FREE.
Supports all Windows starting from Windows 2000 and up to Windows 7.
Download WhatInStartup  (45 KB)