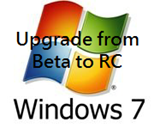 Recently, the latest Windows 7 RC Build 7100 is leaked on the Internet for both x86 and x64 versions. This is the official RC build of Windows 7 that has leaked online on many torrent sites and available for download. Microsoft is expected to release Windows 7 RC Build to public on 5th May 2009.
As said previously, Microsoft asks to clean install upcoming Windows 7 RC. That's why they have deliberately locked the option to upgrade to Release Candidate Build from previous Builds (Beta) of Windows 7.
But If you really want to upgrade to RC from previous Builds of Windows 7, then you need to follow the procedure described by the Windows team on their blog.
Download the ISO as you did previously and burn the ISO to a DVD.
Copy the whole image to a storage location you wish to run the upgrade from (a bootable flash drive or a directory on any partition on the machine running the pre-release build).
Browse to the sources directory.
Open the file cversion.ini in a text editor like Notepad.
Modify the MinClient build number to a value lower than the down-level build. For example, change 7100 to 7000.
Save the file in place with the same name.
Run setup like you would normally from this modified copy of the image and the version check will be bypassed.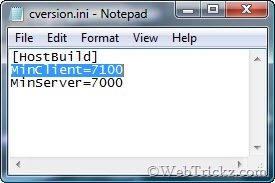 The same steps will be required when upgrading from RC to the RTM.
Windows 7 RC Update – By The Windows blog
I'm pleased to share that the RC is on track for April 30th for  download by MSDN and TechNet subscribers. Broader, public availability will begin on May 5th.