SafeHouse Explorer is a Free super-strong software to protect any hard drive and USB Flash memory stick. It makes your secret files invisible and hides them from snoopers, intruders and anyone else who doesn't have your permission to view them.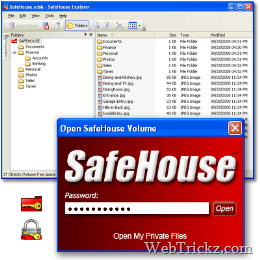 SafeHouse Explorer uses passwords and maximum-strength 256-bit advanced encryption to completely hide and defend your sensitive files, including photos, videos, spreadsheets, databases and just about any other kind of file that you might have.
SafeHouse Explorer can protect files residing on any drive, including memory sticks, external USB drives, network servers, CD/DVDs and even iPods. It also supports U3 Smart Drives.
Top Features of SafeHouse Explorer:
Complete full-featured stand-alone security solution.
Hides, locks and encrypts documents, spreadsheets, photos, videos, etc.
Perfect for USB memory sticks and other portable media – even iPods!
Super strong 256-bit Twofish advanced encryption ensures your total protection.
Unlimited number of private storage vaults as large as 2,000 Gigabytes each.
Graphical password strength meter helps you choose strong passwords.
Can be run directly from USB memory sticks without installation.
Can create self-extracting EXE encrypted storage vaults. Just click and run.
Full version is 100% FREE and freely distributable. Never expires!
Download SafeHouse Explorer  (Size: 3MB)