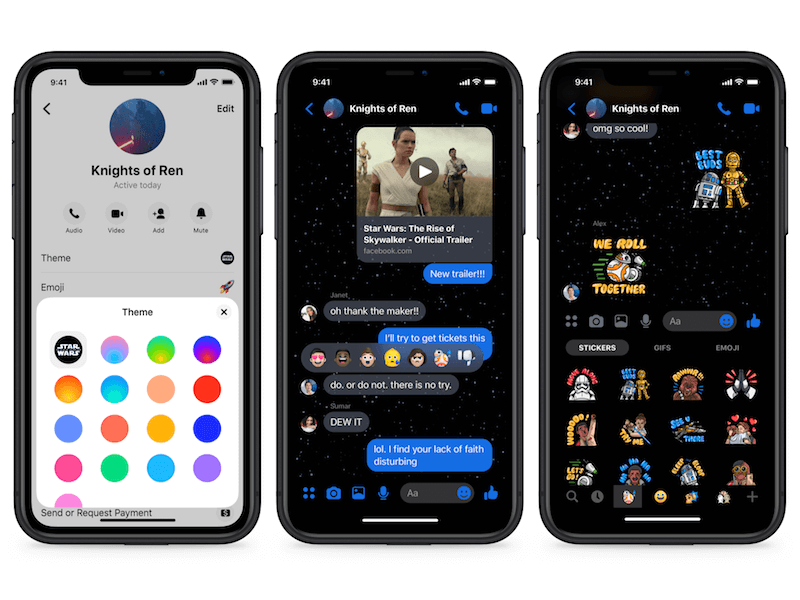 In a partnership with Disney, Facebook launched a Star Wars chat theme for its Messenger app. It was launched back in December to celebrate the launch of Star Wars: The Rise of Skywalker. The Star Wars theme for Facebook Messenger is inspired by the dark side of the force. Besides a star-scattered dark theme, it brings in Star Wars reactions, stickers, and AR effects. This limited-edition theme is now available worldwide and is definitely worth a try.
Get Star Wars Theme in Messenger
Let's now find out how you can enable the Star Wars theme in Messenger on iPhone and Android.
Make sure you have the latest version of Messenger installed on your phone.
Open a chat on Messenger and tap the contact name at the top of the thread.
Tap the "Theme" option inside the thread settings.
Select the new "Star Wars" theme to apply it. You will see a "You set the theme to Star Wars" notification within the conversation.
It's worth noting that the theme is applied to the specific chat and not across the entire Messenger app. You need to go through the above steps again if you wish to activate it for another contact.
Moreover, the theme changes take place for both sides and Messenger also notifies the receiver after you switch the theme or background colour.
ALSO READ: How to see other viewers on a Facebook story
Features in Star Wars Messenger Theme
Star-scattered Dark Theme – Besides reviving the Star Wars Galaxy, it aims to preserve the battery life and is easier on eyes during night time.
Star Wars Reactions – They appear when you long-tap on a certain message while chatting.
Star Wars Stickers – Make your chat exciting using a host of cool stickers inspired by the Star Wars franchise. Though the pack isn't enabled by default and you have to download it separately.
Augmented Reality (AR) Filters – The limited-edition AR effects are a perfect way to experience the Star Wars arena. You can use these effects while making a video call and taking photos with the Messenger camera.
Download Star Wars Stickers Pack
If you can't see the Star Wars stickers after enabling the theme then you can simply download the pack.
To do so, tap the smiley icon and open the Stickers tab. Then tap the + (plus) button at the bottom right to visit the sticker store. Under the Featured tab, look for the "Star Wars: The Rise of Skywalker" stickers pack and tap the download button next to it. That's it!