All Internet users are assigned an IP by their ISP. This IP address is very important as it can reveal your personal details like your location, browser, OS, and other data. So, it is advisable to hide your IP, browse anonymously and stay secure online.
IP Privacy is the best solution to play safe online by hiding your IP and being anonymous to everyone. In simple words, it shows a fake IP instead of an original IP address by routing your traffic through foreign proxies while protecting your privacy online.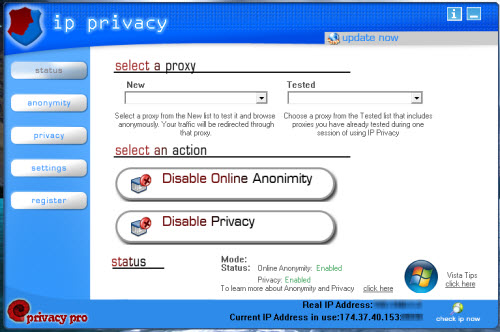 Key Features of IP Privacy:
Premium proxies included to surf the Web safely without affecting browsing speed
Live Update – One-click update to find new IP addresses
Add Proxy – Lets you use your own proxy directing to a specific country
Enable or disable Online anonymity and privacy in just one click
Block Javascript and ActiveX objects easily
Schedule when to delete selected Internet tracks from your PC
With IP Privacy, one can permanently erase all online tracks and can even block invasive code. It can clear up your Internet history, cookies, temporary internet files, saved passwords, etc.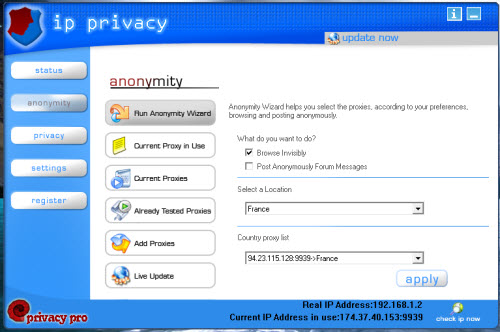 Get Free 6 Months License of IP Privacy
The license of IP Privacy costs $39.95, but we are giving away 10 licenses of IP Privacy sponsored by IP Privacy for our readers. To grab a license, just follow the simple steps below:
1. Tweet about this giveaway on Twitter. Remember to leave a comment below along with your valid email address and tweet status.
2. If you don't use Twitter, then simply comment and tell us why you need IP Privacy.
Lucky Winners will be chosen randomly and results will be announced on Sep 24 😀
Update – Winners Announced
I'll be sending emails to winners along with the license information. Please install and activate IP Privacy and give us your feedback.