A while back, we shared 6 months trial key of AVG Internet Security and now a similar promo is going on which can provide you a 1 year license key of AVG security suite 2013 for free. This is due to an exclusive promo provided by Huawei which anyone can avail easily without going through any type of registration process.
AVG Internet Security 2013 is an award-winning protection suite for Windows that offers essential protection and protects your identity while doing tasks such as shopping, banking, browsing, email, and more. AVG IS 2013 also protects your personal data from hackers and delivers faster scan, PC start up and video streaming. It incorporates all the features of AVG AntiVirus 2013 to detect and protect your system against viruses, threats and other malware. AVG provides a 30-day trial for their products and 1 year subscription of AVG Internet Security 2013 costs $54.99.
AVG Internet Security 2013 Features –
Detects and stops viruses, threats and malware – Includes: AntiVirus, AntiMalware (AVG Resident Shield), AVG Anti-Rootkit, AVG Email Scanner, AVG Protective Cloud Technology, AVG Community Protection Network, AVG LinkScanner Surf-Shield, AVG Social Networking Protection
Stops unsecure links and files – AVG Online Shield
Prevents online spam and scammers – AVG Anti-Spam
Prevents spying and data theft – Includes: AVG Do Not Track, AVG Identity Protection, Anti-Spyware, AVG WiFi Guard
Stops hackers getting to your personal data – Ultimate protection for credit card numbers, bank details or other personal information. With AVG Enhanced Firewall
Helps ensure a smooth and fast running PC – AVG Turbo Scan, Game Mode, AVG Smart Scanner
Accelerates web experience with AVG Accelerator
Easy-to-action advice and alerts – Incudes: AVG Advisor, Easy Interface, AVG Auto-Fix, AVG Auto-Updates
To get Free 1 Year license of AVG Internet Security 2013, simply download the relevant installer from links below and install it.
— Links Removed —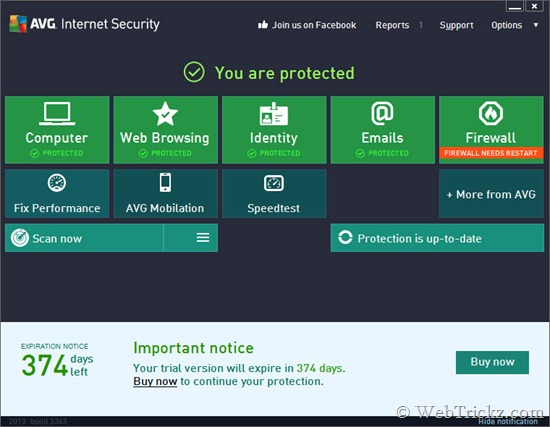 These are pre-activated standalone offline installer that works anywhere. The license key is integrated, hence you don't need to input it manually. This 1 year trial of AVG provides a free subscription of 374 days with full functionality. Enjoy. 🙂
Note: This might not work if you've earlier activated a trial copy /key of AVG IS 2013.