Unlike most Android smartphones and tablets, iPhone and iPad don't have the restart or reboot option. As a result, iPhone and iPad users only have the option to power off or shut down the device. In case you want to simply restart an iOS device, you first need to turn it off and then power it on. Having an option to reboot always helps as a quick restart fixes common issues and app glitches most of the time. If the absence of the restart button is bothering you then we have a solution. Surprisingly, there is a hidden restart option in the iPhone and iPad that most users aren't aware of.
The reboot option in iOS is software enabled and is hidden under various settings. Perhaps, this is the reason why most iPhone and iPad users don't know about the existence of it. Meanwhile, don't confuse it with the Shutdown feature accessible through Settings > General > Shut Down in iOS 11 and later. That's a different option altogether, here we're talking about the restart feature in iOS. The restart feature was introduced as a part of AssistiveTouch in iOS 11 and is available in iOS 12 as well. It's the quickest way to restart an iOS device provided you've AssistiveTouch enabled. Now let's find out how to enable the restart option on iPhone or iPad.
Note: To get restart functionality on iOS devices, make sure your device is running iOS 11 or later.
How to Restart an iPhone or iPad
Go to Settings on your iOS device. Tap on General > Accessibility.
Under Accessibility, turn on the "AssistiveTouch" option.
Now you'll notice an AssistiveTouch virtual button on the screen.
Tap the button and select Device > More (three dots).
Tap on Restart option and then select restart to confirm.
The device will now restart automatically.
Tip: Customize AssistiveTouch Menu
You can choose to show the Restart button on the main menu of the AssistiveTouch button for quicker access. To do so, follow the steps below.
Head over to Settings > General > Accessibility > AssistiveTouch.
Tap on "Customise Top Level Menu" button.
Now tap on the + icon. A big plus icon will now be added.
Tap on the big + icon and assign the "Restart" action to it.
That's it! You can now access the restart option from the main menu of the virtual home button.
Addon Tip: In case you don't wish to display the AssistiveTouch button all the time on your iOS device then you can assign it as an accessibility shortcut. This way you can turn AssistiveTouch on or off from any screen by clicking the side button (on iPhone X or later) or home button three times.
To assign AssistiveTouch as an accessibility shortcut, go to Settings > General > Accessibility and scroll down to the "Accessibility Shortcut" option at the bottom. Open it and select "AssistiveTouch" from the listed options. The AssistiveTouch button will now turn on or off whenever you press the side or home button three times in quick succession.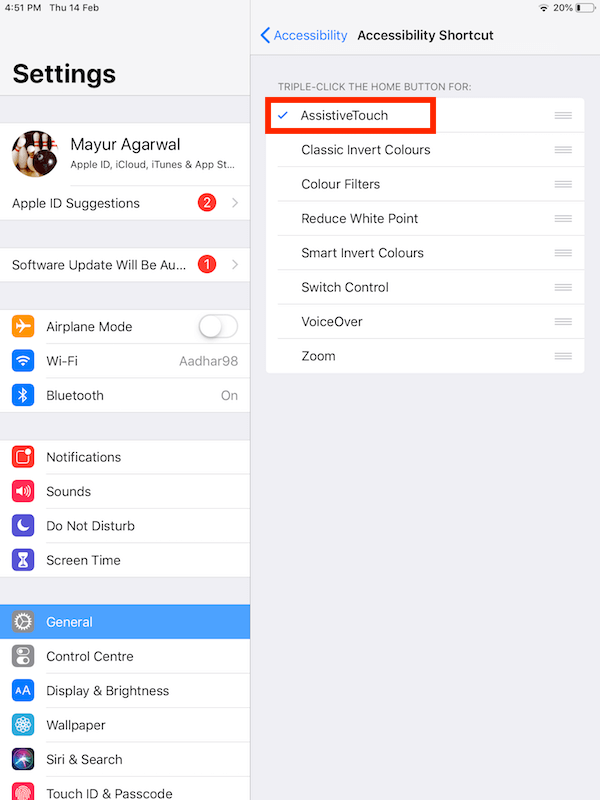 Moreover, it's possible to adjust the triple-click speed for the side or home button. To do so, navigate to Side Button / Home Button option under the Interaction menu in Accessibility. Here you can choose the click speed either as default, slow or slowest.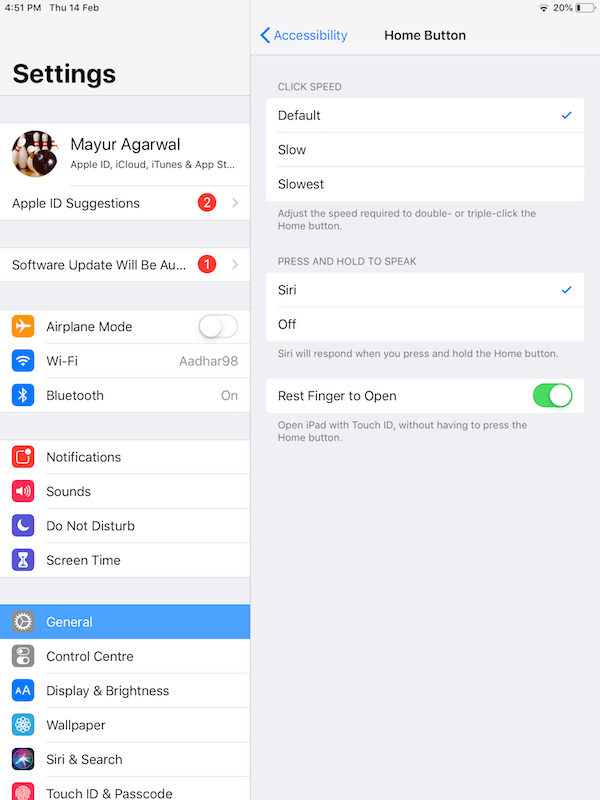 This way you can reboot your iOS device without using the home, side, power or volume buttons. We hope you found this article useful.