Update (17 March 2023) – Twitter shows Bookmark counts publicly
Twitter now shows Bookmark counts for all tweets, a feature currently available only on iOS. This means you can now see how many times your Tweet has been bookmarked. Everyone can see Bookmark counts, i.e. the total number of Bookmarks a Tweet has got.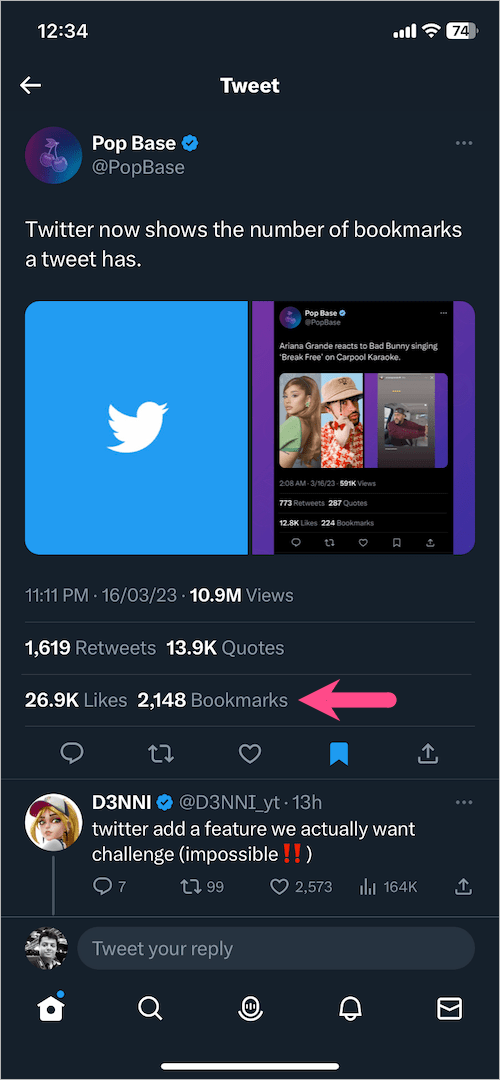 Worry not, your Bookmarks are still private as Twitter doesn't show which specific accounts have added a Tweet to their Bookmarks.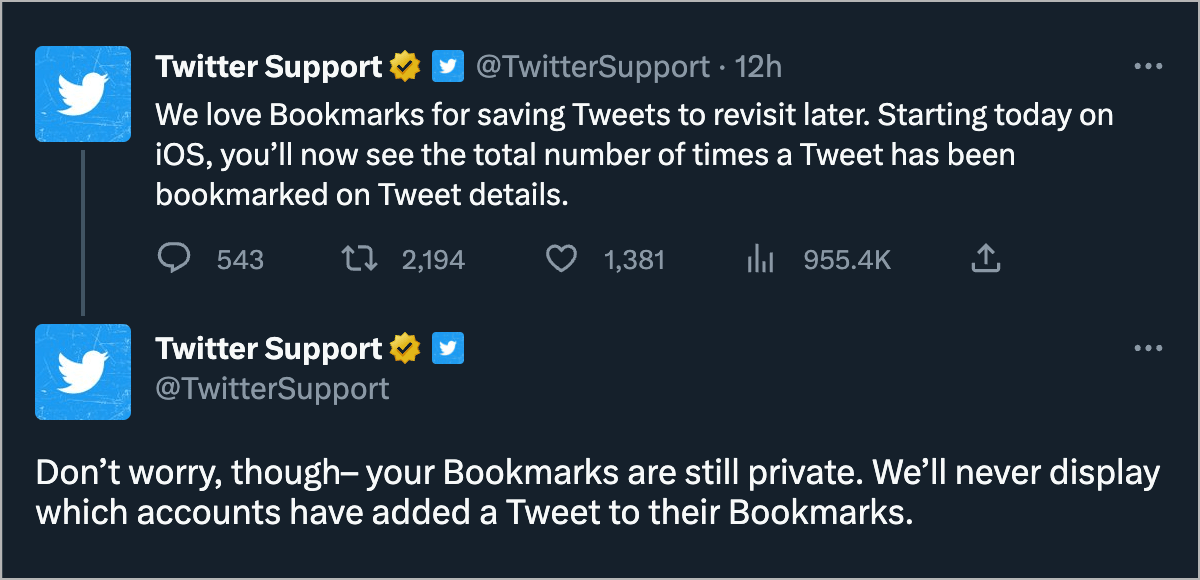 For those wondering, Twitter currently offers no option to hide Bookmark counts on your Tweet.
Update (30 March 2020) – Is Twitter making bookmarks public?
There is news doing rounds since yesterday that Twitter bookmarks are made public. Apparently, a lot of Twitter users are baffled about this and worried if such a thing is really happening. After all, no one wants their private information to go public without their knowledge or consent.
Worry not! It is just a rumour and a piece of fake news spread by a person with the handle @NESStoohigh.
The reality is that your bookmarks are completely private and Twitter won't make them public ever, at least without an official announcement.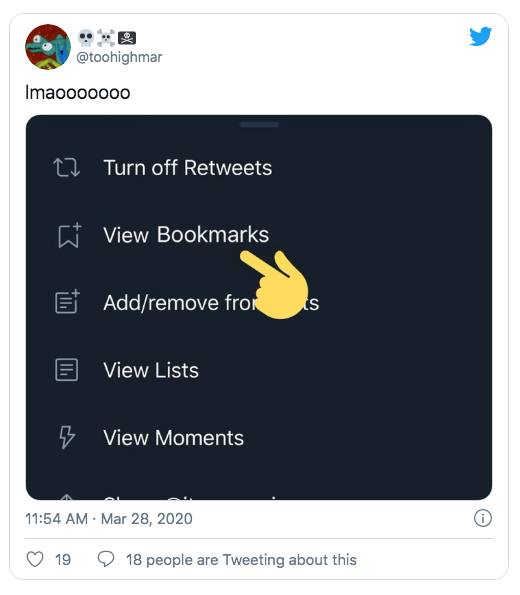 Though I found the rumour pretty amusing, however, it would have been apt on April 1st. The person apparently made a fake screenshot claiming that Twitter is making bookmarks public.
Unfortunately, a lot of people cleared all their bookmarks are hearing this false info.
---
Almost a year ago Twitter introduced the highly requested "Bookmarks" feature thus offering users a new way to save tweets. Initially, bookmarks were available only for the Twitter app for iOS and Android, Twitter Lite, and the mobile version of Twitter.
We soon posted a workaround to view bookmarks and bookmark tweets via Twitter's desktop website. The trick still works with the older version of the Twitter website.
However, Twitter has now added a new interface for its desktop website that allows users to directly view and bookmark tweets. What's amusing is the fact that the new design is nothing but a clone of their mobile version. Hence, it's better to stick with the older web UI until possible and follow our workaround.
Who can see my Twitter bookmarks?
Coming to the point, if you're new to Twitter then you might be wondering whether other people can see your Twitter bookmarks or not. The simple answer is "No, they can't".
The tweets bookmarked by you can't be viewed by any other person unless they have access to your account. That's because bookmarks are completely anonymous and provide a private way to save others' tweets.
Unlike Likes (formerly Favorites), bookmarks aren't publicly displayed on your Twitter profile. It's only you who can view your bookmarks.
Moreover, even the author of the tweet isn't notified when you bookmark their tweet. So you don't have to worry as there is no way your followers can access your Twitter bookmarks directory.
TIP: If you wish to view bookmarks and bookmark tweets on the desktop browser without following our workaround then switch to the new interface.
To do so, open Twitter.com on your desktop. Now click on your profile icon and select the "Try the new Twitter" option listed at the bottom.
You will now be able to bookmark tweets through the "Share" option and view them from the "Account info" menu.