Facebook Reactions are an apt way to quickly express your feelings and emotions for a certain message on Messenger. Users can choose from seven reactions and send them just by holding an individual message. Heart-Eyes emoji, the first in order, represents a smiling face with heart eyes. It is probably one of the most used reaction to convey feelings of love and affection.
Facebook is testing Heart reaction in Messenger
Messenger Reaction – Heart Eyes vs Heart
That said, it appears that Facebook is planning to replace the existing heart-eyes emoji with heart emoji instead. Though no official announcement has been made regarding this subtle change, yet.
Apparently, the company is currently testing the heart reaction in Messenger with a handful of users. I can personally confirm this as the new heart reaction is visible for me in the latest version (253.3) of Messenger for iPhone. For those curious, I'm using an iPhone 11 running iOS 13.3.1.
How to react with a heart emoji in Messenger
If you are one of the lucky ones to get the new heart reaction then you can use it right away.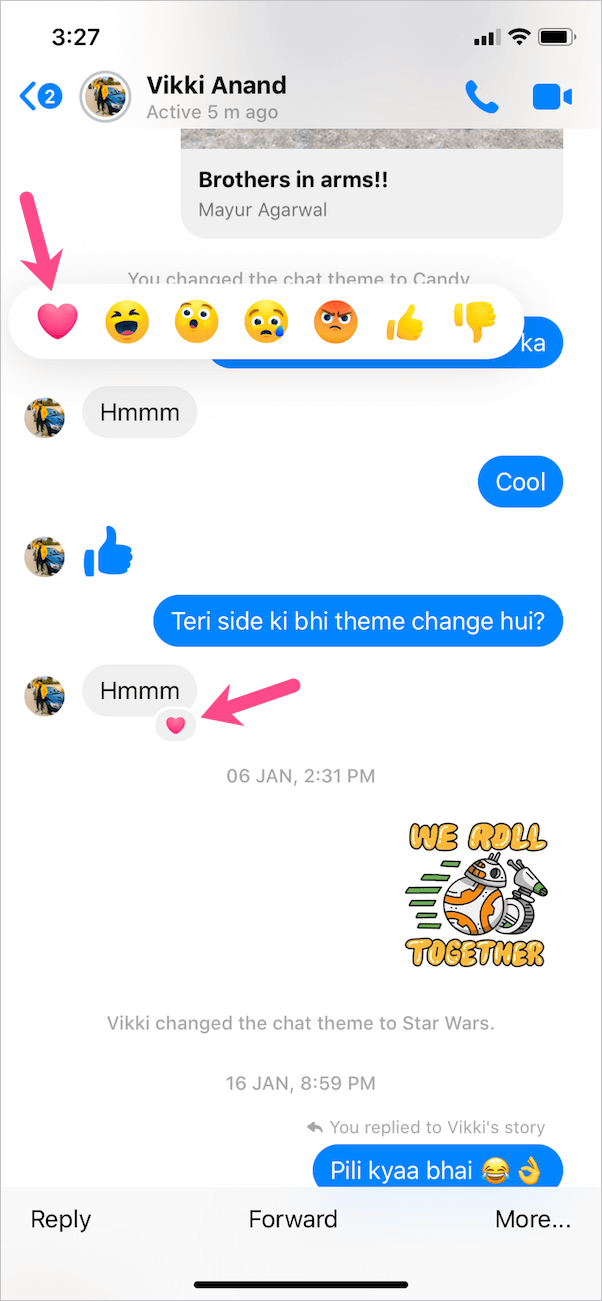 To heart react in the Facebook Messenger app, open the desired chat conversation and locate a message you wish to react to. Then tap and hold the message to open reaction emojis. Now simply tap the heart reaction. That's it. The chosen reaction will be visible alongside the particular message.
As you would expect, the receiver will see the heart reaction even if the new (love heart) one isn't enabled for them.
RELATED: How to remove a reaction in Messenger
How to get heart reaction in Messenger
Unfortunately, there is nothing you can do to get the heart reaction on Messenger. This stands true for both iOS and Android users, even if they have the latest version of Messenger installed.
That's because this feature seems to be part of a server-side rollout. Hence, it will happen in phases and the final rollout may still take a while.
In addition to the Messenger app, the heart reaction is not available on Facebook's desktop interface as well as Messenger.com.
Personally, I feel that the new heart emoji reaction looks relatively better and cool. We hope Facebook soon rolls it out to all those eagerly waiting for it.
UPDATE (March 7) – It appears that you can now react with a heart emoji on both Facebook.com and Messenger.com on a desktop.