The Moto E is currently one of the hottest selling phones in the sub-10k Android smartphones segment. Moto E is a highly affordable phone at Rs. 6,999 from a Tier 1 brand, featuring decent specifications, good build quality, and comes preloaded with Android 4.4 KitKat. Unlike other Indian brands like Micromax or Karbonn, Moto E features an impressive build quality and form factor as seen in its elder sibling, Moto G. The phone packs a matte finish back cover that offers a premium look and a nice grip, though it's pretty tough to pull apart.
Unfortunately, there are several complaints regarding Moto E's loose back cover from various users and we personally encountered this problem too. On the first day itself, we noticed that the back cover became loose after putting it back the very first time. Now the cover was loose and was moving slightly to and fro from top to bottom, being certainly noticeable and annoying too while using the device. This seems a known hardware issue with a batch of Moto E units and Flipkart being kind enough is providing a free back cover (Chaulk/ White colour) that is currently priced at Rs. 899.

Even though Motorola is offering a free replacement back cover for Moto E, barely anyone would like to use a colour that doesn't resemble their choice. To overcome this issue, we've figured out a simple workaround that works really well and makes Moto E back cover fit perfectly just like before.
To Fix Moto E loose back cover, take out the back panel (place your thumb on the Motorola logo, then place your finger towards the USB jack and apply force to take it off). Then place some sticky paper tags on the back of the cover as shown. It's advisable to use self-adhesive paper snippets as they will stay intact at a specific position and won't fall off the next time you remove the cover. Note: We tried different combinations until the case snapped perfectly. So, you should consider trying a couple of placements and using more than one layer of paper, until you find your device free of creaks or squeaks.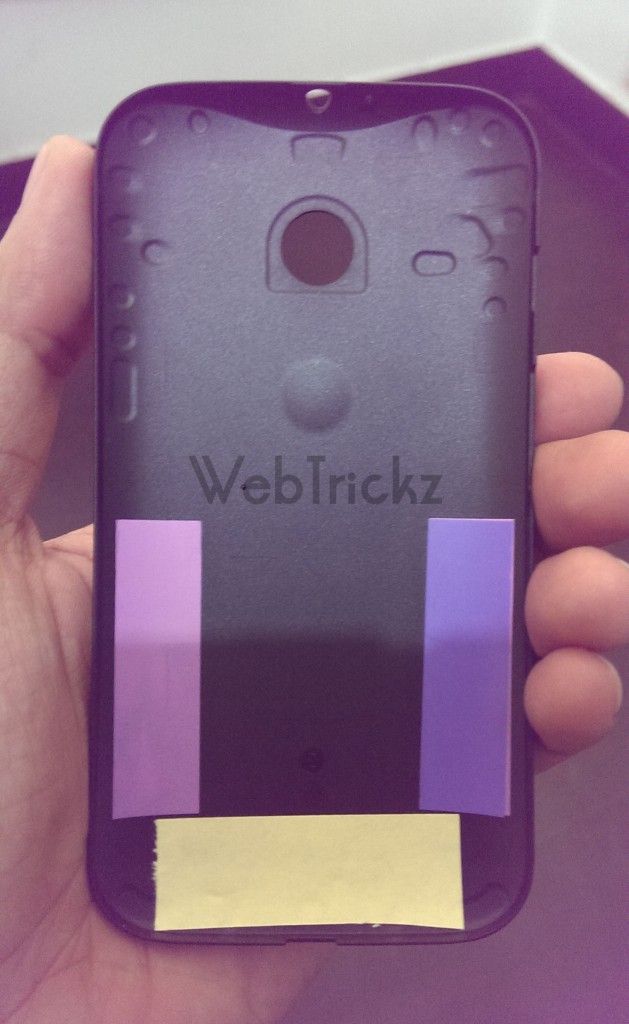 This trick worked like a charm for us and this way you could fix your Moto E too. Do share your views! 🙂
Update: I just received a White colour back shell for Moto E, sent by Flipkart for free.