Wallpaper is one thing that any geek, novice or kid would like to change on their computer. But you will be surprised to know that Windows 7 Starter edition (specially designed for Netbooks) comes with one desktop background, which can't be changed or customized. So, here are 2 ways to get rid of this nuisance.
Starter Wallpaper Changer is a small and portable tool, using which you can change desktop background in Windows 7 Starter. To use it, just open the .exe file (Run as Administrator), click browse and select the wallpaper (.jpg or .jpeg format) you like to set. Click Apply. Now you need to 'Logoff' for letting the changes take effect. Select the Restore button to get back the default wallpaper.

Note: Do not run this tool on any other Windows 7 editions.
Download Starter Wallpaper Changer (40 KB)
Oceanis Change Background Windows 7 – This is another good alternative that lets you change the desktop background with an optional desktop slideshow (shuffle) in the Windows 7 Starter edition. Using this, you can select several wallpapers for a slideshow, rotate them in various intervals (from a minute to a day), and set picture positions too.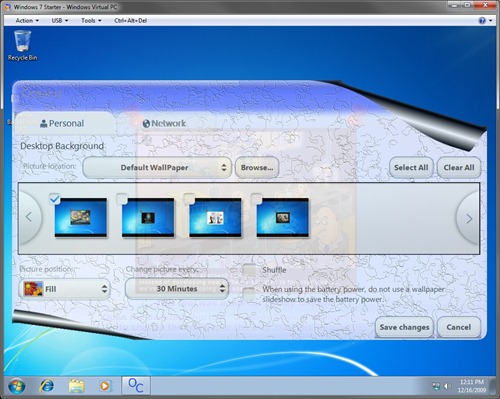 It is a replicate of personalise options that we see in other editions of Windows 7. It is designed to work only in Windows 7 Starter.
Visit SevenForums to download and see how to use it.