The much-awaited 'Microsoft Windows 8' – Windows reimagined was globally launched yesterday. However, the RTM version of Windows 8 was made available back in mid-August to the MSDN and TechNet subscribers. Perhaps, if you're already running the final Windows 8 RTM without activation then a watermark, activation prompts and some disabled personalization features might be spoiling the taste of the new OS. You can overcome these limitations by activating your Windows 8 copy now!

Apparently, Windows 8 doesn't require an activation key during installation and you just need to enter a valid installation key to continue with the install process. This certainly doesn't activate your Windows 8 OS as you need to input a genuine license key in order to activate your copy. Surprisingly, after a while we noticed that there was no option to enter or change the product key, hence no feasible way to activate the OS. This probably happens if you installed Windows 8 from a volume license media.
~ You can confirm this by opening Settings from Charms bar > Change PC settings > Activate Windows. There you would see a message:
"Windows can't be activated right now. Try activating Windows later. If this issue persists, contact Microsoft Customer Service and Support online to activate Windows."
OR, below error in Classic desktop:
Activation Error: Code 0x8007232b
DNS Name does not exist
Well, if you're getting the above error then you can't enter a product key as there is no option for that. Fortunately, there is an easy solution.
Method 1 – This uninstalls the currently installed product key and returns license status back to the trial state. Open CMD (Run as Administrator) and enter the command:
slmgr -upk

Now go to Activate Windows from Metro UI PC Settings and enter the key. Make sure you're connected to the Internet while activating.
Method 2 –
Open Command Prompt (Run as Administrator) and enter the below command. Now you can activate your Windows either from Control Panel Activation wizard or Modern UI.
slmgr.vbs –ipk YOUR-PRODUCT-KEY-HERE
Method 3 – Open 'Run' and enter the command: slui 3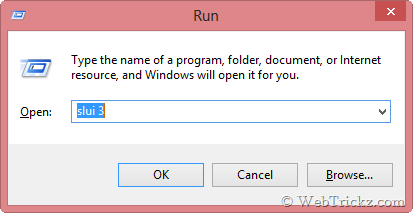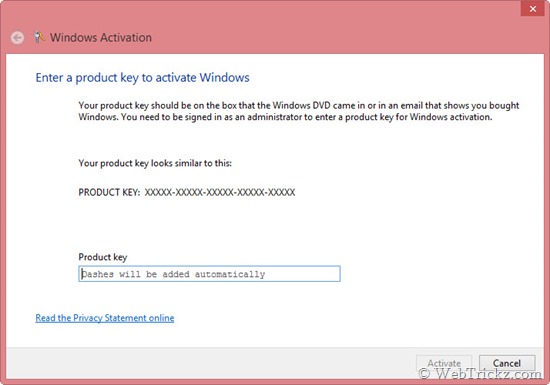 Windows Activation dialog will open up, enter a product key to activate Windows.
Hope you found this post useful.