According to Microsoft, users running Windows 7, Windows Vista, or Windows XP with Service Pack 3 (SP3) can download an upgrade to Windows 8 Pro for their PC for $39.99. However, those who've purchased a qualified Windows 7 PC between 2 June 2012 and 31 January 2013 are eligible for a Windows Upgrade Offer that allows you to upgrade to Windows 8 PRO for just Rs. 699 ($14.99). Apparently, Microsoft deliberately wants to transform Windows 7 pirated copies or illegal Windows users into genuine by offering the Windows 8 upgrade at an incredibly low price of Rs. 699. This seems possible for everyone regardless of the PC purchase date as that can be easily tricked by entering fake details and surprisingly no validation of same is done. We've tried this procedure yesterday and it worked flawlessly.
How to Get Windows 8 PRO Genuine License Key for Rs. 699 –
1. Visit the Windows Upgrade Offer page and select your country location.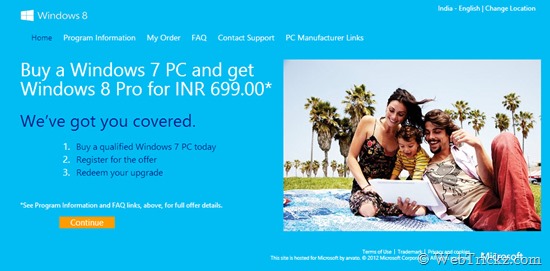 2. Click Continue. Now enter all your valid details in the Personal Information column. Important – Under Windows 7 PC purchase information, select 'Date of Purchase' as something that falls in the last 2 months from now. Select a random PC brand, retailer and model.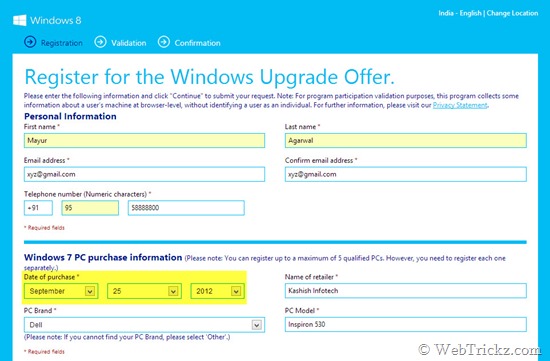 3. Now Agree and continue. Voila, you'll instantly get an email along with a Promo Code for Windows 8 Pro.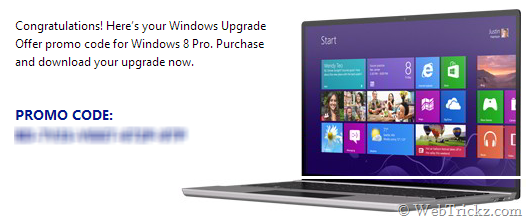 4. Download Windows 8 Upgrade Assistant on PC you want to upgrade. The program provides you with a compatibility report, followed by the steps to purchase, download, and install Windows 8 Pro, directly using the Upgrade Assistant.
~ Payment can be made either using PayPal or Credit Card.
5. Once you reach 'Confirm your Order', enter the Promo Code you received earlier to avail a heavy discount as shown.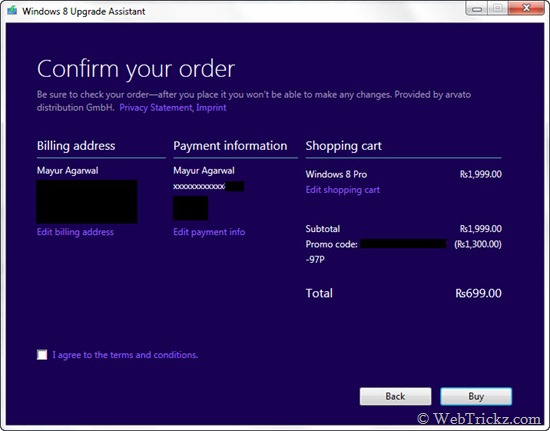 6. As you Buy, you will receive a genuine Product key to activate your Windows 8 PRO.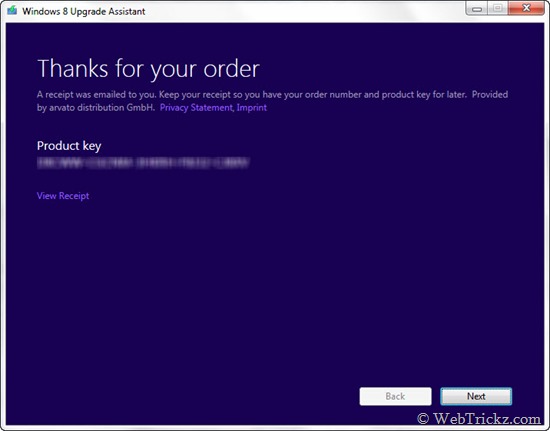 7. Click Next to download Windows 8. (We cancelled downloading as we already had Windows 8 RTM installed in dual-boot.) Don't worry, you can download the Windows 8 setup later on using the Windows 8 Setup (link included in the email).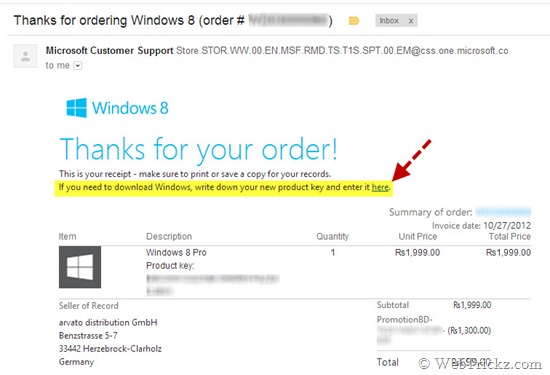 Note: It's also possible to activate your Windows 8 PRO RTM using this product key even if you didn't upgraded from any of the specified OS. We've tried it ourselves! 🙂 Perhaps, the product key should also activate a clean install of Win 8 Pro, provided the key is Not activated already on any other PC.
How to Purchase Windows 8 PRO Genuine License using Windows 8 –
As per Microsoft, you cant run the Upgrade Assistant on Windows 8 OS. On trying, we got the message "Windows 8 isn't available for download. Sorry, Windows 8 isn't available for online purchase in the country/region you're in."

Fortunately, there seems another loophole here as those running pirated or non-activated Windows 8 can also grab the license key via Upgrade Assistant directly on their Windows 8 PC itself. See how:
Simply download the Upgrade Assistant, open its Properties and select 'Compatibility Mode' as Windows XP (Service Pack 3). Now Run the program and you wont see the above error anymore. Just go through the above steps to buy your Win 8 Pro license. We've not tried buying the license but it'll work hopefully. (Tip by @gischethans)
Also See: How to Change Windows 8 Product Key to Activate Later
Don't miss this lucrative offer and let us know if you face any problem. 🙂