DTH users need to recharge their DTH account every month according to their plan tariff. One can also choose to do an accumulated recharge at one time to avoid recharging monthly. However, if you want to check the balance of your Airtel DTH account or any other user account then it can be done easily via multiple ways. For your convenience, we have listed all the possible methods below.
Checking Airtel Digital TV Balance
Method 1 (SMS)
To check the Balance and Validity of your Airtel DTH account, SMS BAL to 54325 from your registered mobile number.
To check Balance and Validity of other Airtel DTH account, SMS BAL <Customer ID> to 54325 from any mobile number. For e.g. SMS BAL 3000012345 to 54325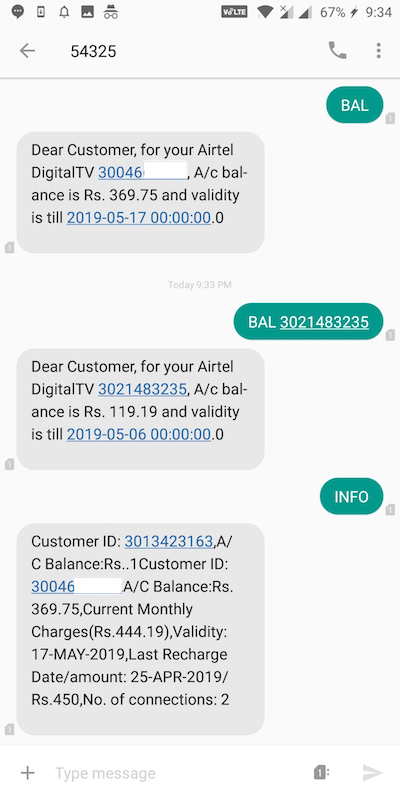 To get more information about your Airtel Digital TV account, SMS INFO to 54325 from your registered mobile number. This provides additional details like your customer ID, DTH plan type, monthly rental/top-up, balance, validity, date and amount of the last recharge, and no. of connections.
~ Above SMS are Toll-free for Airtel mobile users.
Method 2 (Missed Call)

You can also check your Airtel digital TV account details by giving a missed call on 8130081300 from your registered mobile number. After dialling the number, you will hear a long dial tone and the call will disconnect automatically. Then you will soon receive an SMS with all the details.
RELATED: What are NCF Charges in TRAI New DTH Rules
Method 3 (Customer Care)
If you wish to make changes to your Airtel DTH account or talk to a representative then call their customer care. Non-Airtel users can reach to their 24×7 customer support by calling 1800-103-6065 (Toll-free number). Meanwhile, Airtel users can simply dial 12150 which is also a toll-free number. Note that you need to know your customer ID if you're calling from a non-registered phone number.
Method 4 (Airtel Selfcare or My Airtel App)
You can register for an account using your customer ID and registered phone number on Airtel selfcare website or My Airtel app. Both the website and mobile app will allow you to properly manage your Airtel services online such as DTH, mobile, and broadband.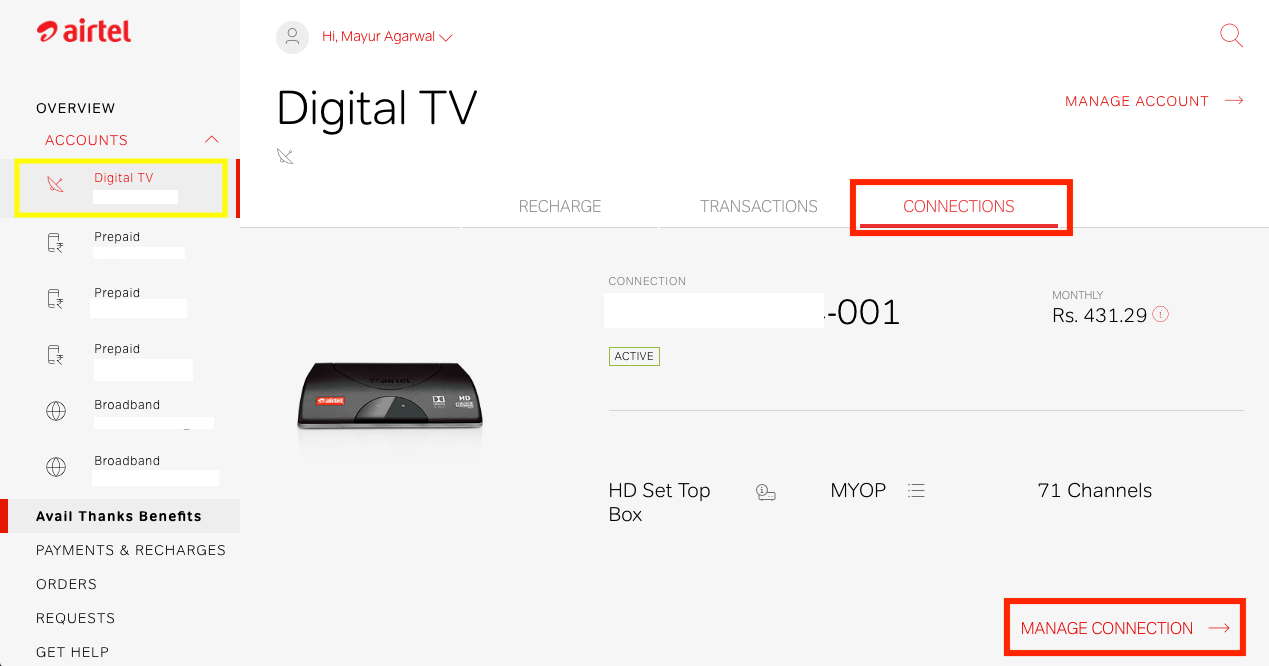 By registering, you can recharge your DTH account, check transaction history, account balance, daily burn rate, monthly statements, and subscription/top-ups. Moreover, you can select channels on Airtel DTH as per TRAI's new rules through their website.
How to Find Airtel DTH Customer ID and Registered Mobile Number
If you have forgotten your customer ID and even the mobile number registered with Airtel DTH account then you can easily find it.
To find this information, turn on your television and Airtel Digital TV Set-Top box. Now press the "menu" button on the Airtel Digital TV remote. The actual customer ID (in case of multiple connections) and the registered phone number will be displayed at the lower left.
Also Read: How to Check your Airtel 3G Data Balance and Validity