3G Data usage has grown exceptionally following the large user base of smartphones all over India. You can access 3G services anywhere using a 3G-enabled handset or a 3G USB modem. Airtel offers a variety of 3G plans for both prepaid and postpaid mobile users who can avail of 3G services by opting for the adequate 3G package. The standard Airtel 3G packs come with a limited high-speed data limit and validity of 30 days, while the charges post-consumption of plan data are 3p/10KB. Hence, you're charged 3p/10KB once your data limit or validity is over. The post 3G usage charge is deducted from your network balance which could cost high depending on your daily Internet usage.
By default, Airtel shows all the necessary information about your 3G account such as data used, data remaining, and validity as you disconnect 3G on your phone. However, if you want to manually check Airtel 3G/2G balance and validity, then simply use the below-mentioned USSD (Unstructured Supplementary Service Data) code (toll-free).
Also Read: How to easily check your Airtel Broadband Data usage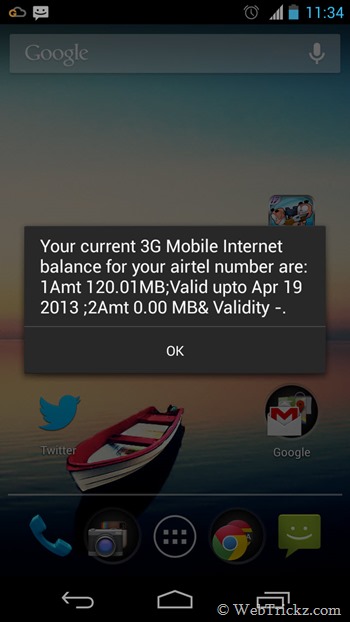 To check Airtel 3G data balance: Dial *123*11#
To check Airtel 2G data balance: Dial *123*10#
Dial *123# to check the Main Balance.
Note: You can only check these details while your Airtel 3G pack is active.
How to check the validity and data usage of your Airtel Unlimited Data Pack
With the entry of Jio, most telecom providers including Airtel have started offering unlimited plans at very reasonable prices. These plans usually offer unlimited calls (Local and STD), unlimited SMS, free roaming, and around 1GB to 2.5GB 4G mobile data per day, depending on the tariff plan.
In order to track the daily data usage and validity of Airtel unlimited plans, simply download the "MyAirtel" app from Google Play (Android) or App Store (iOS). Open the app and register with your Airtel number. The app will show all the details including the remaining data and days left on the main window itself. Airtel users can also use the MyAirtel app to track and manage accounts of their DTH service, broadband, and other Airtel mobile numbers. The app also lists the best offers and plans for your specific number, both prepaid and postpaid.