Do you want to backup all the data stored on your HDD to another internal/external hard drive or want to replace your older smaller hard disk with a new larger hard disk, without having to install the Operating System, applications and device drivers once again? Then check the tutorial below:
Using Disk Clone, you can create a exact copy of one Hard drive to another hard drive keeping all the partitions and data intact as they were in the original (source) disk. There are several applications to clone disk but I'll discuss the one I just tried out.
EASEUS Todo Backup is free backup software that offers safe and efficient disk clone to transfer your data on the old disk to a new one and backup your system in case of computer crash or system failure. It's very easy to use and can copy the entire data from one hard disk to another in just a few clicks and in short time.
Before proceeding, make sure:
The new hard drive is attached and working. (See Disk drives under Device manager).
You're aware which disk is source and which is destination.
The new (destination) hard drive does not contains any data because it'll be wiped.
The media used as destination should be of the same size as the source media or larger to ensure that all data will be copied.
Follow the step-by-step instructions below to clone disk:
1. Download and Install EASEUS Todo Backup (Freeware).
2. Launch the program and select the "Clone Disk" option.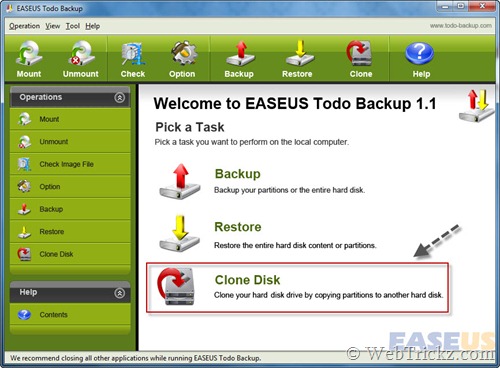 3. Select the source hard disk and click 'Next' to continue.
4. Select the destination disk and click 'Next' to continue. (Destination disk is the place where all the data from source disk will be copied).
5. Review the source disk and the destination disk layout (partitions and unallocated space). Click 'Next' to continue.
6. The disk cloning process will now start. Wait for it to get successfully completed.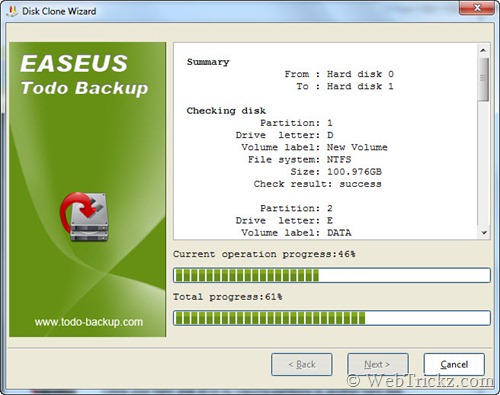 7. Click OK and you can then check both the disks in Disk Management.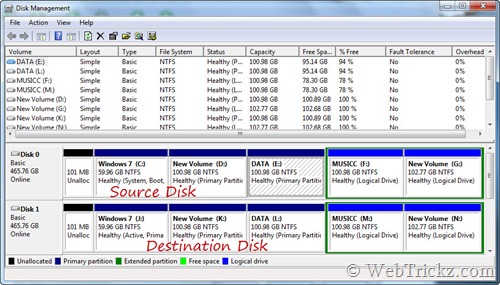 Now you can connect the destination hard drive on any PC and use it instantly without installing Windows OS and other freaking software's and drivers. 😀
This guide comes handy when your hard drive goes Bad and is ready to fail. Just buy a new hard drive of same or big size and use the above tutorial to create a replicate of it.