Leading hard drive manufacturers like Seagate and Western Digital (WD) offer a limited warranty of 5 or 3 years. By default, WD calculates the warranty date from the manufacturing date. It means a hard disk bought in January 2010 but manufactured in August 2009, will have its warranty time calculated from August.
WD offers an easy way that allows users to update the warranty of their HDD online, thus to calculate it from the date of purchase. To do so, you need to have a proof of purchase, i.e. payment receipt or bill.
If you feel that the warranty date needs to be updated from the purchase date, please carefully follow the instructions below:
How to claim warranty on WD hard drive
1. Register online for a new account at WD or log in if you already have one. You will then receive an email with a confirmation link. Click on the link to verify your email address and complete the registration process.
2. Visit the registration page and fill in all the required entries. Select your Product (Internal or External HDD), category as Warranty & Replacement and input hard drive serial number.
To find your WD hard drive serial number download SIW and run it. Select the 'Storage Devices' option under Hardware. Locate the serial and model number of your WD hard drive.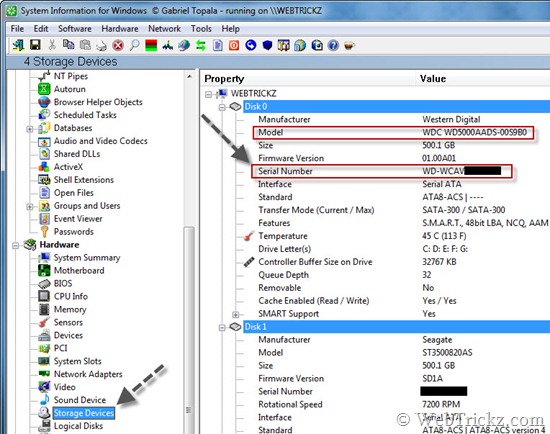 Note – Don't enter the WD- part which is there at starting of the serial number.
3. Enter "Update warranty" in the subject line under Question Data.
Attach a picture or a scanned copy of your purchase receipt (jpg, jpeg, or gif formats only, max 1.5 MB)
4. Click Continue, then you will receive an auto-response email from WD.
5. Wait for a day or two for Western Digital staff to verify the information and update the warranty accordingly. You will then receive a response about the status of your email.
Check WD Hard Drive warranty status here.
I tried the above method and WD guys updated the warranty of my new hard drive from the purchase date in just one day. The best part is that they updated my warranty for the next 5 years which actually was less than 3 years. 😀