Internet Explorer 9 Beta is now officially released by Microsoft for Windows 7 and Vista. IE9 is packed with a redesigned user interface, supports HTML 5, and offers many new features like pinning sites, jump lists and aero snap.
IE9 supports Full hardware acceleration for text, graphics, and video to provide a rich web experience. By default, hardware acceleration (GPU rendering) is enabled in IE9 to offer next-generation experiences with GPU-powered HTML5 graphics.
If you're experiencing issues or have a lower configured system, then you might want to disable this feature and switch to software rendering. To disable Hardware Acceleration in Internet Explorer 9 (IE9) Beta, check the method below:
1. Open IE9, click the "Tools" icon (Alt+X) and select Internet options.
2. Under Internet options, open the 'Advanced' tab and tick mark the option named "Use software rendering instead of GPU rendering".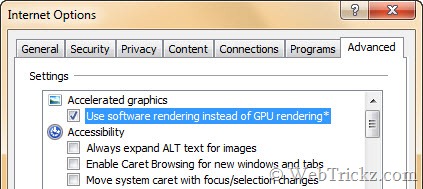 3. Click Apply, Ok and restart the browser.