Twitter just rolled out a whole lot of redesign updates by introducing a major design overhaul to its web interface and Twitter mobile app for iOS and Android. The entirely new interface makes it more faster and simpler to connect with your friends, followers, discover latest stories, suggestions on who to follow and see trending topics, etc. The Tweetdeck web version has also got a whole new design, along with native Tweetdeck application for Windows and Mac that doesn't requires Adobe Air anymore. Besides this, Twitter share and follow buttons have also got a slight color gradient update.
The latest twitter update makes it easier for everyone to view and interact with tweets on the web in the same ways as you do from any twitter client. Twitter has now added the functionality to embed tweets or any conversation to a site or blog in a few clicks without needing any extra skills. You just need to copy and paste a few lines of code.
Preview of an embedded tweet –
Hope Instagram for Android doesn't rolls out just now. I'm unable to cope all these updates.

— Mayur Agarwal (@mayurjango) December8, 2011
Embeddable tweets lets the users catch up the shared tweets directly without leaving your site. Visitors can follow the author with a single-click, reply, retweet, or favorite the Tweet instantly from the page itself. You can try it now in the newly launched Twitter. Steps to simply embed a tweet to a website:
1. Visit your or anyone else twitter profile. Then tap on the desired tweet or click Open to see the Details option.

2. Click on 'Details', so the permalink page of that particular tweet opens up.

3. Tap on 'Embed this Tweet' and a pop-up will appear. Choose the preferred alignment, copy the HTML code and paste it to the HTML section of your site or blog post.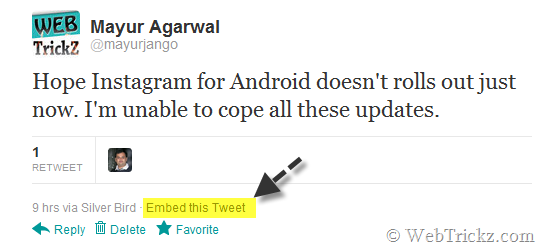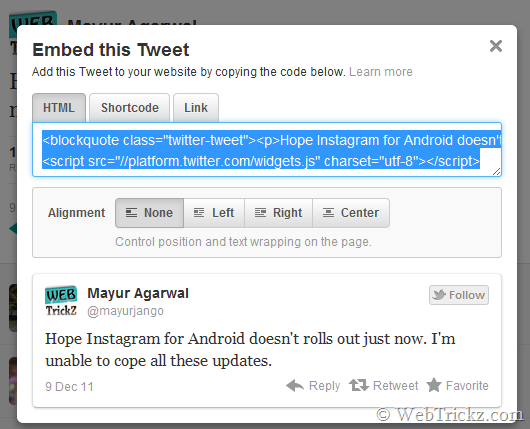 It's even more easier to embed Tweets on WordPress or Posterous Spaces.
WordPress bloggers can embed Tweets directly into their posts by simply copying the Tweet URL or using a familiar shortcode. Once published, WordPress instantly turns that URL or shortcode into an embedded Tweet.
Posterous Spaces has also enabled embedded Tweets. People can easily add Tweets using their existing workflows: Posterous' browser bookmarklet, email, the Posterous Web Editor, or their iPhone or Android Apps. For more information, read Posterous Spaces' announcement on their blog.
via [Twitter Developers]