The Internet Bandwidth consumption has vastly increased over the past couple of years as WWW has evolved drastically and power Internet users including the basic ones are now usually seen downloading several GBs of multimedia stuff such as music, movies, videos, games, software, etc. everyday from over the web. So, we've once again decided to hold a giveaway of 'IDM', an essential and one of our favorite software. Consider this as a small Xmas gift from WebTrickz and Tonec for our lovely readers.

Internet Download Manager (IDM) is certainly the best, fastest and full-featured download manager for Windows that increases file download speeds by up to 5 times, offers the ability to resume and schedule downloads. Its built-in smart download logic accelerator uses intelligent dynamic file segmentation technology to accelerate your downloads to an extreme extent. IDM has an easy-to-use interface, supports a majority of file types and integrates seamlessly with all popular browsers such as Google Chrome, Firefox, Internet Explorer, Opera. The downloaded files are automatically sorted, can be placed in categorized folders or one can set a user-defined directory to save files.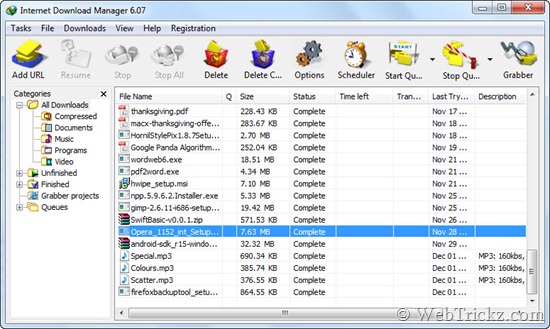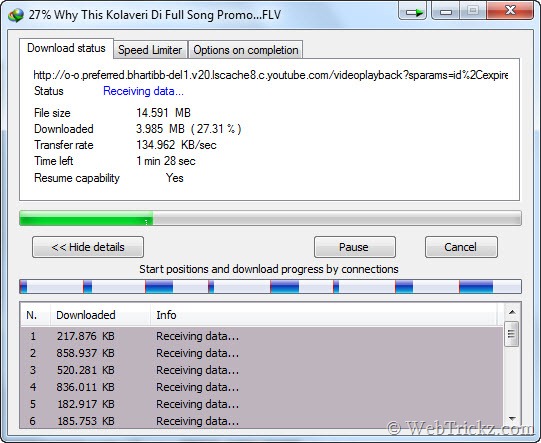 The new version 6.07 adds IDM download panel for web-players to download videos from sites like MySpaceTV, and Google Videos. It also adds improved integration for IE, redesigned and enhanced download engine, the unique advanced integration into all latest browsers, improved toolbar, and other improvements and new features.
Other Features include:
Batch downloading support – Download multiple files at once
Resume unfinished downloads – Comprehensive error recovery and resume capability will restart broken or interrupted downloads due to network problems, shutdown, etc.
Supports HTTP, FTP, HTTPS and MMS protocols.
Scheduler – Set a start and stop download time to download a file or a queue of files at a desired time interval. Option to hang up modem, exit IDM or turn off computer when the task is done. Useful for broadband users with unlimited night usage.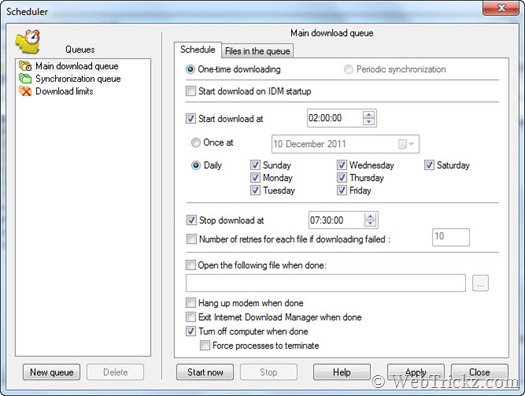 Zip Preview – Option to view the contents of a .zip archive before downloading.
Speed Limiter – allows to set the maximum download speed limit for one file.
Automatic Antivirus check – Configure IDM and select the installed Antivirus program to enable virus checking after the file gets downloaded.
Site Grabber – Download all pictures from a site, subsets or complete web sites.
Prompts and asks what to do if a duplicate download link is added.
Customize the look and easily configure browser/system integration options.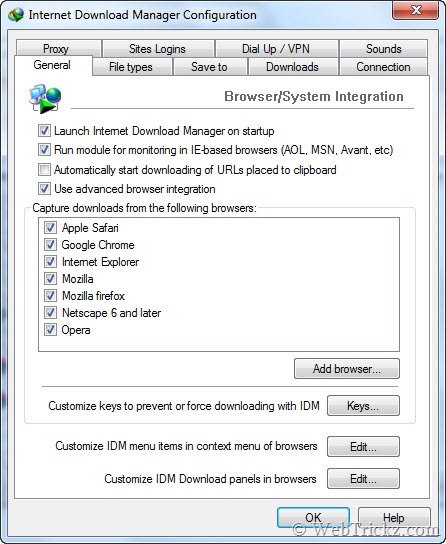 Arrange Downloads on basis of their file name, size, transfer rate, etc.
Multilingual – supports 13 languages natively.
GIVEAWAY – We're offering 10 Free Genuine Licenses of Internet Download Manager, the license expires in one year and is eligible for Free upgrade to all new versions of IDM during one year. To participate in contest, follow the rules below:
1. Tweet about this giveaway on twitter or Share about it on Facebook. (Use the Tweet and FB Share buttons below.)
2. Post an engaging comment below, briefly describing what's best about IDM and why you need it? Do share your tweet status link or Facebook post link in the comment.
10 Winners will be chosen randomly from the comments section below and results will be announced on December 17th.
~ You can Try out IDM now by downloading its 30-day fully functional trial.
UPDATE – This giveaway is closed now. Thanks for participating.
10 Lucky Winners chosen randomly are: Naits, Tan Jor Shun, Rinsoy Nellissery, David Macdonald Ajang, ha14, pham hoang, Tip4PC, gargi2221, manuel, vmancer
Note: Winners will be notified via email and they've to respond back to our email in order to get the IDM license. If they don't respond, then runners-up will get the license.