As a long-time Airtel broadband user, I always felt bad when plenty of my high-speed broadband data goes unused and I couldn't do anything about it. This situation usually arises when at times you've limited Internet usage or are out of town for work or vacation. Well, Airtel curbed this issue with the introduction of the "Data Rollover" facility for home broadband users. This means that all unused broadband data is now carried forward to the next billing cycle, hence users will never waste any data they actually pay for.
RELATED: How to temporarily deactivate Airtel broadband using Safe Custody
This facility was initially introduced for Airtel Postpaid users in July 2017 wherein the unused monthly mobile data (up to 200GB) was added to the next monthly cycle. Soon after in November, Airtel announced the data rollover feature for its home broadband users, ensuring zero wastage of data. The data accumulation limit in the case of broadband service is up to 1000GB. It's worth noting that users need to have a broadband plan that offers added benefits such as data rollover, bonus data, and Amazon Prime Subscription to avail of this facility.
That said, let's now find out how Airtel broadband users can check the carry-over data for their accounts. Though Airtel says that one can easily track the usage and balance data using the MyAirtel app but that feature is apparently removed from their app. Without further ado, let's see how to find out the unused Airtel broadband data on a desktop and mobile.
Note: This is only for Airtel home broadband subscribers in India.
Quickly check your Airtel Broadband Carry Over Data
To check on desktop or mobile browser without logging in to Airtel selfcare website, simply visit www.airtel.in/smartbyte-s/page.html from your Airtel broadband connection. The webpage will show details of your account for the current bill cycle including CarryOver data. Tip: Mobile users can add a shortcut to the Smartbytes site on their phone's home screen for faster access.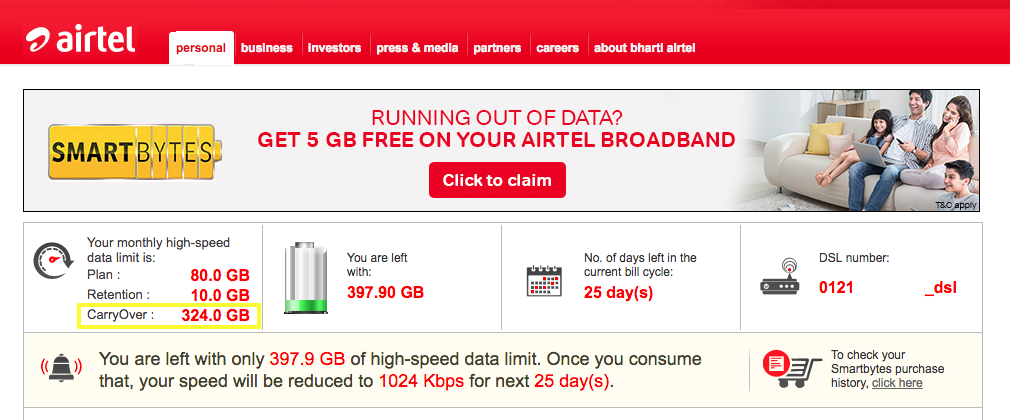 On Android (Using an App) –
Home Broadband Usage is a nifty app for Android that lets you check your Internet broadband usage right from your mobile device. The app fetches the data from the official Airtel Smartbytes webpage without the need to log into your Airtel account. It allows users to check the details of any Airtel connection to which their phone is connected via Wi-Fi. The information shown includes:
Total monthly data
Used and remaining high-speed data (non-FUP)
Days left
Average daily usage and recommended usage
Billing cycle time period
Here the monthly data option includes stats for Plan quota, My Home quota, Carry Over, and more.