There are instances such as frequent traveling or a long vacation when you stay away for an elongated period from your home or personal office. In such cases, broadband users may wish to temporarily deactivate their broadband connection. This can help you avoid unwanted tariff charges while the services are enabled but not in use at all.
Thankfully, Airtel has a provision known as "Safe Custody" that allows its broadband customers to temporarily disable the services. It comes in handy as you neither need to bother about excessive monthly broadband plan charges nor have to permanently disable the connection.
Suspend an Airtel broadband connection
Airtel offers 2 options under safe custody that broadband users can choose from.
Option 1 – Airtel charges Rs. 200 + taxes every month and safe custody auto-renews the following months until you ask them to disable it. The connection and its services remain inactive during this period. This is preferable for users who don't want to use their broadband for an indefinite time interval and don't wish to permanently close the connection either.
Option 2 – Airtel charges Rs. 500 + taxes for 90 days. The safe custody doesn't auto-renew in this option and the connection remains inactive for 3 months. After 90 days, the services will resume automatically and charges will be applicable as per your actual tariff plan. This is beneficial for users who don't need the connection for 90 days.
That said, the above charges are applicable for both voice and broadband services. It is worth noting that all the outstanding bill payments should be cleared before you can opt for the safe custody facility.
ALSO READ: How to Change Airtel Fiber Wi-Fi Password and Name
How to Activate Safe Custody on Airtel connection
To activate safe custody, simply call Airtel customer care by dialing 121. Then ask them to activate either one of the above options for safe custody. After making the request, it will take 4 hours to activate or deactivate the services. The bills will be generated monthly in the same manner as when your connection was active.
ALSO READ: How to use data coupon in Airtel app for free 4G data
How to Disconnect Airtel broadband using Airtel Thanks App
Update (1 May 2020) – The Airtel Thanks app (formerly My Airtel) has got a new update that allows users to activate the Safe Custody feature directly from their smartphone. This is a great addition as you can now temporarily deactivate Airtel broadband online without the need to contact Airtel customer support.
To pause Airtel broadband online, follow the steps below.
Make sure the latest version of the Airtel Thanks app is installed on your phone. The app is available for both iPhone and Android.
Open the Airtel app and select the landline connection that you want to disconnect temporarily.
Scroll down to 'Quick Actions' and tap the 'safe custody' option.
Turn on the toggle button next to 'Safe Custody'.
Tap on 'Activate' to activate Safe Custody.
That's it. Wait till Airtel processes your order.
You will then get a message or email confirming that the Safe custody/Number locker facility has been activated on your Airtel Xstream Fiber or Fixedline number.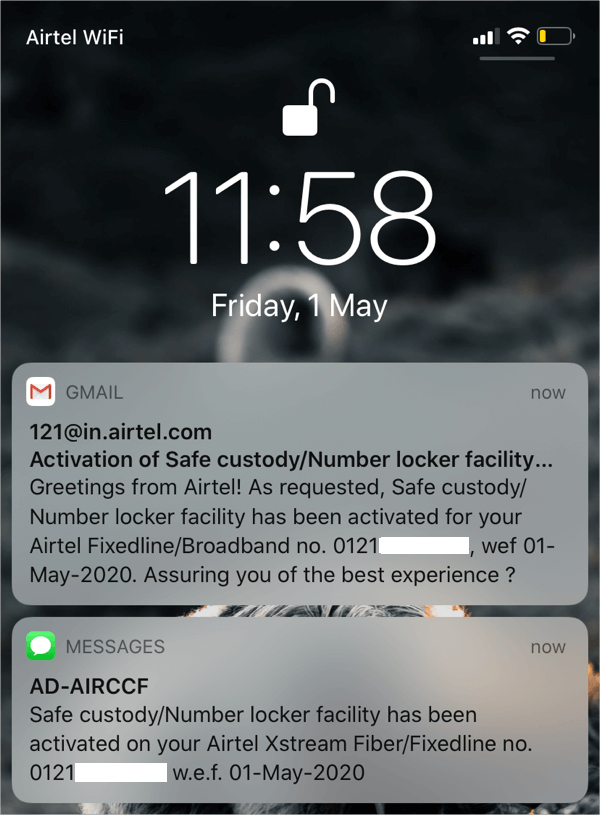 Similarly, follow the above steps to deactivate Safe Custody anytime.
In our opinion, this is a useful option as one can suspend the services at nominal charges for a while and can easily restore them when required.