LG G3, the latest LG flagship smartphone featuring a 5.5-inch QHD display with 1440 x 2560 resolution and a 13MP laser autofocus camera, has been launched in India. The G3 is a high-end smartphone with top-notch specifications, with pricing starting at Rs. 47,990. The below guide will assist you in easily rooting your G3. Rooting enables access to root applications like Titanium Backup, AdBlock, Tasker, etc. and adds the ability to flash custom ROMs. There are couple of ways to root the G3, of which the simplest and quickest one involves 'towelroot', a 1-click method to root an Android device without requiring a PC.
Disclaimer: Rooting may void your device warranty. Proceed at your own risk!
Method 1 – Rooting LG G3 using Towelroot
Towelroot by geohot, is certainly the easiest and safe way to root an Android phone directly using the device itself and without using a computer or any commands.
1. Download Towelroot APK and install it using a file manager.
2. Run towelroot and click on "make it ra1n". The device will reboot within 15 seconds.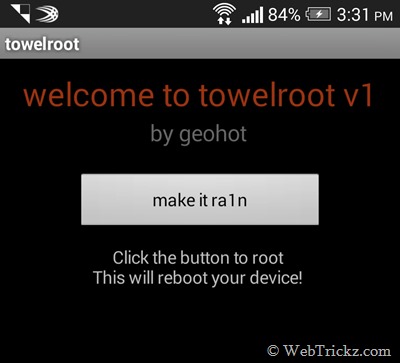 3. Install the 'Root Checker' app from Google Play to confirm that your device is rooted.
>> Now you need to manually install the SuperSU app to manage and grant root access to relevant apps. The SuperSU app on Play store is outdated and doesn't update the binaries, so you need to side-load the SuperSU APK. To do so,
4. Download the latest SuperSU.zip, extract it and manually install Superuser.apk from the common folder. (Use ES File Explorer to extract the zip directly on phone).
5. Open the SuperSU app, click on the Normal option if it asks to update.
Now you're ready to install your favorite apps that require root. Make sure to grant superuser privileges when asked. Enjoy!
Method 2 – Root LG G3 using IOroot
This method involves installing Windows USB drivers for G3, rebooting into recovery mode and then using the command prompt for running relevant ADB commands to sideload the root zip file. Superuser is installed as a part of this process. Below is the demonstration video for rooting G3 with IOroot by XDA Developers.