Most of the companies ship their smartphones with a custom user interface (UI) like Samsung's TouchWiz, Sony's Xperia UI, and HTC's Sense 6. Besides a custom UI, Android phones usually have several apps pre-installed unless they're running stock Android. While a File Manager app is very essential for every Android device, it sometimes doesn't come pre-loaded, like for instance on HTC smartphones. A file manager application allows you to explore and manage the internal and external (SD card) data on your device such as documents, photos, music, APK files, etc. which otherwise isn't possible without using a computer.
Though there are several free and popular file manager apps available on Google Play like ES File Explorer, Total Commander, ASTRO File Manager, etc. with support for additional features and advanced options like zipping and Unzip/ Unrar files, hide, password-protect, and more. However, if you're interested in using a simplified File Manager app with basic functions then you can try out HTC's official File Manager app. The Android 4.4.3 OTA for HTC One M8 adds the much-needed File Manager, which has been extracted as an APK and can be further installed on any supported Android device.
HTC Stock File Manager features a clean and minimalistic UI, letting users explore and manage their Phone storage and USB storage. It includes the following options: Search, multiple file select mode, Cut/ Copy/ Rename/ Delete, create a new folder, share files, view file/ folder properties (size, permission, location), and the option to sort content (by name, size, date modified, and type). It also allows you to view files attached through a USB On-The-Go (OTG) device and copy them from USB to phone and vice-versa. The documents, images, and music files, etc. open up with the standard file viewer. The manager doesn't offer powerful features like other 3rd party apps but will serve your purpose for day-to-day usage.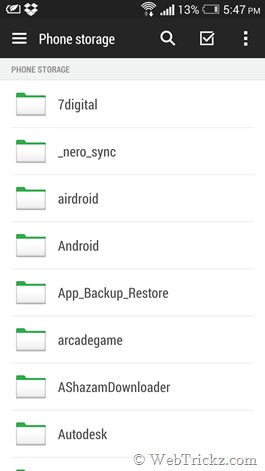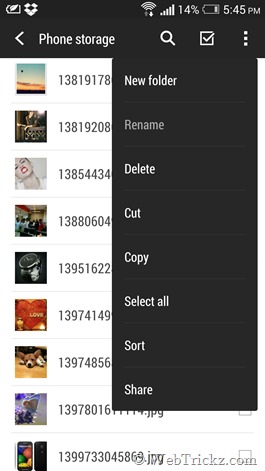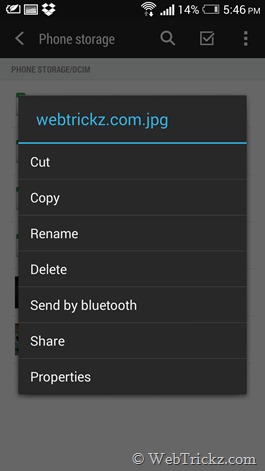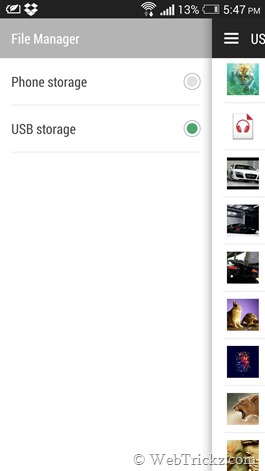 Download HTC File Manager App [1.82MB APK]    via @razarahil