George Hotz aka Geohot, the infamous guy who unlocked the first iPhone and hacked the Sony PS3 has released "towelroot", an extremely easy root method for the AT&T and Verizon Galaxy S5. Towelroot from XDA recognized developer geohot, is a simple 1-click rooting solution for Android devices. The tool supports Verizon and AT&T Galaxy S5, Galaxy S4 Active, Nexus 5 and should possibly work with all Android phones having a kernel build developed before June 3. The root exploit is built around Linux kernel vulnerability (CVE-2014-3153), which was recently discovered by hacker Pinkie Pie.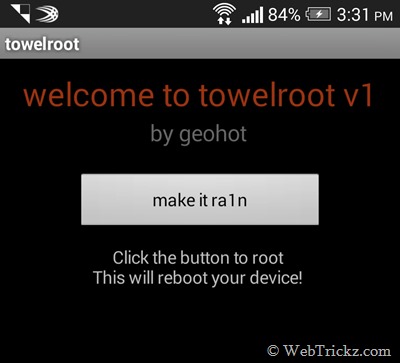 Geohot has fixed some known bugs and now the tool is also able to root Galaxy Note 3 on AT&T, Verizon, and Sprint carriers without tripping the KNOX warranty (with Knox still at 0x0). Towelroot is known to work on some Sony Xperia phones (Xperia Z, Xperia T, Xperia SP, Xperia E1 Dual with locked bootloader) and Gionee Elife E7, etc. but it currently doesn't work with the newest Moto and HTC devices because their /system is write-protected. To check if it works for your phone, simply install the app and try rooting it.
To root an Android phone with towelroot, simply download and install the towelroot app via its APK. Then click on the "make it ra1n" button! The device will reboot within 15 seconds. Then install the 'Root Checker' app from Google Play to confirm if the device is rooted. Those with root privileges can download the 'SuperSU' app from the Play store to manage or grant root access to relevant apps. In case the SU binaries won't update, download UPDATE-SuperSU-v1.99r4.zip, extract it and manually install SuperSU via APK.
NOTE: Rooting your device might void its warranty. Proceed at your own risk!
Official website – towelroot.com