Nowadays, Adobe Flash (previously called Macromedia Flash) is mostly used in a large number of websites because it is a popular method for adding animation and interactivity to web pages. Flash is commonly used to create animation, advertisements, and various web page components, to integrate video into web pages, and more recently, to develop rich Internet applications.

Flash Files are called "ShockWave Flash" movies, "Flash movies" or "Flash games", and they usually have a .swf file extension. Adobe Flash Player is required in order to display flash files within WebPages or browsers.
But if you want to Save the Flash files on your computer and open them later or Offline, then you can follow the options below to do it easily.
Flash Saving Plugin
Allows you to save Flash animation right from Internet Explorer (or any IE-based browser). Comes with SWF Cache Viewer – a tool for browsing cached Flash animation in Internet Explorer and Mozilla Firefox.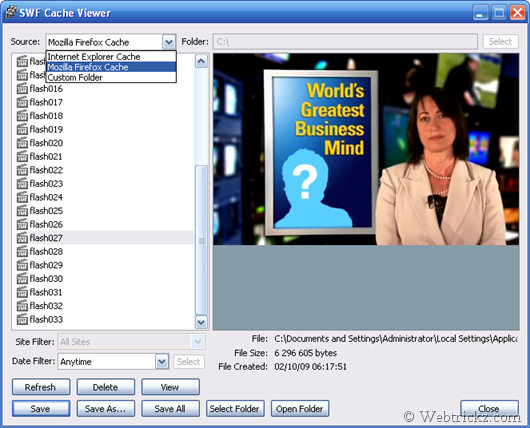 SWF Cache Viewer can also be used to view Flash movies stored in Mozilla Firefox cache or any folder on your PC.
Download Flash Saving Plugin
Alternate Method to save Flash in Mozilla Firefox: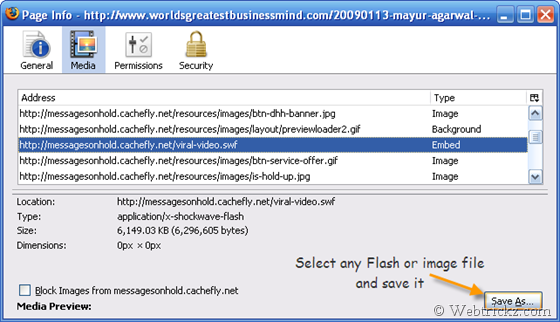 Mozilla Firefox has built-in features to save Flash movies. When viewing a web page:
Right-click on the web page;
Select View Page Info;
Switch to the "Media" tab;
Select the Flash movie you want to save;
Click Save As.
SWF Opener
Easy-to-use Flash player for opening Flash movies saved on your hard drive. Allows viewing movies in full-screen mode and control playback with buttons or a timeline controller.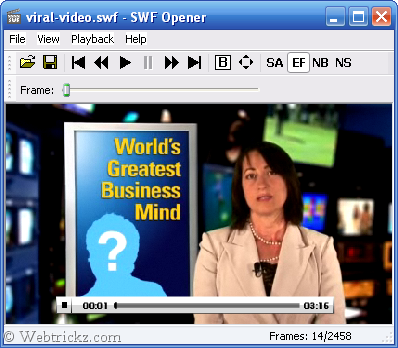 Once SWF Opener is installed, you can double-click any SWF file on your hard drive to get it played right away. SWF Opener comes with SWF Cach Viewer – a program that allows you to conveniently view and save cached SWF files.
Download SWF Opener
Saved Flash files can also be played with Internet Explorer, but SWF Opener will be the best choice to open the flash files as it offers several useful functions and is absolutely Free.
Hope you will like this method because it helps in saving images, animations, videos, etc. that are integrated in Flash form on the WebPages.