Are you using a BSNL prepaid or postpaid mobile number and seeing frequent popup messages on your phone? These pop-up notifications are actually flash messages sent by BSNL to its subscribers every 15 or 30 minutes. Flash messages usually contain promotional content and subscriptions related to news, entertainment, sports, fun, contests, lifestyle, and other unnecessary stuff. Sometimes they are pushed even to DND registered mobile numbers which can be really annoying. Perhaps, if you accidentally press the "OK" button then you will be subscribed to the respective service at Rs. 30 per month. Here is how to disable flash or pop-up messages from BSNL.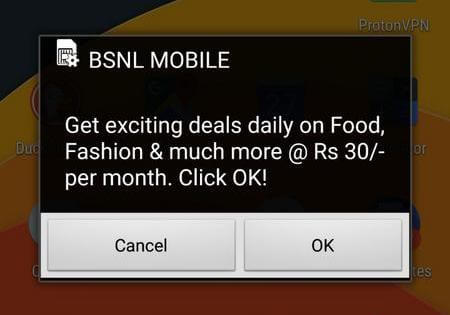 BSNL officially terms this service as "BSNL Buzz" and has tied up with Celltick to deliver these marketing messages. What's surprising is the fact that Buzz is activated by default when you activate a new BSNL SIM. Thankfully, there is an easy way to turn off and get rid of flash messages on a BSNL phone. Follow the steps below to deactivate BSNL Buzz on Android or iPhone.
How to Stop BSNL Popup Messages
Search for "SIM Tool Kit" in the app drawer or apps section on your phone.
Select BSNL Mobile if you're using more than one SIM.
Choose the "BSNL Buzz" option.
Tap on "Activation" and select "Deactivate".
Select OK to confirm.
That's it! The flash messages will now be stopped.
At the same time, if you tend to still receive pop-up alerts from BSNL then it's advisable to register for Do Not Disturb (DND) service. By opting for DND you can get rid of unwanted telemarketing calls and SMS completely. To activate DND on BSNL mobile number, simply SMS START 0 to 1909. Alternatively, you can call on 1909 (toll-free) and follow the instructions.
Tip: BSNL users can check their DND registration status with BSNL by visiting this webpage.