Apple iPad is launched few days back and many tips and tutorials related to it have started appearing all over the web. We've a quick iPad tip – Taking screenshots in iPad.
The way of taking a screenshot on an iPad is almost same, as it is on iPhone and iPod touch. Follow the steps below to do it:
1. Open any app or window of which you want to take the screenshot in your iPad.
2. Now hold the Home button, and tap the Power button (located on top right corner) of your iPad.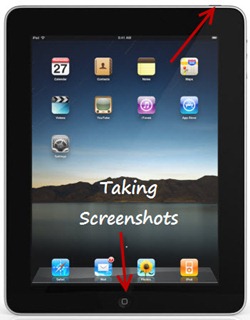 3. Your screen will flash instantly, and you'll hear a camera clicking sound. The screenshot will be saved under Photos on iPad. You can then share the screenshot easily using the 'Email Photo' option.
Hope you find this tip useful. 😀