Is your iPhone not showing contact pictures in full screen when you get an incoming call? Does the image appears in full screen for the first time and automatically turns into a thumbnail image later on? Perhaps, if you are facing these issues on your iPhone XR, iPhone 11, or older iPhones running iOS 13 or earlier then you aren't alone.
While a thumbnail on caller ID screen offers a much cleaner look. At the same time, most users prefer to use a full-screen contact photo for their favourite and most active contacts. This also makes it easier to recognise someone from a good distance when they call you.
Caller ID Photo on iPhone – Thumbnail vs Fullscreen
Fortunately, you can get over this limitation in newer iOS by configuring your iPhone to show contact photos on the entire screen. To get this working, you need to first edit the picture and then assign it to a contact on your phone. Without waiting further, here's how you can do it.
How to Make your caller picture full screen in iOS 12 / 13 on iPhone
Step 1 – Crop the image to 2:3 aspect ratio
You can edit and crop a photo directly on your iPhone using the built-in Photos app. To do so,
Open "Photos" and navigate to the picture you want to assign.
Tap the Edit button at the top right.
Select the "Crop" tool icon at the bottom of the screen.
Tap on "Aspect ratio" icon at the top. Then swipe the aspect ratios row to the left.
Select "2:3" from the list. Tip: Tap the "vertical crop" icon if the selected photo is in landscape mode.
Optional – Pinch in or out to adjust the image in the crop window. You can also drag the corners of the frame to crop manually.
Optional – Tap "Filters" icon to apply filter effects such as Vivid Cool, Dramatic, or Silvertone.
Hit Done to save the changes.
NOTE: It's important to crop the image irrespective of whether it is from your iPhone's camera roll, WhatsApp gallery or downloaded from the web.
ALSO READ: How to delete multiple contacts on iPhone 11
Step 2 – Assign edited photo to a contact
After cropping the image, you just need to set it as a contact photo. This can be done from the Photos app itself. To do so,
Open the edited image in Photos and tap the "Share" button.
Scroll up and tap "Assign to Contact".
Search for the particular contact by their name or phone number.
Tap "Choose" on Move and Scale screen. Then tap "Update".
That's it. The assigned picture will now show in full screen instead of a small circle at the top corner. It appears both in the locked and unlocked state when a particular person calls you.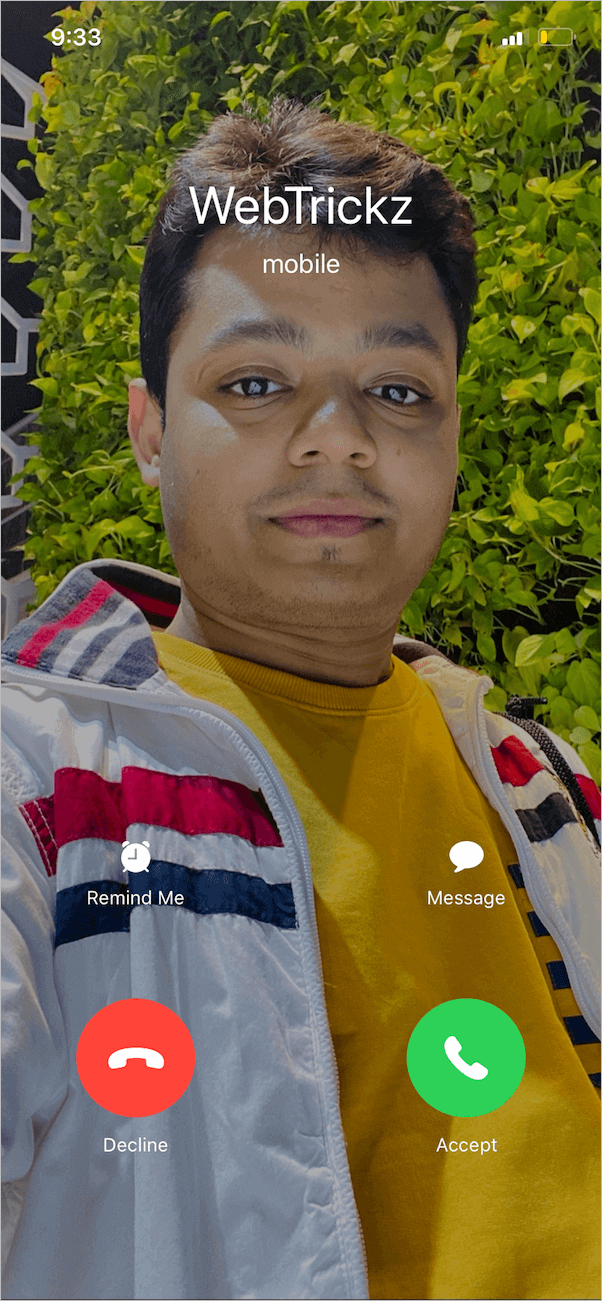 P.S. The only shortcoming of this trick is that you have to individually edit and assign every contact photo you want to see in full-screen.