Twitter has silently added the ability to view and download photos in 4K resolution on the iPhone. This was earlier possible only on Twitter for Web, Android, iPad and Mac. The official app now shows a "Load 4K" option to offer this functionality. It appears that Twitter started rolling out this feature for iPhone users in mid-February. Meanwhile, 4K images are loaded by default on the iPad without user intervention.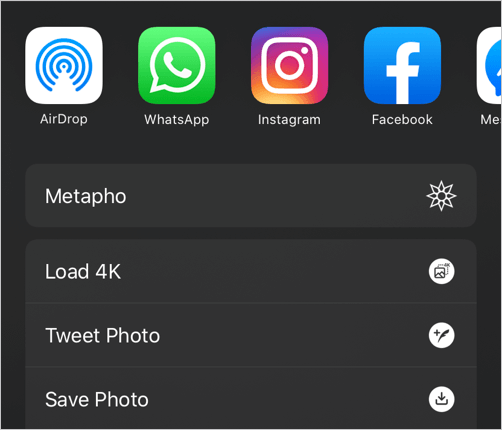 Load 4K option in Twitter
The option to load photos in 4K is a nice addition and the iPhone users are already loving it. It comes handy when you want to download a particular wallpaper, infographic, or an image with text content in the best quality. As you would expect, the 4K version of an image looks much sharper and detailed as compared to the regular image.
There is a downside though. Unlike Twitter for Android, the iPhone app doesn't show the 4K version automatically even if the image supports it. It rather displays a standard image by default with a relatively lower resolution. Hence, one needs to explicitly check if a certain photo is available in 4K resolution and then load it in 4K. Once the 4K photo is loaded, you can save it to the iPhone gallery.
How to Save a Photo in 4K from Twitter on iPhone
Make sure you have an updated version of Twitter installed.
Navigate to the tweet and open the photo so that it appears on full screen.
"Press and hold" the photo to open the share menu. Alternatively, you can tap the 3-horizontal dots at the top right.
Select the "Load 4K" option from the iOS share sheet.
The photo will now re-download and load in 4K resolution (max 4096 x 4096 pixels).
To save the photo, again press and hold on the image and tap "Save Photo". Then go to the Photos app > Albums > Twitter to view the saved image.
NOTE: The Load 4K option appears only for images uploaded in high-resolution on Twitter. You won't see this option in share sheet if the source image has a 2K or lower resolution.
To get an idea, I downloaded a photo to compare its resolution and size in different versions. As you can see below, the difference in the file size of the standard and 4K image is pretty huge.
Preview – 370px x 554px | 77KB
Standard – 1366px x 2048px | 508KB
4K – 2731px x 4096px | 3MB
~ To try it yourself, consider downloading the photos in this tweet to your iPhone in 4K.
Can I upload 4K photos to Twitter from iPhone / iPad?
Unfortunately, you cannot upload high-resolution or 4K photos from your iPhone or iPad using Twitter's official app. I tried it on my iPhone 11 and iPad running iOS 13 and it didn't work. The photo gets uploaded, however, Twitter limits the maximum dimension to 2048 x 2048 pixels for a square photo.
Comparison with Twitter for Android
Twitter's high-quality image on Android is equivalent to 4K image on iOS
I also compared an image downloaded in high-quality on Android with a 4K image on the iPhone. To our surprise, both images had the exact same resolution. The advantage of the Android app is that it loads the original image by default. This eliminates the need to first load a photo in 4K.
ALSO READ: How to download Twitter images in original size on a desktop