Organising contacts on an Android phone seems easier as it offers a lot of options but things often get messed up when not done properly. So, here is our guide on:
How to Sort Duplicate Contacts, Import contacts to phone and Sync Android phone Contacts with your Gmail account –
Step 1 – Create a Backup of contacts and delete entire contacts on your Android phone. To do so, check our post "How to Delete Entire Contacts on your Android phone".
Step 2 – Transfer the contacts backup (VCard file) to your computer. Now open your Gmail account and select Contacts. Click the 'More actions' drop-down menu, choose Import, browse to select the specific vCard file and Import it. (You can opt to add those imported contacts to a certain group to separate them from other contacts).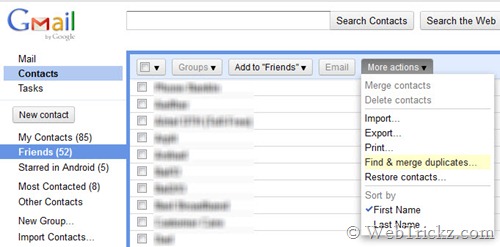 >> Assuming group here as 'Friends' for example.
Then open the Group (Friends) to which you imported the contacts. Hit the 'More actions' menu and choose "Find & merge duplicates…". Gmail will now automatically remove all the duplicate entries from your contacts.
Step 3 – Syncing Android phone with your Gmail account
Sync is very effective and useful functionality because it automatically synchronizes the contacts to Gmail as you edit or add any new contact on your phone. The beauty of this sync is that this is permanent backup and you can restore contacts from here even if you delete them accidentally on your phone. So, no risk of losing your contacts!
To Sync Gmail contacts with Android, go to Settings > Accounts & sync and make sure 'Background data' and 'Auto-sync' options are enabled. Also, confirm that Sync is ON for your Gmail account and Sync Contacts option is enabled.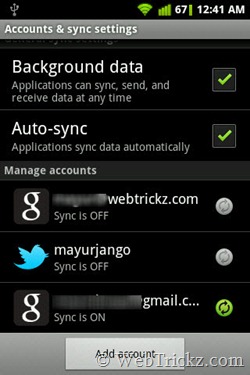 Next, open phone Contacts > hit menu button and select Display options. Under 'Choose contacts to display', tap on your Gmail account and tick mark the Friends Group.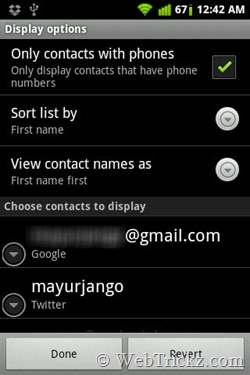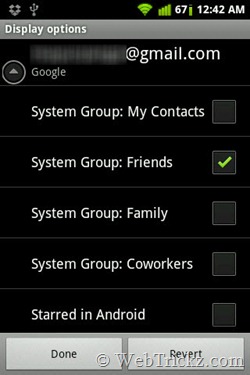 Now wait for a while and you will see those Friends group contacts into your phonebook. There is also a nifty option to "Only display contacts that have phone numbers". Select it if you like to keep your Contacts tidy only with necessary phone numbers.
Hope you found both these back to back Android posts useful. Don't forget to share it with your friends on twitter and Facebook. 🙂