If you're using the Windows 8 Developer Preview, then here is a nifty tool 'Metro UI Tweaker' that lets you disable the Metro Style without affecting the Ribbon UI in explorer. You can simply enable or disable just the Metro Style, Ribbon UI or both of these combined. This free and portable program provides handy options that you might need if you're running Windows 8 on desktop where Metro interface isn't very efficient.
Metro UI Tweaker Tool for Windows 8 offers the ability to quickly tweak interface without the need to manually edit the settings in Registry editor. It allows you to:
Disable Metro Start Menu – Get Back Windows 7 like Classic Start menu
Disable Explorer Ribbon – Turns off the Ribbon UI in Windows 8 Explorer
Disable Metro Start Menu and Explorer Ribbon – Disables the Metro Start Menu, Ribbon UI, Metro Task Manager UI and the Lock Screen
Enable Metro Start Menu and Ribbon – Re-enables all available Metro UI options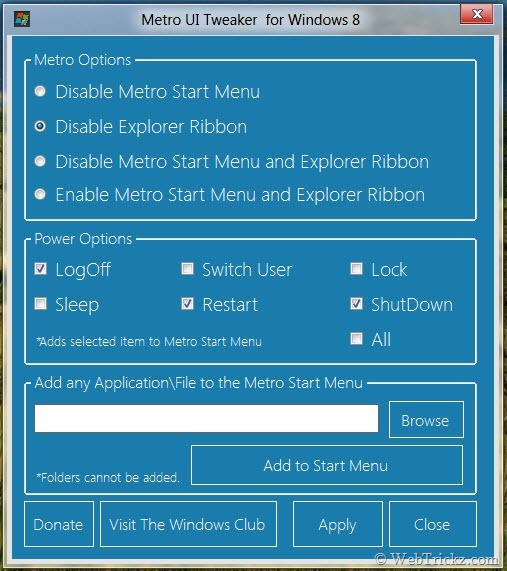 Apparently, it is pretty uneasy to access the power options in Windows 8 with Metro UI enabled. This tool lets you Add Power Options to the Metro Start Menu Screen: Logoff, Switch User, Lock, Sleep, Restart and Shutdown. You can also add a particular file or application to the Metro Start menu screen.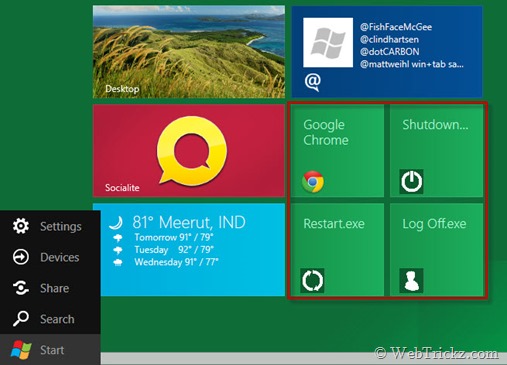 To using this tool, just download it and extract to a folder. Then run the exe file.
Download Metro UI Tweaker  (Supports Windows 8, both 32-bit and 64-bit)