Today, Microsoft demonstrated a detailed preview of the next major release of Windows, code-named "Windows 8" at the BUILD conference in LA. Windows 8 is certainly very impressive, modern, incredibly fast, introduces Metro UI, lot of exciting features, and is specially targeted towards Touch PCs and modern tablet devices.

"We reimagined Windows," said Steven Sinofsky, president of the Windows and Windows Live Division at Microsoft, in his keynote address to the thousands of developers in attendance. "From the chipset to the user experience, Windows 8 brings a new range of capabilities without compromise."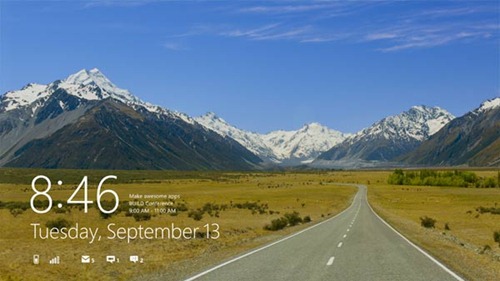 MS has decided to offer Windows 8 in 4 milestones just like they did with Windows 7, i.e. Developer Preview, Beta, RC and RTM. Soon, Windows 8 Developer Preview would be officially available for download both for 32-bit and 64-bit systems. It is a Free download that developers and testers can get to have first impressions of Windows 8 early build. Anyone can download the Windows 8 Developer build without requiring a MSDN or TechNet account. Moreover, you also don't need to have a Live ID to get it.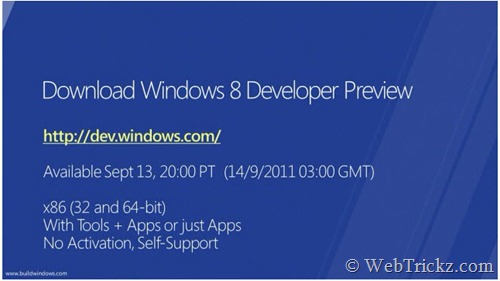 Just visit 'Windows Dev Center' (http://dev.windows.com/) at 8 PM PT (8:30 AM IST). From there, you can download the Windows 8 Developer Preview and developer tools. You'll also get the Windows Developer Preview guide, samples, forums, docs and other resources to build on Windows 8.
Windows 8 Test version doesn't requires an activation and offers no support. Also, Windows 8 preview build requires a clean installation, you cannot upgrade or install it on your current Windows 7 installation.
Note: This is a developer release that is not meant to be used for daily usage as it may encounter bugs and wont be completely stable.
Update: The preview build does not include every feature shown in the Build Keynote.  The Developer Preview release DOES NOT include the Windows Store, Windows Live Metro style apps, and some of the user interface features. The focus of the preview is the API and development tools for building Metro style apps.
Windows 8 Developer Preview English ISO [Direct Download Links]
32-bit (x86) [Size: 2.8 GB]
64-bit (x64) [Size: 3.6 GB]
Download Windows Developer Preview with developer tools English, 64-bit (x64) (4.8 GB)
System Requirements: Works great on the same hardware that powers Windows Vista and Windows 7:
1 gigahertz (GHz) or faster 32-bit (x86) or 64-bit (x64) processor
1 gigabyte (GB) RAM (32-bit) or 2 GB RAM (64-bit)
16 GB available hard disk space (32-bit) or 20 GB (64-bit)
DirectX 9 graphics device with WDDM 1.0 or higher driver
Taking advantage of touch input requires a screen that supports multi-touch
>> Download Windows 8 Developer Preview Fact Sheet, Sep 2011
References:
Welcome to Windows 8 – The Developer Preview
Microsoft Reimagines Windows, Presents Windows 8 Developer Preview